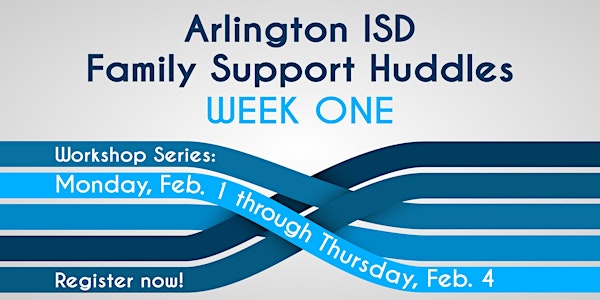 Arlington ISD Family Support Huddles | Week One
Connect with us and other parents for the Arlington ISD Family Support Huddles
Date and time
February 1, 2021 · 7am - February 4, 2021 · 6pm PST
About this event
The Arlington ISD Parent and Community Engagement (PACE) team will host the Family Support Huddles, a two-week workshop series that takes place on Feb. 1-4 and Feb. 8-11.
The program will bring you face-to-face virtually for meetings with departments from across the district. This two-week event will feature more than 40 workshops for families and more than a dozen Arlington ISD departments will be represented.
Advanced academics, guidance and counseling, social and emotional learning, special education and more will be represented in the workshops. Each workshop will last an hour, with 30 minutes focusing on the session topic and 30 more for a Q & A session.
While some of the workshops will focus on the day-to-day in education, others like the At-Home Learning session and sessions on Seesaw and Canvas, are designed to help families work in the current learning environment brought on by COVID.
Each workshop will have morning and evening sessions to accommodate your schedule the best. The same sessions that run on Feb. 1-4 will run again on Feb. 8-11. All sessions will occur on Zoom, but you must register for the sessions here on Eventbrite.
Workshops and Descriptions
Dates and times are listed in the registration form.
Gifted and Talented Services and Identification in Arlington ISD Learn how to recognize gifted characteristics in a child and how Arlington ISD identifies this as well. We'll tell you more about the gifted and talented services we offer that help students learn at their highest potential. Learn how to refer your child and advocate for their academic needs.
How Do I Help My Child Be College Ready Learn how the AVID system helps students prepare to enter college and be successful pursing a four-year degree. Study skills, college knowledge, working on challenging coursework and college test preparation are part of these courses offered in grades 7 through 12 district-wide.
Secondary College Preparation Choices; Advanced Placement (AP), International Baccalaurean (IB) Dual Credit, OnRamps, SAT, ACT, and TSI Arlington ISD high school students have many options in selecting courses to take that earn college credit at little or no cost to their families. These courses are challenging and help students prepare for success at the university level. Opportunities also exist in our district for students to prepare and take college entrance exams during the school day. Learn about these college course programs so you can help your teen make the appropriate choice for their future.
ELAR: Literacy Practices for At-Home Learning This workshop will give you a variety of literacy activities to support your child at home.
Engaging in Mathematics At Home This workshop will give you an opportunity to learn and explore the Imagine Math platform to support your children in mathematics at home.
Engaging in Social Studies At Home This workshop will familiarize families with elementary students on how to navigate the Studies Weekly supplemental resource at home, online resources to support at-home learning in the social studies content area for secondary students will be shared as well. You will also learn how to engage in discussions about current events at home.
Science at Home with STEMscopes, Gizmos and the Perot Museum This course is designed to familiarize you with district resources for science content, STEMscopes (for kindergarten biology) and Gizmos (for grades 5 through 12), as well as local museum resources from the Perot Museum of Nature and Science (for kindergarten through 12th grade)
Preparing Your Space Before At-Home Learning Begins Are you looking for ways to organize your child's learning space and time to learn? Join us and discuss ways to set expectations during at-home learning.
Creating Success During At-Home Learning Are you seeking new ways to motivate your child during at-home learning? Join us and discuss ways to encourage and uplift your child while learning at home.
Taking Time for Family: Reinforce, Release and Relax After At-Home Learning Join us and discuss ways to reinforce the day's education demands with your child and learn how to release and relax after at-home learning.
Understanding Social and Emotional Learning (SEL) This session is intended to provide you with a shared understanding of Social and Emotional Learning (SEL) as it is defined and implemented within Arlington ISD. We will discuss the components and the overarching goals of SEL for students in our schools.
Supporting Social and Emotional Learning (SEL) at Home In this session, we introduce activities that will help build student social and emotional learning at home. Our goal is to help families build on the same concepts that are being implemented at the campuses, and to collectively grow student social and emotional learning skills.
A Parent's Guide to Special Education, 504 and Dyslexia Part A This workshop is designed to assist you in navigating through the maze of Special Education, 504 and Dyslexia with the goal of empowering parents, providing information, and support. You will receive a basic overview of the referral process, eligibility categories, rules, laws and more.
A Parent's Guide to Special Education, 504 and Dyslexia Part B This workshop is a continuation on the discussion to empower parents by providing information, and support with a basic overview of the referral process, eligibility categories, rules, laws and regulations.
When Times Are Tough: Using the School as a Resource for the Student and Family When times are tough, students have protection under the McKinney-Vento Homeless Education Act. Find out more about how this act helps students and families experiencing homelessness.
Keeping It Together When Your World Is Collapsing If you find yourself struggling or the pressures of keeping it together leave little time or energy for you to help your child with homework or school, learn some mindfulness techniques. Tips like this can more can bring calm to your family in the midst of troubled times.
Seesaw Tips for Parents (Pre-K through Grade 2) Learn how to use the Seesaw Family app to stay up-to-date with your child's work in Seesaw. We will also take a look at the Seesaw Class app that your child uses to complete activities and how they can see feedback from their teacher.
Canvas Tips for Parents (Grades 3 through 12) In this workshop, we will explain what Canvas is and how your child uses it for classwork. We will show you how to create a Parent Observer account and link it to your child. You will learn how to view your child's classes, assignments, grades and teacher feedback through the observer role.
E-Books and Library Resources (Pre-K through Grade 12) Arlington ISD libraries have thousands of diverse e-books for students from pre-K to high school that are free for all district families. In this session, you will learn how your child can access and read e-books to help keep their reading skills strong while building a love of reading that will last a lifetime.
Tech Apps to Support English as a Second Language (ELS): Translation, Immersive Reader The Arlington ISD world languages department is excited to share a workshop designed especially for parents of English Learners! We will share tools, tips, strategies and resources that you can use to help your child attain English proficiency and develop high levels of academic achievement. The workshop will include a video and linked resources that you can explore on your own or with your family.
Parent Support for Dual Language and LOTS: apps, sites that support languages other than English We invite you to join the Arlington ISD world languages department as we share digital and online resources that support parents and students in learning a foreign language virtually. This workshop, designed for families who participate in the district's dual language program or for families of students taking a foreign language, will provide participants with resources and ideas for supporting language acquisition in the three modes of communication.
Helping Students Deal with Trauma & Crisis Living through a pandemic has been a traumatizing experience for everyone. This session will define trauma and its impact on the brain. Parents will explore ways to help their child as they experience trauma by working on connecting with them and supporting them at home. This session will also help guide parents as they advocate for their child's needs in the school setting.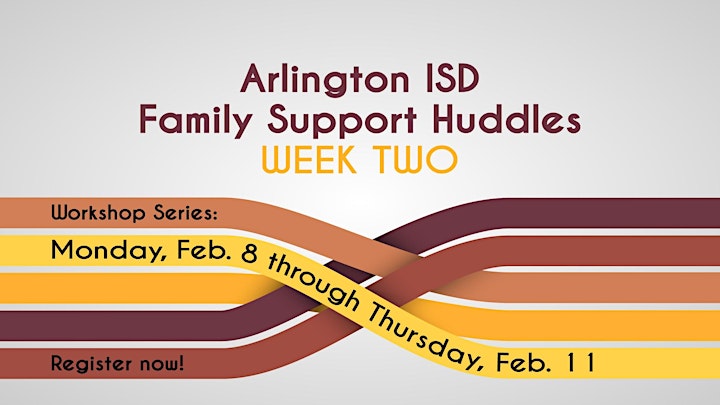 Register for any of our Week Two workshops here.
About the organizer
The mission of the Arlington Independent School District is to empower and engage all students to be contributing, responsible citizens striving for their maximum potential through relevant, innovative and rigorous learning experiences.