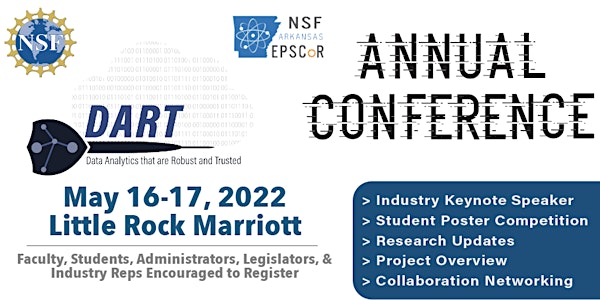 Arkansas NSF EPSCoR / DART Annual All-Hands Conference
Event Information
Location
Little Rock Marriott
3 Statehouse Plaza
Little Rock, AR 72201
Two days of engaging content and collaboration networking for people in the data analytics industry and academic community of Arkansas.
About this event
This conference will be the first time that all participants in the current Arkansas NSF EPSCoR project DART will convene in person. For more information about the project, please visit the project website.
The event will begin with breakfast on Monday, 5/16 and adjourn by 3PM on Tuesday, 5/17. The poster competition will take place during the late afternoon on Monday. SSC Members will be expected to attend a dinner with any advisory board members and NSF staff in attendance on Monday evening. The agenda will be released closer to the event.
DART PARTICIPANTS: All active DART participants (faculty, postdocs, graduate students, undergrads, and seed grant investigators) are expected to attend. Participants are expected to use unobligated travel funds from institutional budgets. If no travel funds remain, the Central Office will reimburse travel expenses for DART participants to attend.
VENUE & ACCOMMODATIONS : The conference will be held at the Downtown Little Rock Marriott. A room block will be provided for attendees at the GSA rate. Attendees are responsible for booking their own rooms (see hotel info below). Please be sure to select add-ons when you register for any conference meals you plan to attend.
STUDENT POSTER COMPETITION: All active DART students are expected to present a #BetterPoster style poster showcasing the work they have completed for the project. Students will compete for travel reimbursement awards to present their work at relevant conferences. Students are encouraged to watch the Better Poster Video (seriously, watch it, you'll love it). More information on the Better Poster can be found here and here. The central office will provide a template, poster boards, easels, and clips. Students will be expected to bring their printed poster and attach it to their assigned board in the poster hall. Posters will be judged by DART faculty and advisory board members.
ADVISORY BOARD MEMBERS: We welcome our advisory board members to attend, engage with the project participants, and serve as judges in the poster competition.
COVID INFO: We will be following recommended CDC and Department of Health COVID-19 guidelines. Masks and hand sanitizer will be provided for attendees.
HOTEL INFO:
The conference hotel is the Downtown Little Rock Marriott.
The room block is available for Sunday and Monday night for $96/night plus taxes and fees.
Rooms must be reserved by April 25.
All attendees should register for the conference through this page AND reserve their rooms directly with the hotel.
Click here to reserve your room under the room block. The event code is DARG and the event name is "DART Annual Meeting May 2022."
If you have any problems booking a room or making travel arrangements, please contact Cathy Ma (cma@arkansasedc.com).
Date and time
Location
Little Rock Marriott
3 Statehouse Plaza
Little Rock, AR 72201