Description
Arkansas' 5th Annual Conference on Fetal Alcohol Spectrum Disorders (FASD) will provide the latest information about fetal alcohol spectrum disorders, the most common cause of preventable developmental disabilities.
Our keynote speaker, Dan Dubovsky, MSW, has worked for over 40 years in the field of behavioral health. Throughout the years, Dan has served as a child care worker in residential treatment and as a therapist in residential treatment, inpatient, outpatient, and community settings. Dan has been involved in the field of fetal alcohol spectrum disorders (FASD) for over 20 years. He has presented regionally, nationally and internationally on FASD, focusing on interventions and prevention for children, adolescents and adults. For this work, his son Bill, who was diagnosed with fetal alcohol syndrome at age 19, has been his mentor and best teacher.
In addition to FASD, Dan has developed curricula and provided training and technical assistance for families and professionals working in mental health, developmental disabilities, education, justice, vocational services, and substance abuse treatment on loss and grieving, psychopharmacology, child and adolescent development, violence in youth, anger management, team building, stress and burnout, transition, and life span disorders such as Attention-Deficit/Hyperactivity Disorder, Mood Disorders, and Schizophrenia. Dan has also co-facilitated a group for non-offending caregivers of children who have been sexually abused. For 14 years, Dan was the FASD Specialist for the Substance Abuse and Mental Health Services Administration (SAMHSA) FASD Center for Excellence in the U.S. He currently works as a consultant, providing training and technical assistance to agencies, communities, states, grant programs, and provinces. Dan has a keen interest in improving outcomes for individuals, families, and the providers and services that support them.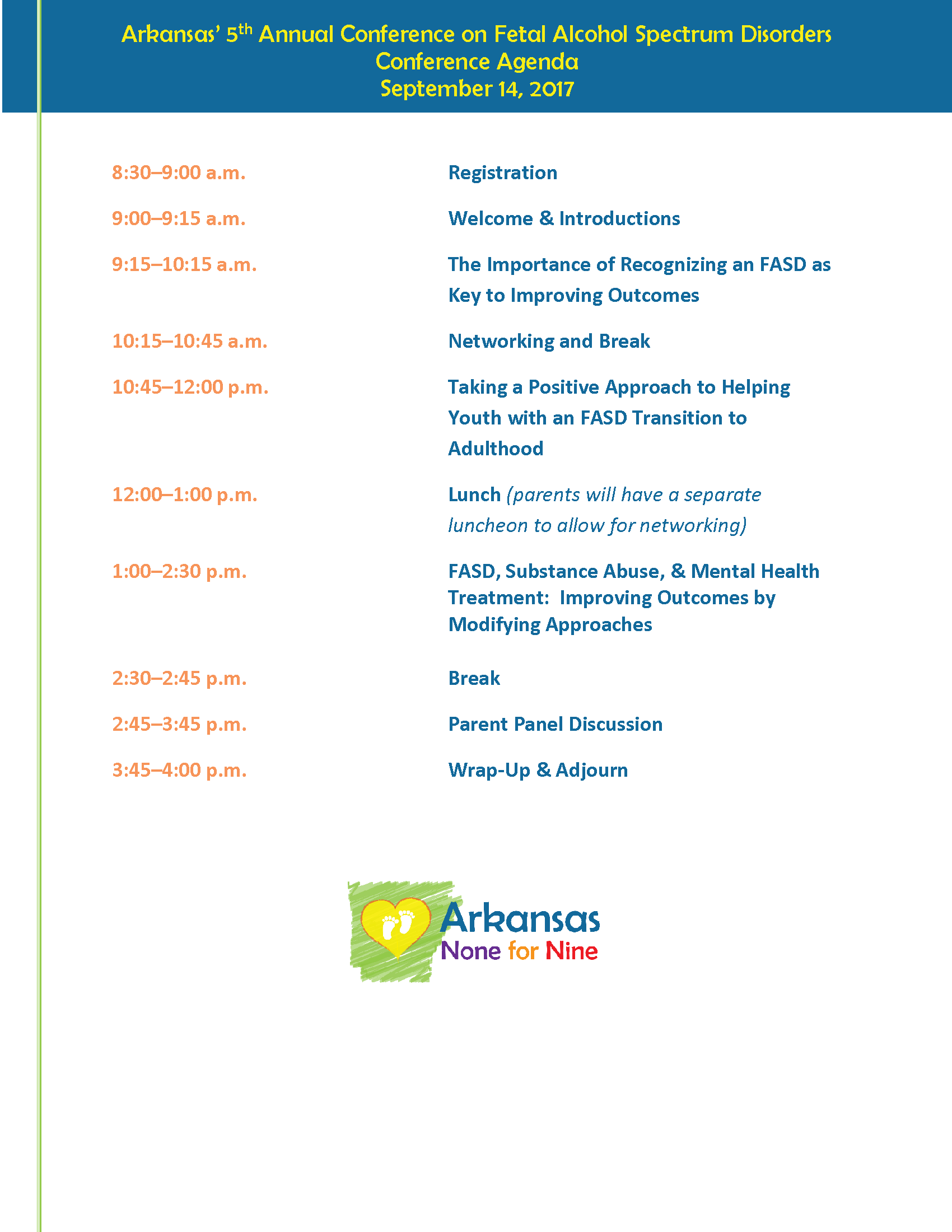 FAQs
Where is the conference located?

The conference will be held at The Summit Church, located at 6600 Crystal Hill Road in North Little Rock.
From I-430, take the Crystal Hill Road exit (Exit 12). Bear right on Crystal Hill Road. The Summit Church will be on your right.

From Conway, take the Crystal Hill Road exit (Exit 148). Turn right on Crystal Hill Road. The Summit Church will be on your left.

From Memphis, take the Crystal Hill Road exit (Exit 148). Turn left on Crystal Hill Road. The Summit Church will be on your left.

Do I have to pay to park?

No, parking is free.

Where can I contact the organizer with any questions?
Please contact Carol Rangel at rangelcf@archildrens.org or (501) 258-1014 with any questions regarding the conference itself.
Direct any questions regarding payment by PO or check to Karan Burnette at kbburnet@uark.edu or (800) 342-2923 (V/TTY).
Do I have to bring my printed ticket to the event?
No, there is no need to bring your printed ticket to the conference.

I want to pay by check or PO. How do I do that?
Checks should be made out to the AAROC and mailed to 322 Main Street, Suite 501, Little Rock, AR. 72201--Attention Karan Burnette. All checks must be received by September 1, 2017.
For purchase orders, please submit the following information to Karan Burnette at kbburnet@uark.edu:

1) Name of each attendee
2) Email of each attendee
3) Phone number of each attendee or general office phone
4) Agency/Organization name

If I want to register for the conference the day of the event, what payment options are available?
Please note that we will ONLY be able to accept cash or checks on the day of the conference.

Can I attend whatever session I would like?
You are welcome to attend whatever session interests you. We do, however, ask that ONLY family members of individuals with FASD attend our parent networking luncheon. This is to provide some privacy for our families and to encourage discussion and relationship building. Thank you for your courtesy.
Will there be CME's/CEU's offered at the event?
General certificates of attendance will be provided to all in attendance. We will also be providing appropriate certificates (CEU's) for persons in the fields of occupational therapy, speech therapy, physical therapy, and social work.

Is lunch provided?

Yes, lunch and snacks are included in the cost of registration.

Will there be exhibitors present?
Yes! We are expecting several vendors at the conference that provide an array of services for individuals with FASD and their families. There will be designated times at the conference to allow you to visit these vendors, but feel free to peruse as often as you would like!