Description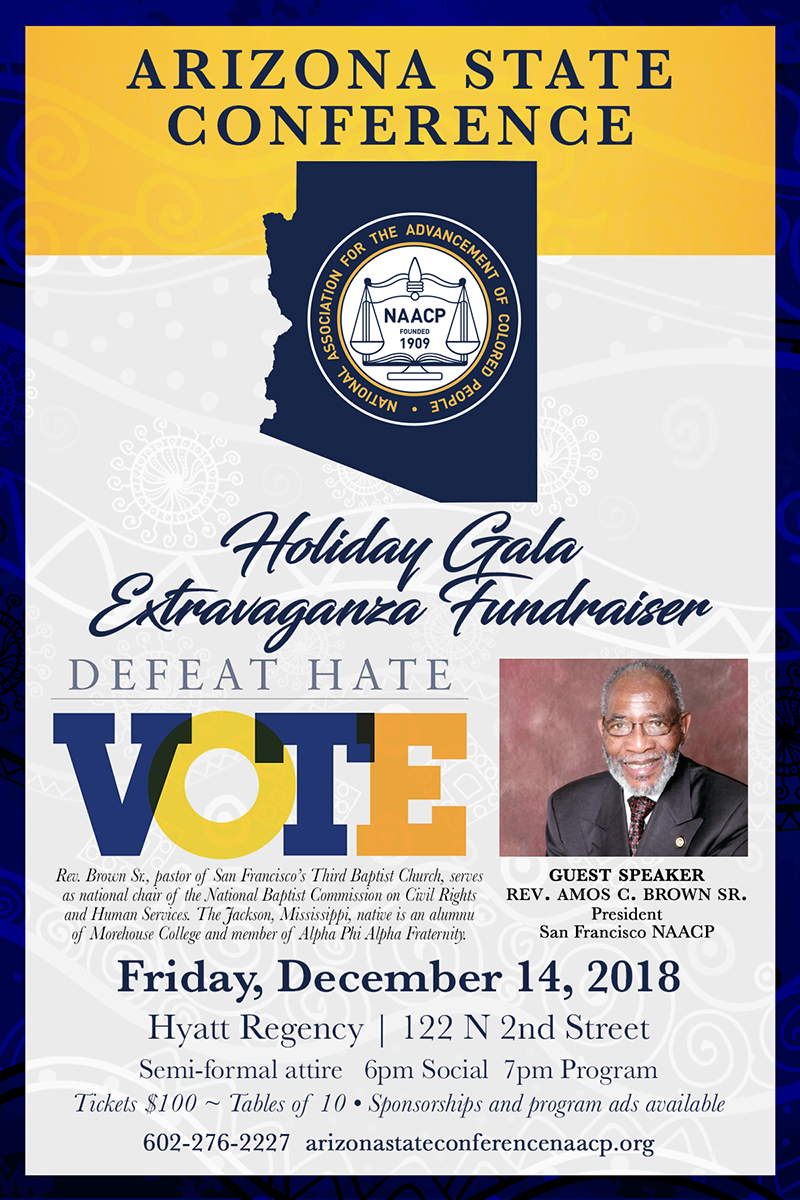 The Arizona State Conference of the National Association for the Advancement of Colored People (NAACP) invites you to support its Annual NAACP Holiday Gala Extravaganza Fundraiser. The dinner is an established tradition for NAACP Branches across the country which allows them to raise critical funds to effect change and advance the cause of civil and human rights in America. In addition, the Gala provides an opportunity to recognize community leaders, local businesses and national corporations, as well as emerging leaders — all of whom are actively challenging society to end discrimination, embrace diversity and ensure greater opportunity for all people.

The Arizona State Conference NAACP, a chartered state conference of the National Association for the Advancement of Colored People since 1915, will hold our annual Arizona State NAACP Holiday Gala Extravaganza Fundraiser.

The event will raise funds to assist our branches throughout the state of Arizona in their community endeavors. It also will help prepare and assist our youth today to be our leaders of tomorrow.
For 109 years, since 1909, the National NAACP – with more than 2,500 branches throughout the United States – has been an advocate for political, educational, social and economic justice in every aspect of public life in our society.
The Arizona State Conference NAACP is comprised of branches in the Maricopa and Final counties with cities Phoenix, Mesa/Chandler, East Valley, Tucson, Winslow, Yuma, Flagstaff, Sierra Vista and Parker. College chapters are on the campuses of Phoenix College, Mesa Community College, Arizona State University, South Mountain Community College and Estrella Mountain Community College. Youth Councils are in Phoenix, Tucson, Mesa/Chandler and Sierra Vista.
Our theme this year is: Defeat Hate… VOTE! The event will be Friday, December 14, 2018, at the Hyatt Regency in downtown Phoenix, 122 N. 2nd Street. The social hour starts at 6pm, and the program begins at 7pm. The Arizona State Conference NAACP wishes to partner with you, and to build a long-lasting relationships by collaborating for the common good of us all. We wish to help make our state a better place to live and to work, to get an education and to raise our children. We work to improve our state image and to embrace equal opportunities for all regardless of race.
We ask for and welcome your help to be successful in this year's fundraiser, and look forward to seeing you in December.