Description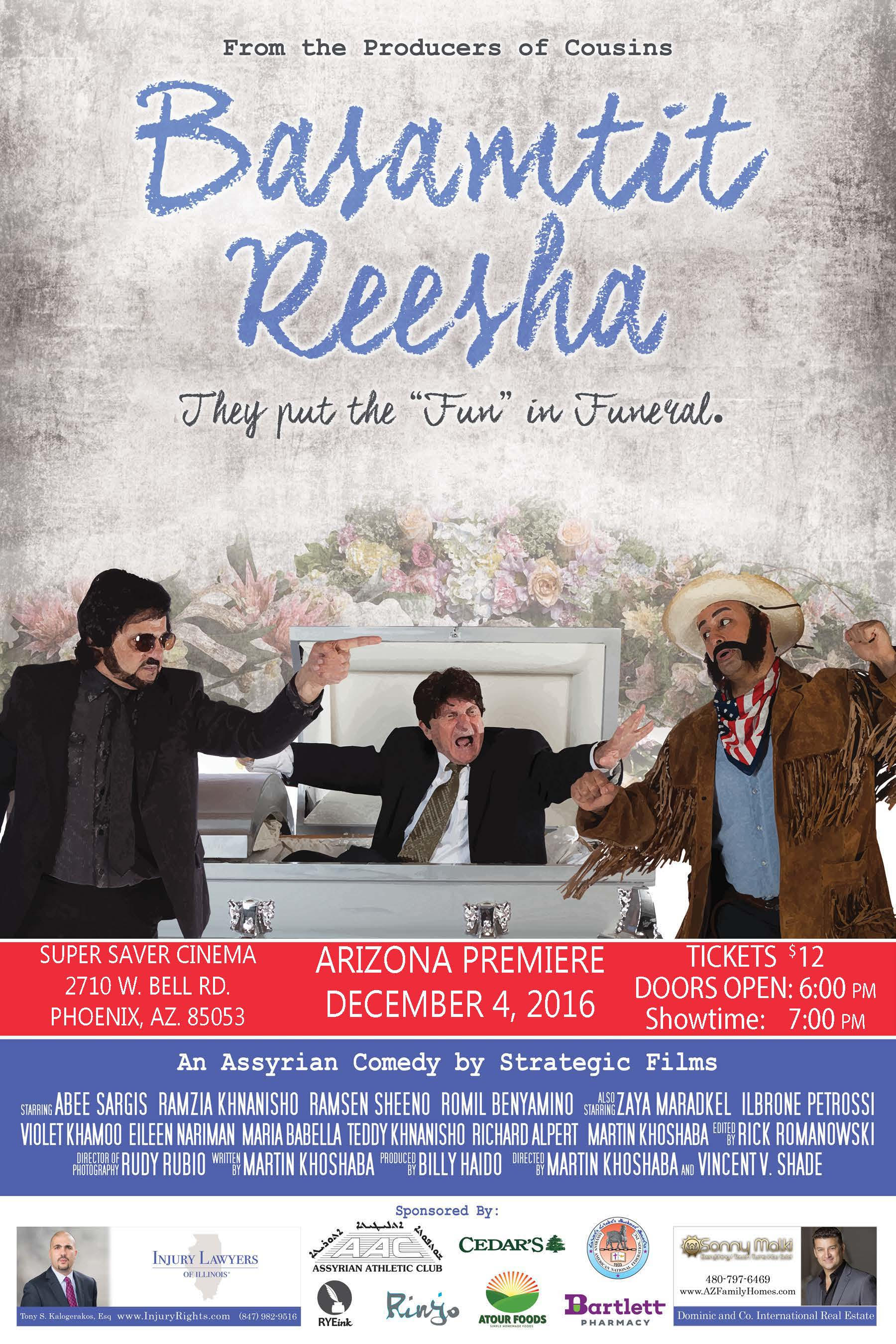 The Assyrian American Culutral Organizatio of Arizona, the St. Mar Zaia Assyrian Organization of Arizona and the Assyrian American Association of Arizona are proudly hosting the Arizona premiere of "Basamtit Reesha" on Sunday, December 4th, 2016, at Super Saver Cinema 8 (27th Ave and Bell Rd) from 6:00 to 9:00 pm.
Basamtit Reesha Summary:
With a majority of Assyrians living in diaspora, our culture and language are the two things that will keep us from being a footnote in history. We understand that by not having a country we are in desperate need to retain the Assyrian culture and language, the two things that make us truly who we are. Music, dance, and storytelling in our native tongue is extremely important in bridging our future generations to our past. That's why we are pleased to announce our new feature length Assyrian comedy entitled "BASAMTIT REESHA" … or… "The Wake." The movie was shot in Chicago, Illinois with 90% of it being in the Assyrian language and the rest being in English.

The 90 minute comedy follows two estranged brothers who haven't spoken in years trying to figure out the root cause of their father's death when it seems there is more to the story than 'sudden heart attack.' The film has many funny moments as well as whacky characters that will make it fun for Assyrian audiences of all ages.

We are proud to have teamed up with the veteran actors like Abee Sargis, Zaya Maradkel, Ilbrone Petrossi, Violet Khamoo and Maria Babella and are very excited to work with for the first time Ramsen Sheeno, Ramzia Khnanisho, Romil Benyamino, Eileen Nariman, Teddy Khnanisho and others.

We would also like to thank our wonderful sponsors such as The Law Office of Tony Kalogerakos, Cedar's Mediterranean Foods, the Assyrian Athletic Club of Illinois, Bartlett Pharmacy, Sonny Malki Realtor (Dominic & Company Int'l Real Estate), Atour Foods, and Rinyo. Without the support of these fine people we would have never been able begin the production process. Now we are asking for your help as well!


As our community begins to slowly rebound from these last several years of great hardship, we hope that Basamtit Reesha will help give our people a bit of comedic relief, a chance to forget about the troubles and enjoy themselves for an hour and a half. And with the hopeful success of Basamtit Reesha we hope to bring more films to our community in our wonderful language. Your support will help us make that happen.

We thank you for your time and consideration… see you at the premiere!