Description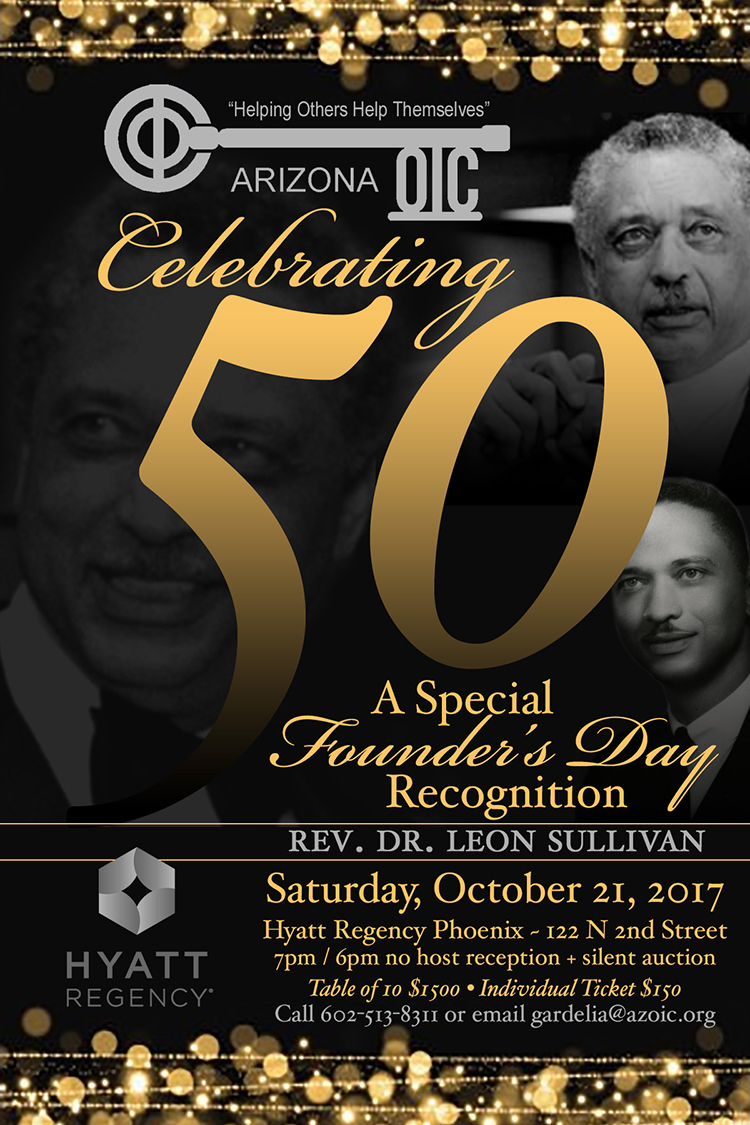 Arizona Opportunities Industrialization Center (AzOIC) is pleased to invite you to our 50th Anniversary and FOUNDER'S DAY CELEBRATION Dinner
The 2017 Celebration is an unparalleled opportunity to assist us in recognizing the OIC's Founder and
a great American, Rev. Dr. Leon H. Sullivan, and to promote the Global Sullivan Principles on
which he based his life's mission:
• Non-segregation of the races in all eating, comfort and work facilities;
• Equal and fair employment practices for all employees;
• Equal pay for all employees doing equal or comparable work for the same period of time;
• Initiation and development of training programs that will prepare, in substantial numbers,
minorities and other impoverished Americans for supervisory, administrative, clerical and
technical jobs;
• Increasing the numbers of minorities in management and supervisory positions;
• Improving the quality of employees' lives outside the work environment in such areas as
housing, transportation, schooling, recreation and health facilities.
While these principles may seem outdated to some, we know the problems faced by many still exist
today.
We are also honoring representatives of the more than 70,000 alumni who have been served by Arizona
OIC programs. We invite you to join us as a major Sponsor of this celebration and stand with us as we
continue to make the quality of life better for all!
---
Dinner Reservation must be received by 4pm October 13, 2017
For additional event information please contact Gardelia at (602) 513-8311
Hotel Information: Lori Schacher (602) 252-1234
50TH ANNIVERSARY • OCTOBER 21 2017 • FOUNDER'S DAY

www.azoic.org