Arizona NOW Virtual State Conference 2020 – Sept 12 from 10 AM – 2 PM MST
Join us at our virtual 2020 AZ NOW State Conference on Saturday, Sept.12 from 10-2 MST.
About this Event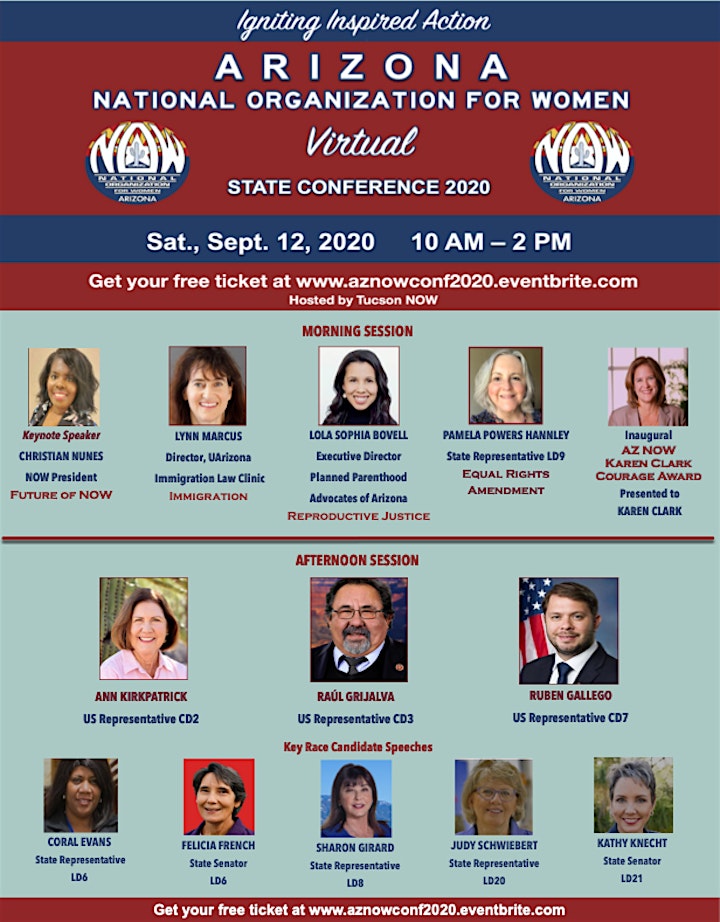 Igniting inspired action is the theme for the AZ NOW State Conference this year. This will be an energizing and informative VIRTUAL day, guaranteed to get your juices flowing with valuable insights into how we can all make a difference in this very important election year and 100th anniversary of the 19th amendment!
We have an outstanding slate of noted activists in the morning. Our keynote speaker is Christian Nunes, new NOW President and former Central Phoenix-Inez Casiano NOW member, who will speak on the future of NOW—this is not to be missed!
Also speaking in the morning are Lola Sophia Bovell, Executive Director of Planned Parenthood Advocates of Arizona, who will speak on reproductive rights; Lynn Marcus, Director of the University of Arizona's Immigration Law Clinic, speaking on immigration; and State Representative Pamela Powers Hannley (LD9) speaking on the ERA.
To cap the morning session, we will proudly present the inaugural Karen Clark Courage Award to Karen Clark.
During your lunch break, you'll enjoy some entertaining music videos that are designed to inspire and entertain you.
In the afternoon, Deborah Maher will lead us from national to state to local, so we will leave the conference with an action plan for moving forward in an inclusive way after the election, guaranteed to ignite inspired action! We are thrilled that US Representatives Ann Kirkpatrick (CD2), Raúl Grijalva (CD3), and Ruben Gallego (CD7) are speak at the conference. And last but not least, five of our wonderful PAC NOW-endorsed key race candidates will speak.
Don't miss this opportunity to gather together, build momentum, and be ready for an incredibly important election!