Arizona Food and Farm Finance Forum 2014
Location
Biosphere
32540 South Biosphere Road
Oracle, AZ 85623
Description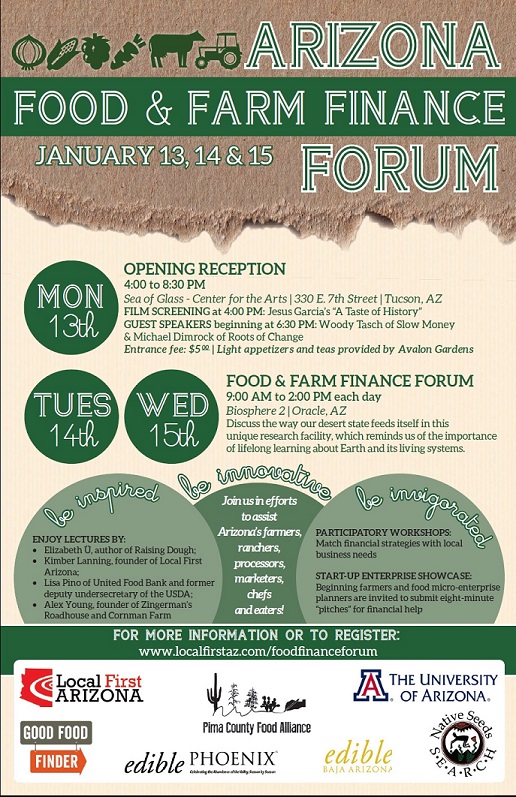 What is the Ariona Food and Farm Finance Forum?
The Arizona Food and Farm Finance Forum aims to change the way our desert state feeds itself. It will help our communities to envision fresh, cost-effective means to jumpstart new food micro enterprises, farms, community kitchens and hunger relief efforts to aid in the recovery of local economies by connecting these groups with possible avenues for credit and funding resources.
What do we hope to accomplish with the Forum?
We are hopeful that use this historic moment we can collectively serve as matchmakers between social entrepreneurs and investors—private and public—to begin to bring Arizona up from its fifth worst ranking among states in poverty and third worst ranking in childhood food insecurity. Our goal: to alleviate poverty by creating green jobs with live-able wages in the farming, ranching, food-processing, distribution and serving sectors of our economy. Join us in efforts to assist Arizona's farmers, ranchers, chefs, processors, marketers and eaters!
Who is speaking at the Arizona Food and Farm Finance Forum?
Woody Tasch of Slow Money
Elizabeth U of Finance for Food, author of Raising Dough
Michael Dimock of Roots of Change
Ernie Rivera of Mixing Bowl New Mexico
Alex Young of Zingerman's Community of Business
Kimber Lanning of Local First Arizona
Gary Nabhan of The University of Arizona
Who is helping put on the Arizona Food and Farm Finance Forum?
The retreat-oriented forum is sponsored by the Kellogg Program for Sustainable Food Systems at the University of Arizona, in collaboration with Local First Arizona, Good Food Finder, Slow Money Arizona, Edible Baja Arizona, Edible Phoenix, Sustainable Tucson, Slow Food Southern Arizona, Slow Food Phoenix, Community Food Bank of Southern Arizona, Pima County Food Alliance, Mesa Community College Sustainable Food Systems, and Native Seeds/SEARCH.
What are the costs?
Pre-registration for the two day conference is $200** with a deadline is Jan. 1st, 2014. Registration will cost $300** January 1st, 2014 until tickets are sold out. A limited number of partial scholarships are available if applications are received at gpnabhan@email.arizona.edu by December 29, 2013. Registration includes continental breakfast and local lunch both days as well as Tuesday night Dinner.
**Overnight stay fees are not included in the registration fee. Hotel room reservations are $89 per room for single or double occupancy at Biosphere 2. We suggest sharing a room to cut costs. Reservations can be made by contacting Kimberly Land: (520)-838-5013; kland@email.arizona.edu.
Who should attend?
If you are a beginning (or ramping-up) farmer: Come and hear Alex Young of Cornman Farm and the Zingerman's Community of Businesses talk about double their production and planting area each year, and how he finances it.

If you want to jumpstart a local food restaurant, food wagon or cooperative food distribution network to restaurants: Come and hear Derrick Widmark, co-founder of Diablo Burger talk about how he started and runs a hyper-local, successful and socially conscious eatery in two major Arizona cities.

If you are a food bank staffer hoping to create new jobs for the poor: Come and hear Lisa Pino, Executive Director of United Food Bank in Chandler explain what USDA Strikeforce Programs and philanthropic initiatives can help you create live-able wage jobs in the food growing, processing and distribution sectors.

If you are a community development planner or credit union investment officer, a social impact investor or venture capitalist: Come and hear Slow Money founder Woody Tasch tell how $30 million dollars of investing locally in food and farm businesses is creating viable options to Wall Street.

If you are an eater, a food justice activist, or student: Come and hear Kimber Lanning of Local First Arizona offer a vision of living local economies that will help Arizona communities recover their health and well-being.

If you are a potential donor, stakeholder or loan-giver to such initiatives: Learn from Elizabeth U, author of Raising Dough, how to avoid legal pitfalls and financial risks to match your financial resources to match your investing capacity with your values to do the greatest possible good for your family and community.
What is the Entrepreneurial Showcase? (Deadline Dec. 23rd, 2013)
The Entrepreneuial Showcase offers entrepreneurs the opportunity to share an 8-minute presentation about a promising business or cooperative venture with a forum of financial investors, credit unions, and Slow Money representatives; it thus connects food entrepreneurs and innovators with potential investors and financial advisors. To view examples of the kinds of presentations we seek, please visit: http://www.slowmoney.org/national-gathering/2013/showcase.
To participate, please submit one paragraph describing your proposal to Margaree Bigler (margaree@localfirstaz.com) by December 23rd. Pre-registration for either one or both days of the conference must be done by January 1st to qualify. Those selected to participate will be contacted by January 1st with more specific details on preparation.
Proposals will be evaluated based on the following criteria, and there are still spaces left! Please forward this on to anyone you know who might be interested in presenting. Below are the guidelines by which presenters will be chosen:
1. Facilities
Does the concept/business already have land, processing space or retail space purchased or designated?
2. Track Record
Has concept/business already pilot- produced or marketed any products that have a track record? Does the business have track record ready to distribute (ie: one page of past sales, production, etc; financial documents, etc)?
3. Type of Investment Sought
Does concept/business have a business plan and do they really want equity shareholders or low interest loans, or is the concept/business looking for outright donations?
4. Existing Businesses
If they are a business that has existed for more than two years, does their expansion or redirection REQUIRE patient or innovative capital solutions that may otherwise be best reserved for true start-ups?

5. Values and Social Embeddedness
Does this concept/business have any of the following embedded in the core of its enterprise:
- Food justice (including minority or low-income inclusivity)
- Climate change adaptation
- Land restoration, native foods revival
- Food desert solution
- Other (please explain)
6. Secondary and Tertiary Job Growth
Will their initial development OR expansion help other food or farm businesses in their area by offering synergies, providing processing or distribution infrastructure that will help other microenterprises, or offer spinoff jobs and management opportunities for others in their own communities or in analogous communities?
7. The Pitch
Has the concept/business ever pitched its plan before? Will a powerpoint be presented? If not, are there photos or anything else that will be presented at the time of the talk?
Updated Forum Agenda:
Monday January 13th Downtown Tucson 4:30 pm to 8:30 pm $5 per person cover
Sea of Glass Performing Arts Hall 330 East 7th Street, Tucson, AZ
(next to Food of Ascension Café, across from Antigone Books)
4:15-4:20 pm: Tabling by non-profits and Introduction to Tasting History Film featuring Jesus Garcia, by Dena Cowan
4:20 -5:00 pm: Tasting History Film, with five minutes of Q and A
5:00-5:30 pm: Preview of Across the Grain Divide film by JD McLelland; OR light dinners at Food for Ascencion Café next door, 10% off for those paying cover charge until 6:30
5:30-6:30 pm: Reception, with Dips and chips/flatbreads for free, non-alcoholic drinks for cost, with tabling by non-profits and book sales by Antigone Books, release of new Edible Baja Arizona issue
6:30-6:50 pm: Launch of Arizona Food and Farm Finance Forum with welcomes by Kimber Lanning of Local First Arizona and Gary Nabhan of University of Arizona Southwest Center, with introductions of all keynote speakers
6:50-7:30 pm: Keynote by Woody Tasch, founder of Slow Money, author of An Inquiry into the Nature of Slow Money
7:30-7:40 pm: Break
7:40-8:10 pm: Keynote by Michael Dimock of Roots of Change, former board chair of Slow Food USA
8:15 pm: Vans leave for Biosphere 2, 3250 South Biosphere Road, Oracle AZ (40 minutes north)
Tuesday January 14th Biosphere 2, Oracle 8:30 am to 8:30 pm Registered participants only
Biosphere 2 Conference Center 3250 South Biosphere Road, Oracle, AZ
7:30--8:30 am: Registration and continental breakfast, set-up for tabling food micro-enterprises
8:30-8:40 am: Welcomes by Kimber Lanning and Natalie Morris
8:40-9:00 am: Introduction: Gary Nabhan with Paula Schaper, Why We Are Here: Jumpstarting the Arizona Economy through Food and Farm Microenterprises AND An Assessment of Resources in the Room
9:00-9:45 am: Keynote by Elizabeth U, Finance for Food and author, Raising Dough
9:50-10:15 am: Assessing Financial Options for Rural and Urban Food Development: Lisa Pino, President and CEO, United Food Bank of Arizona, and former Deputy Assistant Secretary for Civil Rights in the USDA
10:15-10:30 am: Break
10:30-11:45 am: Two breakout sessions:
A.

Governmental assistance to jumpstart new farms and food businesses
Lisa Pino, United Food Bank, facilitator; Alan Stephens, USDA Rural Development Arizona Office, Michael Dimock, Roots of Change, and Kristen Egen, Natural Resource Conservation Service, Tucson office


B.

Private investment assistance to jumpstart new farms and food businesses
Kimber Lanning, Arizona Local First, facilitator; Woody Tasch, Slow Money, and Elizabeth U, Finance for Food
11:50-12:10 pm: Reports back from facilitators to entire group
12:15-1:00 pm: Lunch with slideshow talk by Doug Biggers, publisher Edible Baja Arizona magazine
1:15-1:45 pm: Keynote by Kimber Lanning, Local First Arizona: Why participate in the Business Alliance for Living Local Economies?
1:50-2:20 pm: Alex Young, Zingerman's Roadhouse and Cornman Farm: Lessons from Zingerman's Community of Businesses as applied to jumpstarting CornMan Farm
2:30-3:15 pm: Two breakout sessions:
A.

Financially growing a farm or ranch
Nick Henry, CFBSA, facilitator; Alex Young, Zingerman's and Cornman Farm; Dennis Moroney, 47 Ranch and Sky Islands Beef; and Jaime de Zubeldia, ReZonation Farm


B.

Financially growing a food microenterprise
Alex Solis, PRESTAMOS facilitator: Ernie Rivera, The Mixing Bowl Community Kitchen, and Kira Dixon-Weinstein, Microbusiness Advancement Center, SABOR initiative of Mercado San Augustin
3:15-3:30 pm: Reports back from facilitators
3:30-4:20 pm: Beginning entrepreneurs showcase: six eight-minute presentations by experienced farmers and food business innovators
4:20-4:30 pm: Break
4:30-5:20 pm: Transitional entrepreneurs showcase: six eight-minute presentations by selected young farmers and food business innovators
5:30-6:15 pm: Wine and cheese reception and micro-enterprise tabling and tastings in Biosphere 2
6:15-7:30 pm: Local foods dinner in Biosphere 2: Comments by Joaquin Ruiz, Dean of Sciences or by Dr. Diana Liverman of Institute of the Environment.
Wednesday January 15th Biosphere 2, Oracle 8:30 am to 12: 30 pm Registered participants only
Biosphere 2 Conference Center 3250 South Biosphere Road, Oracle, AZ
7:30-8:30 am: Breakfast
8:30-9:00 am: Options: Reflections on first day and next steps by Woody Tasch, AND Michael Dimock
9:30-10:45 am: Action groups:
A.

Coordinating private, governmental and philanthropic funding for the Southwest's food future
Lisa Pino and Margaree Bigler, co-facilitators
B.

Co-locating and bundling urban food microenterprises for the greatest synergies
Tres English, and Robert Ojeda, co-facilitators
C.

Co-locating food processing and distribution hubs
Natalie Morris and Jeff Zimmerman, co-facilitators
D.

Assisting young farmers with land access
Vanessa Bechtol and Dennis Moroney , co-faciltators
E.

Coordinating green waste stream salvage to assist producers
Chet Phillips and James Martin, co-facilitators
11:00-12:00 pm: Reports back from facilitators
12:00-1:00 pm: Lunch with wrap-up by Robert Ojeda, Community Food Bank and Doug Taren, Associate Dean of Public Health, University of Arizona
---
WE LOOK FORWARD TO SEEING YOU IN JANUARY!