Arizona Cord Blood Conference 2018 - Advancing Innovation
Description
Register now for the 3rd Annual Arizona Cord Blood Conference: Advancing Innovation. Now in its third year, this conference is focused exclusively on cord blood stem cells and features multiple expert speakers. The conference will take place at the Double Tree by Hilton in Tempe, Arizona on April 13, 2018. The conference aims to bring policy makers, patients and their families, researchers and clinicians together to create a cohesive network supporting the Arizona Public Cord Blood Program.
Who is invited to this event?
This event is free and open to the public*. We highly recommend healthcare professionals to attend (early registration is encouraged). We also welcome parents, students, educators and the general public to attend this valuable conference. Seating is limited. Please register in advance to guarantee your place.

*All attendees will be provided a complimentary lunch during the conference.
AGENDA
We are proud to welcome the following speakers:
• Dr. Wise Young (W. M. Keck Center for Collaborative Neuroscience at Rutgers University) will speak about his groundbreaking research using donated umbilical cord blood to treat spinal cord injuries.
• Dr. Juliet Barker (Sloan Kettering Cancer Center) will give her insight on how unrelated donor cord blood can be used in the treatment of acute leukemia or myelodysplasia with reduced intensity chemo.
• Dr. Filippo Milano (Fred Hutchinson Cancer Research Center) will compare stem cell sources (including cord blood) for stem cell transplants and how to improve outcomes and costs for cord blood recipients.
• Dr. Michael Chez (Sutter Institute for Medical Research) will speak about his recent publication "Safety and Observations from a Placebo-Controlled, Crossover Study to Assess Use of Autologous Umbilical Cord Blood Stem Cells to Improve Symptoms in Children with Autism."
• Dr. Brian Freed (ClinImmune Labs – University of Colorado) will give his insight on the current status of cord blood transplantation as well as the future of cord blood transplantation as a viable stem cell therapy. He will also identify the legal, regulatory and financial barriers to cord blood banking success.
• Diane Paradise (Cancer Survivor and Cord Blood Recipient) will speak about her long battle against Hodgkins Lymphoma. After years of treatments, Diane was told there were no other options. She learned about cord blood and it ultimately saved her life.
• Lyla Edgington (Cord Blood Recipient - Hurler's Syndrome Survivor) and her family will speak about young Lyla's struggle with Hurler's Syndrome and how a cord blood donation has given her a second chance at life.
The Arizona Cord Blood Conference is brought to you by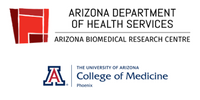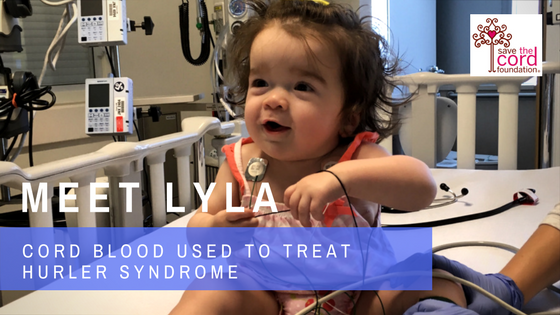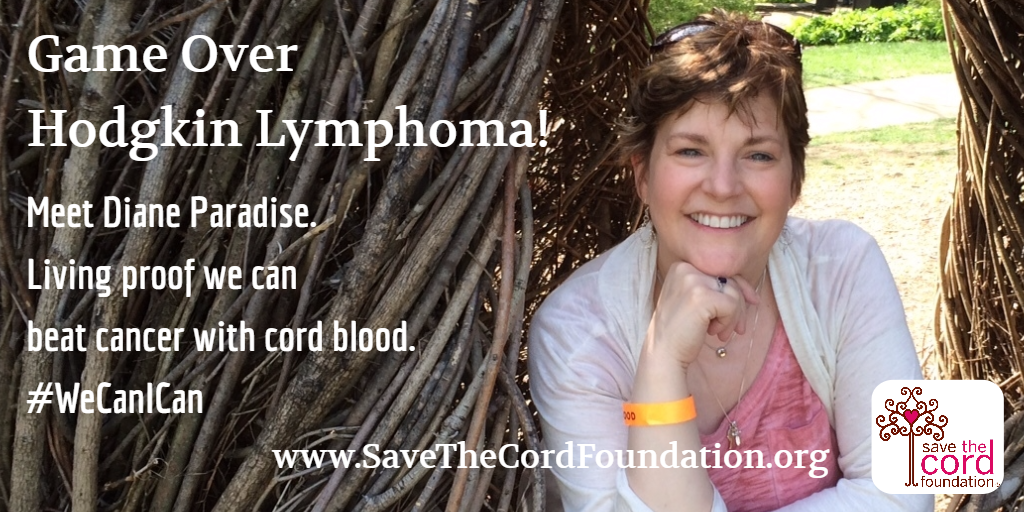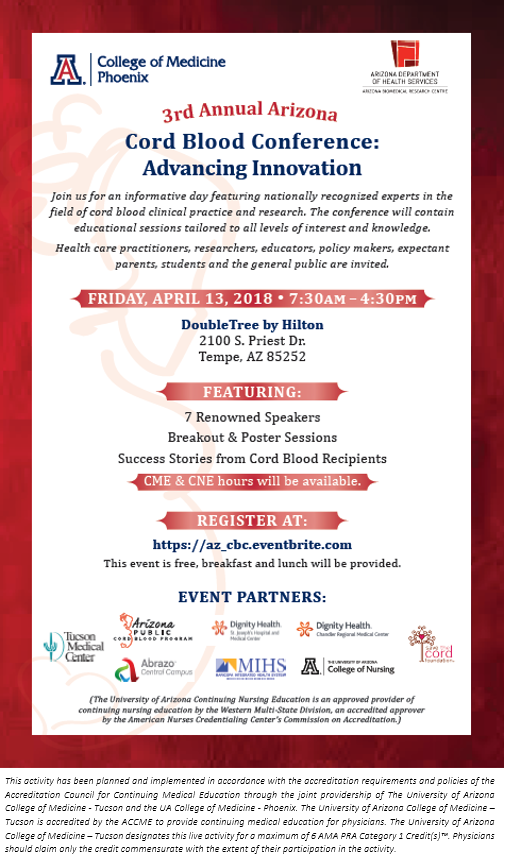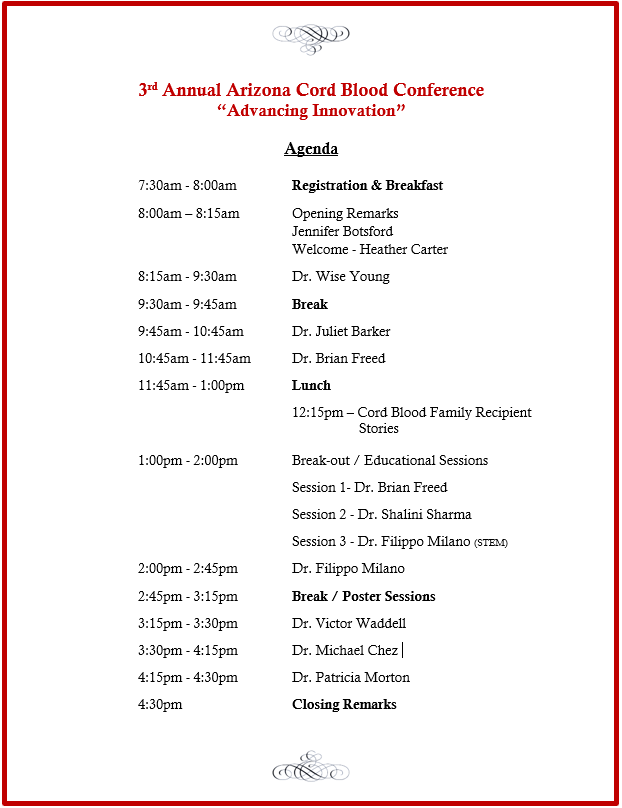 FAQs
Is a lunch provided for attendees?
Yes, all attendees will be provided a free lunch (registration required).


Are school groups invited?
Yes, school groups are invited. We recommend groups of 10-12 students maximum per teacher. Please, book online under the teacher's name (you can choose the quantity of tickets needed).


What are my transportation/parking options for getting to and from the event?
Parking is provided on-site, free of charge. For details: DoubleTree Hotel Tempe Arizona website.

How can I contact the organizer with any questions?
Contact Bernadine Sadaukas at bsadauskas@email.arizona.edu