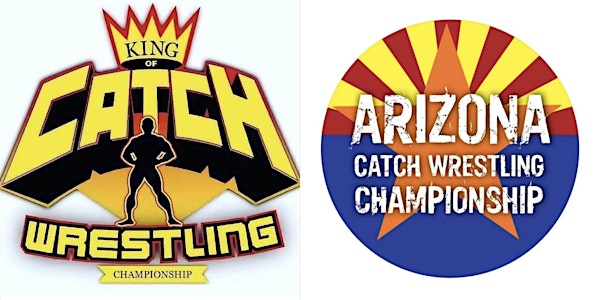 Arizona Catch Wrestling Championship 4 Way Shoot Super Fights Tournament
AZ Catch Wrestling Championship Sanctioned by @kingofcatchwrestling
When and where
Location
Black Flag Jiu-Jitsu Club 6960 North 57th Drive Glendale, AZ 85301
Refund Policy
Contact the organizer to request a refund.
Eventbrite's fee is nonrefundable.
About this event
AZ's 1st and only Catch Wrestling Tournament Things to know:
**No Weight Classes for any Division**
16 Man - 4 Way Shoot
8 Man Tag Team Championship (4 Teams)
Teen's 8 Man - Way Shoot (15-17 years)
Women's 4 Way Shoot
Men's Absolute Division
Cost $80 per division & $40 for Absolute
Only competitors and coaches allowed, spectator seating is not available.
Event will be streamed Live on Facebook
AZ's 1st and only Catch Wrestling Tournament Things to know: *Rules and other info:
16 Man - 4 Way Shoot
Rounds have no time limit
1 fall with, double elimination by pin or submission
No Teams
Only 2 can be in the match at one time, remaining competitors wait on a corner to be tagged in
Tags must be hand to hand & deliberate
Unlimited use of tags to rest or escape pin/submission
Tagged in competitor can immediately begin attacking his opponent, and the tagged out competitor must immediately move to the corner
3 second pin
Most submissions legal, rules meeting will take place prior to start of event
8 Man Tag Team Championship (4 Teams)
Rounds have no time limit
Victory by pin, submission, knockout, count out.. Best of 3 falls, 12 minute rounds
Only 1 pin/submission needed for a fall victory
Team vs Team format
Unlimited use of tags to rest or escape pin/submission
Tags must be hand to hand & deliberate
3 second pin
Pin must be both shoulder blades for a full 3 second count
Tagged in competitor can immediately begin attacking his opponent, and the tagged out competitor must immediately move to the corner
Most submissions legal, rules meeting will take place prior to start of event
Teens 8 Man - Way Shoot
Rounds have no time limit
Double elimination by pin or submission
No Teams
Unlimited use of tags to rest or escape pin/submission
Tags must be hand to hand & deliberate
3 second pin
Most submissions legal, rules meeting will take place prior to start of event
Women's 4 Way Shoot
Rounds have no time limit
Double elimination by pin or submission
No Teams
Unlimited use of tags to rest or escape pin/submission
Tags must be hand to hand & deliberate
3 second pin
Most submissions legal, rules meeting will take place prior to start of event
Absolute Division
No weight classes
No separation of skill level
No masters divisions
Singles matches under King of Catch Wrestling rules, sanctioning body of the AZ Catch Wrestling Championship
Victory by best of 3 falls
Victory by Pin, submission, or opponent's inability to continue combat
12 minute rounds with 1 minute rest between rounds
Pin must be both shoulder blades for a full 3 second count
Most submissions legal, rules meeting will take place prior to start of event