Description
Imagine traveling to Phoenix from Bisbee or Flagstaff or Yuma in a horse and buggy on a one lane dirt road, rather than zooming down the freeway in your car at 75-80 miles an hour. Broadband Internet connections are like that too.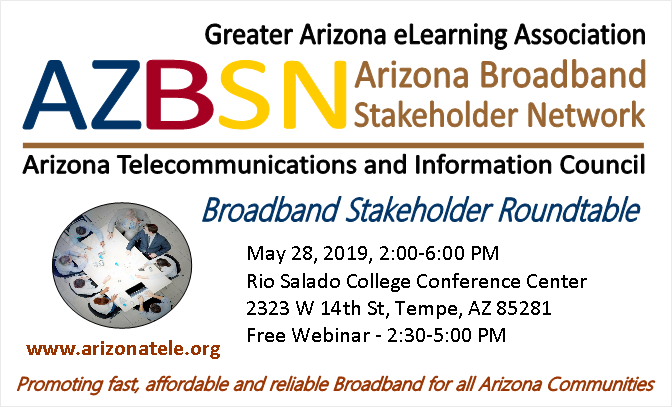 Free Webinar available – See Web Site Link Below To Connect
You know you want to be there
ATIC, the Arizona Telecommunications and Information Council, and GAZEL, the Greater Arizona eLearning Association, are leading the development and coordination of the Arizona Broadband Stakeholder Network. On May 28 we will present the first of a series of Stakeholder Roundtables from 2:00-6:00 pm in Tempe Arizona.
We expect about 100+ Arizona public, private and nonprofit stakeholders to attend the Roundtable representing economic development, education, local and state government, health services, public safety, libraries, telecommunications and technology companies, and more. Will you be there?
There are a number of stakeholders engaged in initiatives to promote the expansion of broadband deployment in Arizona.The Network and Roundtables will provide these stakeholders opportunities to collaborate on initiatives and strategies to accelerate deployment of fast, reliable and affordable Broadband Internet access in all Arizona communities, and to enable those communities to utilize those connections to: support 21st Century education, create jobs and support economic development; train a 21st century workforce; enhance public safety and health care and; connect their citizens to the world.
Stakeholders will come together to build a constituency and enable collaboration, coordination, information sharing and communication. They will learn something new, share what they know, make connections with other collaborators, find resources and help for their initiatives, and hear about and provide updates on federal, state and local initiatives in Arizona.
Here is why this is important -The Challenge For Arizona
Like water, roads and electricity, in today's Networked World broadband internet access is a critical infrastructure for community development and the health, safety, welfare, educational advancement, and economic prosperity in Arizona communities. Unfortunately, many tribal, rural and other underserved communities in Arizona do not have fast, reliable and affordable broadband access. And many Arizona citizens still do not have the technology and skills to participate effectively in the Networked World.
The Program
FYI, Tom Wheeler former Chairman of the Federal Communications Commission will be providing a Keynote video to speak about vision, policies, strategies, and best practices to enable Arizona to provide equitable, affordable, and reliable broadband to all communities in the state.
John Windhausen, Executive Director of SHLB, Schools, Health & Libraries Broadband (SHLB) Coalition will provide Federal Legislative Updates by video conference from Washington D.C.
We will also provide an overview of key State Of Arizona and local community broadband initiatives, and there will be a reception, networking, and showcase.
We know that there is much to be done to address the broadband needs in Arizona, particularly in rural Arizona. The network will not solve all of the challenges. The Network is just one step towards building a constituency and facilitating collaboration, coordination, information sharing and communication among stakeholder groups.
Lots More To Tell You
We have lots more to tell you so please see our web site for more information about the Network, the Roundtable, the program, our keynote, and more. You can also register on that site. BTW, if you are interested in being a sponsor or partner you can also find that information on the site.
We look forward to seeing you there
Steve Peters, Broadband Stakeholder Network Facilitator, 520-321-1309,
Details, Registration and Webinar