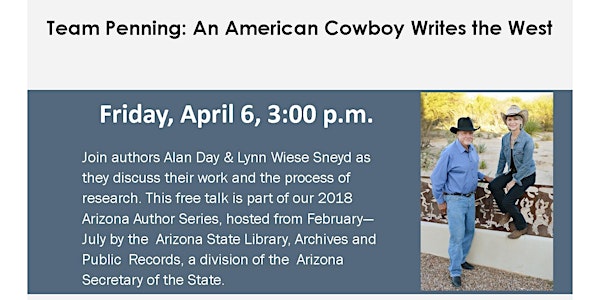 Arizona Author Series: Alan Day and Lynn Wiese Sneyd
When and where
Location
Polly Rosenbaum Archive and History Building 1901 West Madison Street Phoenix, AZ 85009
Description
Team penning isn't just a rodeo event. This year, it's a literary event featuring co-authors Alan Day and Lynn Wiese Sneyd. They'll give us the low down on what it was like to write and publish their newest book, "Cowboy Up! Life Lessons from Lazy B."
State historian Marshall Trimble says that "Cowboy Up" reflects "on the life of the everyday cowboy with all it's trials and tribulations better than anything I've ever read. They range from dealing with the capricious vicissitudes of nature, friendships, horse wrecks and winning the trust of horses through patience and love. They also tell of man's close relationship to the land and all God's critters that inhabit it. "
In addition to sharing a few crazy cowboy stories, Alan and Lynn will preview their video of Lazy B, filmed last year with assistance from U of A media arts experts and some cool drone photography.
So dust off those boots. Grab your hat. It's time to cowboy up and get ready for a fun ride!
About the authors:
If it is possible to say someone can be born a cowboy, then Alan Day was born one. He was the third generation to grow up on the 200,000-acre Lazy B cattle ranch straddling the high deserts of southern Arizona and New Mexico. After graduating from the University of Arizona, Alan returned to manage Lazy B for the next 40 years, during which time he received awards for his dedication to land stewardship. In addition to co-authoring with his sister, Sandra Day O'Connor, the New York Times bestselling memoir Lazy B, Alan also is the author of The Horse Lover: A Cowboy's Quest to Save the Wild Mustangs and Cowboy Up: Life Lessons from Lazy B.
Lynn Wiese Sneyd is an award-winning author and owner of LWS Literary Services in Tucson. She coordinates book publicity campaigns for authors, writes query letters and book proposals, ghostwrites and edits. Her most recent published works include "Cowboy Up!" and " The Horse Lover," co-authored with H. Alan Day, and " The Shadows in My Heart," co-authored with Mary Havens. A frequent presenter at writer's conferences and workshops, she also is the literary consultant for the Tucson Festival of Books.
Register for this event @ https://azsos.libcal.com/event/3976279?hs=a