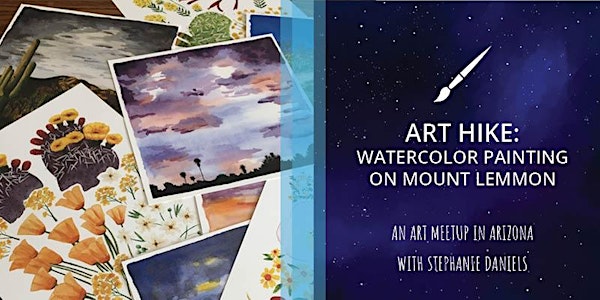 Arizona Art Hike: Mount Lemmon
Join us on Mt. Lemmon in Arizona where we'll hike, paint and enjoy each other's company and the scenery of the Arizona Sky Islands.
When and where
Location
Bigelow Trail Trailhead Mount Lemmon Highway Mount Lemmon, AZ 85619
About this event
Art Hike Meetup on Mount Lemmon
August 14th at 7:45 a.m. / Bigelow Trail Trailhead, Mount Lemmon, AZ
Experience the beauty of the Arizona Sky Islands by meeting us for an art hike on Mount Lemmon! We'll meet at 7:45am at the Bigelow Trail Trailhead parking lot. Together we'll hike to the top of Mount Bigelow where we will break for an hour to draw, paint or journal.
Stephanie Daniels of Brushes & Boots will provide some instruction on how to capture the scenery with your medium of choice and then let you explore your creativity on your own. We'll hike the same trail back to the trailhead.
The well marked trail moderately climbs through pines, ferns, and wildflowers with a great view of Tucson to the south and the San Pedro River Valley to the east. The trail has loose rocks in some places and weaves through old burn area from the 2020 Bighorn Fire. You will see some fire damage but you will also see how resilient the mountain is after a wildfire.
What to Bring on Your Adventure (Materials list):
backpack w/ water and snacks
hat/sunglasses/sunscreen
hiking boots/sturdy shoes
extra layer/jacket (in case of wind)
trekking poles (helpful for the portions of trail with loose rock)
drawing/painting/journal materials of your choice
optional lightweight seat or cushion
don't forget your Kula cloth!
Description of the hike: Bigelow Trail
Miles: 2 mile out & back
Elevation gain: +/- 600 ft
Highest Point: 8,575 ft
Difficulty: Moderate
Pace: 1.5 - 2 mile/hour
Trailhead Parking or Permits needed: Coronado National Forest Pass (day use: $8 per vehicle, pay online or on-site with cash)
Driving Directions: Take Catalina Highway off Tanque Verde Road in Tucson, continue 24 miles to the Bigelow Trail Trailhead, just before the Palisades Visitor Center. It takes about 45 mins to get to the Bigelow Trail trailhead from the base of the mountain. We'll meet around 7:45am at the Bigelow Trail Trailhead parking lot, near the interpretive sign. Note, you cannot park at the Palisades Visitor Center for this hike. Additional parking can be found on either side of Catalina Highway just south of the Bigelow Trailhead. Please use caution when walking beside the highway.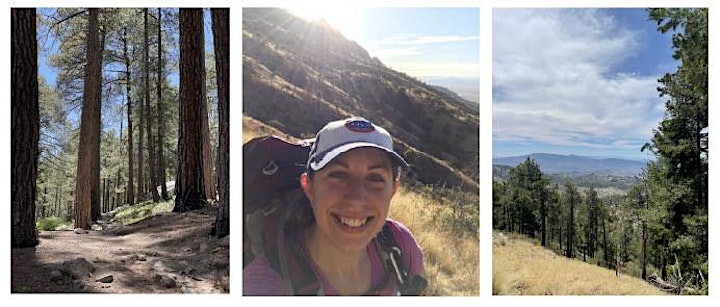 About Our Instructor:
Stephanie Daniels is an artist and adventure seeker based in Tucson, AZ where she shares her hiking adventures and botanical watercolor artwork under the moniker Brushes and Boots. She draws inspiration from time spent in nature, whether hiking in the Sonoran Desert or backpacking the higher elevations of the Sky Islands of Arizona. Her original watercolor paintings showcase the range of beauty the Southwest has to offer, from cactus to pines.
Like many people who have not spent a lot of time in the Southwest, she initially thought the landscape around Tucson was dry, brown and boring. Through exploring the Sonoran Desert, she discovered an abundance of life and color in the seemingly lifeless landscape and she now uses her art to share the beauty found in this special place.
Since moving from Chicago to Arizona in 2017 she has grown her outdoor skills and knowledge, from not even owning properly fitting hiking boots or knowing anything about a water filter to teaching women's backpacking clinics and becoming a Wilderness First Responder. Her proudest outdoor achievement to date is hiking 230 miles in 24 days on the John Muir Trail in 2019.
She shares her art and adventures on www.brushesandboots.com and @brushesandboots