Description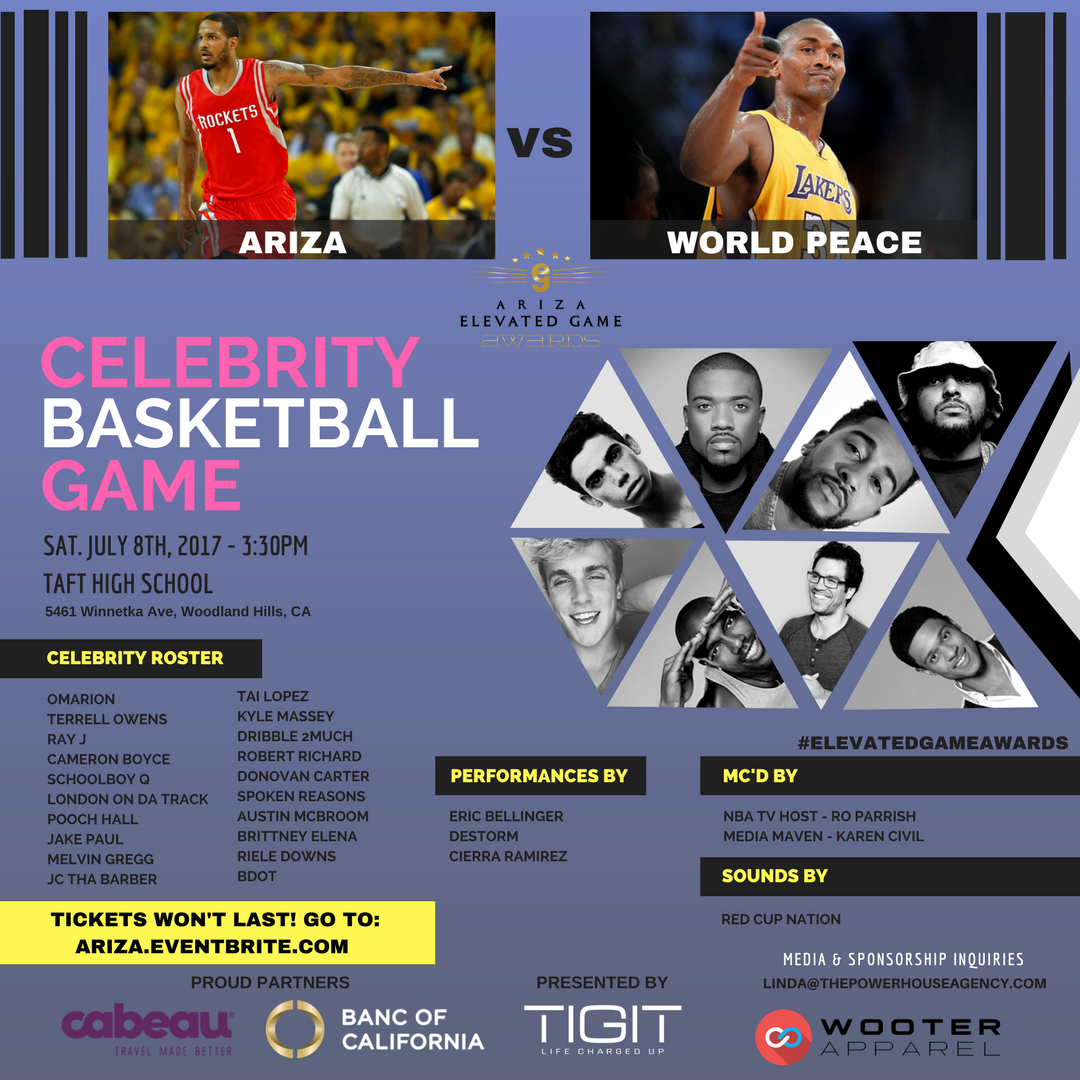 ARIZA ELEVATED GAME AWARDS CELEBRITY BASKETBALL GAME PRESENTED BY TIGIT
Once again the Ariza Elevated Game Awards Celebrity Basketball Game is back, presented by the hottest selling phone charger on the market - TIGIT! This year's event will take place on July 8th, 2017 at Taft High School in Woodland Hills and will once again feature some of the biggest stars in the film & music industry hooping it up for a great cause.
*The event gets underway at 3:30 PM and featuring some of your favorite hip hop and R&B stars, celebrities and some of the NBA's hottest superstars and legends.
Watch Houston Rockets superstar Trevor Ariza vs. Los Angeles Lakers Metta World Peace coach it out to see who will take home the coveted AEGA Celebrity Basketball Game Title Belt.
UPDATE: PLAYER ROSTER -
OMARION, RAYJ, JC THABARBER, JAKE PAUL, SCHOOOLBOY Q, TERRELL OWENS, LONDON ON DA TRACK, POOCH HALL, CAMERON BOYCE, YOUTUBE STAR DESTORM, AND MANY MORE TO COME! PLUS SPECIAL SURPRISE GUESTS!
YOU DON'T WANNA MISS THIS!
This is one event that no basketball lover will want to miss so be sure to get your tickets early because it is also one of the most popular annual events in Los Angeles and tickets never stay available long.
AEGA CELEBRITY BASKETBALL GAME SEATING OPTIONS
There is simply no reason not to attend the All-Star Celebrity Basketball Game as tickets are available no matter what your price range. Those looking to save some money and still be part of the event can get the cheaper seats, while big spenders can splurge on VIP front row seats and be right up close and personal to all of their favorite superstars. Wherever you find yourself sitting for the Celebrity Basketball Game, you will surely have an incredible time that you will be talking about for months, if not years, to come.
ABOUT THE FOUNDATION
All of the proceeds from the AEGA Celebrity Basketball Game go to benefit the Ariza Elevated Game Awards foundation, a nonprofit 501 (3)(c), which is a program co-founded by NBA player of the Houston Rockets and World Champion Trevor Ariza along with his long-time "big brother" and Executive Director Mr. Alex Parker. The foundation celebrates and honors high school senior student athletes every year who have gone through pain, struggle both on and off the court, but refused to give up and quit no matter how difficult the challenges they faced. It's the high school version of ESPY's. The program offers financial aid scholarships that goes toward their college living expenses.
*Important: By purchasing a ticket(s), purchaser understands and agrees that the organizer Ariza Elevated Game Awards, its partners, affiliates, sponsors, representatives, employees, volunteers, and/or promotional company is not responsible or liable for any talent/player/celebrity that is unable to show up on the day of the event. The list of celebrities is subject to change at anytime without advance warning. The organizer cannot control, nor forsee schedule conflicts and personal emergencies that can and may arise on the day of the event with the list of talent. Therefore, purchaser understands that all sales are final and tickets are not refundable. Ticket price(s) subject to change at anytime.
Use of the school premises has been granted pursuant to the provisions of Sections 17400, et seq., of the Education Code of the State of California to the Ariza Elevated Game Awards from the Board of Education of the Los Angeles Unified School District. LA Unified and the Board of Education does not sponsor or take responsibility, nor does it endorse any of the activities, statements or opinions which may be expressed at this meeting/activity.