Event Information
Refund policy
Contact the organizer to request a refund.
Eventbrite's fee is nonrefundable.
"Arise, shine, for your light has come, and the glory rises upon you." Isaiah 60:1
About this event
ARISE & SHINE
2021 WorkLight Annual Conference - Streamed Live to Individuals & Regional Gatherings
This year's Annual Conference will be streamed live to individuals, Small Groups and regional gatherings happening all over the country. Keep reading for information on Regional Gathering locations.
___________________
About:
Our society is changing dramatically, but our mission remains the same. This year we'll address today's challenges and revive our two greatest gifts – the Challenge Weekend and the Power of the Holy Spirit. As we emerge from the pandemic, let's come together in Christ to fuel the fire for a movement of the Holy Spirit.
___________________
Speakers: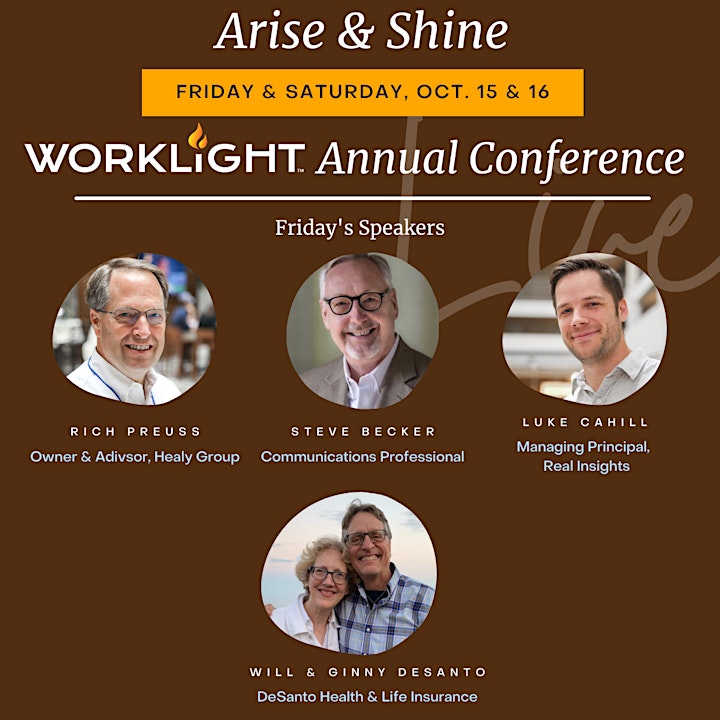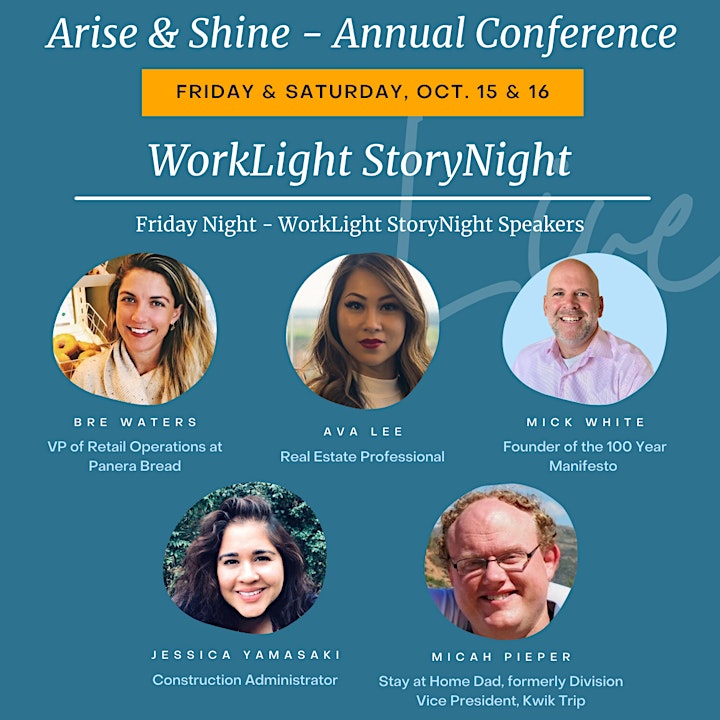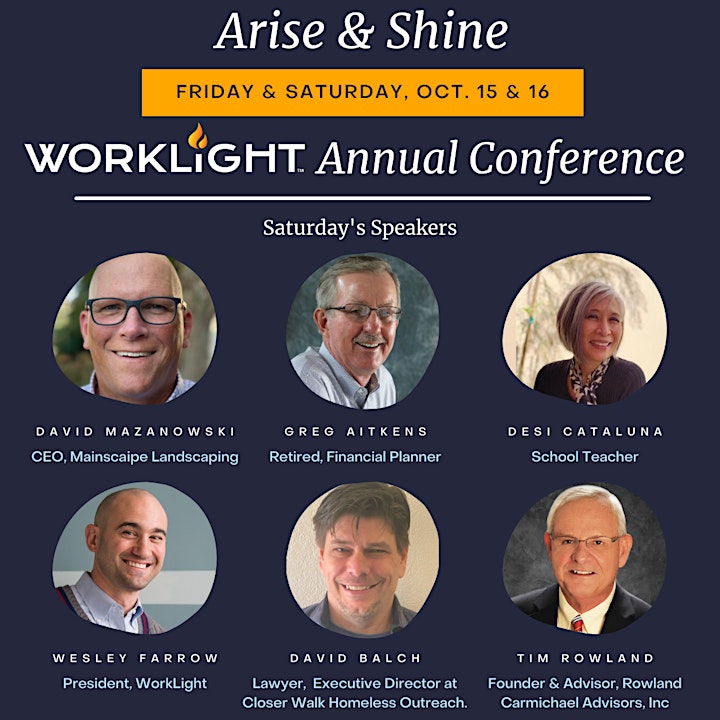 ___________________
Participant Guide:
___________________
Schedule:
Pre-Conference | Sessions can be viewed together in a group-setting or individually
Friday - Day, Oct. 15: Being the Light in a Darkening World
9:00 am - 2:00 pm CST*
"See darkness covers the earth and thick darkness is over the people." Isaiah 60:2
Explore three critical considerations in a post-Christian world and our call to be Christ. Subject matter and reflections will explore how these topics impact us personally and together.
Friday Night, Oct. 15: WorkLight StoryNight (individual tickets available and included in conference ticket)
6:00 pm - 8:00 pm CST*
It is my pleasure to tell you about the miraculous signs and wonders that the Most High God has performed for me. (Daniel 4:2)
An evening of inspiring Christian storytelling highlighting a living God at work across every profession and place.
Conference | Sessions are designed especially for regional gatherings. It can also be accessed individually.
Saturday, Oct. 16, 2021: More of Christ in Us
9:00 am - 5:00 pm CST*
But the Lord rises upon you and his glory appears over you." Isaiah 60:2
Saturday is structured to renew what has made us so effective. Using the first four foundational topics from the Challenge Weekend, individuals will bring them to life with their own stories. Time for worship and fellowship will be included. Saturday is built for regional gatherings.
___________________
Regional Gatherings:
Regional Gathering Locations and Leaders:
Individuals are welcome to attend the closest Regional Gathering to you in-person (Please click LEARN MORE above for specific info) or registrants can watch the conference in a small group or individually on your own.
If your group or Chapter would like to host a Regional Gathering in your area, please contact us at remote@worklight.org. If you are wondering what is included with hosting a Regional Gathering you can click here to go through our Regional Gathering "How-to-Guide."
___________________
Questions:
Please direct all event questions to remote@worklight.org
___________________
Message from WorkLight on COVID-19
As we prepare for our first-ever hybrid Annual Conference, we continue to recommend that groups follow their local government and host venue guidelines regarding COVID-19. Especially in consideration of those who may be at a higher risk for severe illness due to age (65+) or underlying medical conditions. Let us care for one another's varied needs, experiences and perspectives by keeping the charity and love of Christ foremost.
Gathering in the name of Jesus is a profound blessing, especially in these unusual times. However, we acknowledge that some may not gather in person due to varied personal preferences, complicated group dynamics, and/or out of respect for others. For this reason, the entire conference will be available from the privacy of anyone's home or office. Even breakout groups and small discussions will take place virtually for those who are unable to gather in person. We are praying, planning, and believing for this movement of the Holy Spirit to stir us all, wherever and however we might be connected.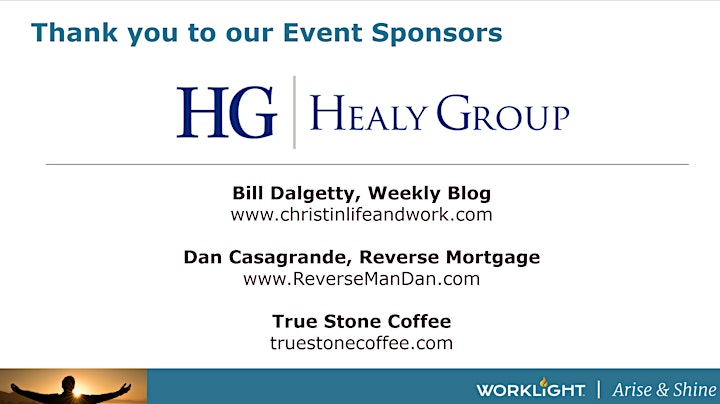 Date and time
Refund policy
Contact the organizer to request a refund.
Eventbrite's fee is nonrefundable.