Description
This Arise Conference is a Powerful Apostlic/Prophetic Conference with a great Kingdom Impact. This conference will challenge you to Arise and move in the things of God. The church was designed for battle. Where are the troops? Our eyes need to be opened to the war waging around us. Things change in wartime. Priorities are different. Values are shifted. We're in a war for the glory of God. This conference is a clarion call for us to get serious to embrace our great God and His Great mission.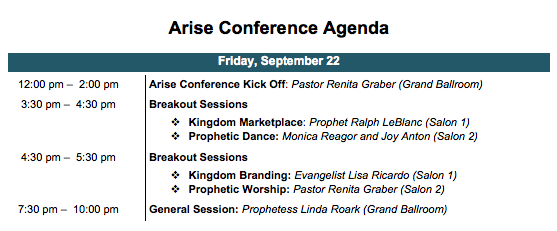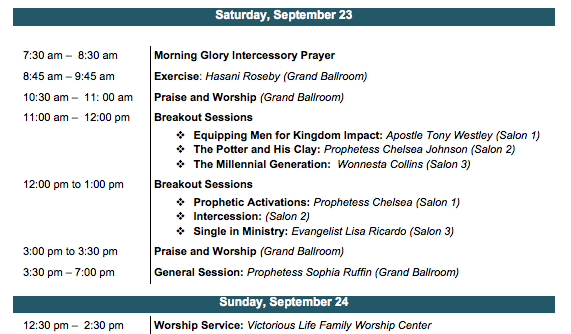 Conference Speaker and Teachers:
.
Renita Graber
Ambassador Renita Jackson Graber is a woman of God ordained to preach and teach the Gospel of the Lord Jesus Christ. She is the founding pastor of Victorious Life Family Worship Center (VLFWC) of Laplace, LA. with a unique style and a 'no holds barred' approach to advancing the Kingdom of God. Ambassador Renita Graber is the wife of Ambassador Winston Graber Jr. and the mother of Winston Graber, III.
Ambassador Graber is known for her dynamic, inspiring and anointed preaching and music ministry. She is a powerful worship leader, and skillful musician. She is the founder of Audience of One Worshippers, a prophetic, praise and worship team that the Lord has anointed and jointly sealed together for such a time as this. Collectively, they create an atmosphere for God to dwell and manifest his glory. Audience of One has traveled extensively ministering the word in song including to places in Ethiopia, Africa. Audience of One has been together for 9 years and is still on assignment today.
With a heart, passion, desire and the energy to equip the youth to do the work of the ministry, in 2012 Ambassador Graber founded Fusion Youth Outreach. FYO is a 21st century, epic, on the edge, youth ministry, who hands down, love God. Fusion Youth is presently active and is still on assignment today.
Ambassador Graber is a Kingdom Builder but above all- She is a woman of God who loves the Lord with all of her heart, who is determined, relentless and unapologetic in the fight against the enemy to Advance God's Kingdom. In 2017, Victorious Life Family Worship Center was established as an embassy of the Lord Jesus Christ to fly the flag of the Kingdom by Apostle Vincent Valentyn of Cape-Town South Africa.
Sophia Ruffin
Ambassador Sophia Ruffin is the founder of Dope Chic but Holy Chic Ministry with a focus on empowering women to know that as "Overcomers" your anointing is to share with others, how GOD has given you beauty for ashes, and double the anointing for all the shame you've endured.
God has gifted this woman of GOD with the ability to spread an epidemic by bringing the Kingdom from behind the four walls of the church, and has positioned her to impact the Kingdom for such a time as this. Sophia enjoys edifying and encouraging the body that there is a place in God that shakes the kingdom of darkness and unleashes the Power of God.
​Sophia's passion for ministry has opened the door for her to grow & mature the office of the prophet. She has a strong passion to draw the broken, and bound woman, who desires to be set free. It is Sophia's desire to inspire, and lead others through their journey of deliverance by being the blueprint and syllabus for women as they walk through their deliverance process.
​Ambassador Sophia Ruffin is an ordained minister called to the 5-fold ministry to impact & advance the kingdom of GOD currently serving as an active member of Heritage of Life Covenant Church under the leadership of Apostle Lancer, and Traci Delashment. Sophia is a core leader of SPI Network (Seers; Prophets & Intercessors) founded by Apostle Lancer Delashment; where she assist with training; activation & prophetic intercession in Chicago Heights, IL.
Linda Roark
Prophetess Linda Roark is an International Conference Speaker, Author and Preacher who is armed with a word of Destiny for the nations, with an accurate and authentic prophetic anointing. Prophetess Linda Roark is often called upon to speak a life-changing word to God's people.
Her passion is to see people saved, healed, and delivered which is demonstrated by her dedication and excellence in ministry. Many have received healing and deliverance, with sign and miracles following. People from all walks of life have been delivered from drugs, and from oppression and depression, as well demonic spirits.
With a faith undaunted by the task at hand, this mother, and beloved mentor is also Co-Pastor of World commissioned church along side her husband Kenneth E. Roark. A church with a cutting edge anointing, a non-traditional church with a multi-cultural mission. The core of Co-pastor Linda's message is "delivering spiritual truths that transforms lives."
She has also been honored to share the same platform with Marvin Winans, Sheryl Brady, Micah Stampley, Jekalyn Carr, Prophetess Juanita Bynum, and many other Leading Generals of the Faith.
Linda has also appeared on several TV and radio programs such as, WCNW, the T.B.N. Praise the Lord Program, the Let's Talk Christian Talk Show, she has also appeared on the Word Network as well as the Preach the Word Network.
Ralph LeBlanc
Mr. LeBlanc is an ordained Prophet and he has a passion for business and to see finances come into the Kingdom of God and to see God's people be transformed "unto a mature man, reaching the measure of the stature of the fullness of Christ", according to Ephesians 4:13. Prophet Ralph teaches the Word with apostolic and prophetic anointing, authority and revelation. Prophet Ralph LeBlanc is founder of Kingdom Precepts Ministries located in Harvey, Louisiana.
Ralph W. LeBlanc was born in Erwinville, Louisiana, and is a graduate of Holy Ghost High School in Opelousas, Louisiana.

Ralph has a B. S. Degree in Electrical Engineering, with minors in Business Law, Mathematics and Psychology from Tuskegee Institute of Tuskegee, Alabama. He also has successfully completed 2 years towards a graduate degree in Business at the University of New Orleans.

Ralph W. LeBlanc is the President of PetroSavers National Corp, with responsibility for marketing and national sales and service for a technology known as the PetroSavers Engine Oil Refiner. Mr. LeBlanc is considered as the founding father of the engine oil "bypass" filtration industry.
Tony Westley
Apostle Tony A. Westley is a man called by God to walk in the Office of an Apostle. He is one of the pioneers in the River Parish Areas to have done and continuing to do a great work resuing sinners and discipling them to do the work of the Lord Jesus Christ.
Apostle Tony A. Westley was born October 9th, 1958 to the late Ernest & Ollie Ruth Westley. Knowing that God had a plan for his life, Apostle Westley was reared in the church by attending services with his mother at Thomas United Methodist Church, later attending services with his father at the Little Zion B.C. where he was baptized by the late Pastor A. P. Clay.
Apostle Westley met and fell in love with Ms. Ina M. Darensburg, and they were joined in holy matrimony on August 4, 1979. Today they're the proud parents of three wonderful, beautiful, & anointed children; Rai-Jon (Crystal), Loren Westley & Monique (Craig) Smith. Each of whom have a relationship with the Lord and have an anointing on their lives. They're also the proud grandparents of 4 beautiful grandkids, Ian Anthony & Colin Alexander Smith, Melan & Melaya Mason.Apostle Westley has humbly centered his life around building Christ-centered relationships and serving God's people. His profound commitment to spread the gospel laid the foundation of his chosen path to preach God's Holy Word.
Pastor Westley organized and planted Spirit of Liberty Christian Fellowship in January 1987 and still serves as the founding pastor along with his wife, Prophetess Ina D. Westley. In January 1996 Spirit of Liberty Christian Fellowship was renamed Liberty In Christ Christian Church. Through his bold leadership, Liberty In Christ has made great strides. He has not only honored God with his commitment to preach His Word, but he has wholeheartedly dedicated his life in helping others find their way to Christ. His compassion coupled with a profound love for all has driven his desire to encourage others to live a life that never compromises the word of God.
Lisa Ricardo
Lisa Ricardo is an ordained Evangelist who has a passion for preaching and teaching the word of God outside the four walls. Lisa was born and raised in New Orleans, La and has been a part of several start-up churches. Evangelism and Deliverance are the areas the Lord has called her so she boldly proclaim the the Lord Jesus Christ to everyone she meet.
Lisa Ricardio is the founder of the "Know Your Worth Brand" and has been marketing it for several years. She branded it and is now flowing in the open doors that the Lord has open because of her faithfulness to God and her streadfastness to her brand. Lisa reminds believers not to settle or devalue yourself but Prepare yourself. Let Go of past hurts and move forward expecting that The Best is Yet to Come! We also carry an array of Honey Hush Nightshirts just for you. All my Single Ladies we endeavor for you to Love thy Self, Know thy Self and Know Whose you are. "I Corinthians 6:20 You were bought with a price. Therefore honor God with your body."
Lisa Ricardo and LRM are submitted in covenant with Pastor Renita Graber and Victorious Life Family worship Center in Laplace, LA
Chelsea L. Johnson
Chelsea is an ordained prophetess, prophetic dancer and teacher of the Lord.
She is the founder of Heart of a Worshipper Dance Ministry and Vessels of Love Women's Ministry. Through the dance ministry she expresses her love for the Father through varies movements; the anointing of this prophetic dancer has shifted atmospheres and released the glory of GOD within ministries throughout various cities and states.
Vessels of Love Women's Ministry, which was birthed through her heart's desire to set a platform, where hurting women of God in ministry could be heard and not judged but shown compassion and love, one for another, no matter what challenges life has brought their way; while also encouraging women of all ages, nationality and background to reach for destiny and fulfill their God-given purpose in the earth.
In August 2015, Prophetess Chelsea authored and published her 1st book "The Heart of a Worshipper" Inspirational Writings, a book of inspired words written in poetry form to encourage, empower and strengthen GOD's people.
Prophetess Chelsea has dedicated her life to serve GOD and her family.
She is the wife of Apostle Darrell Johnson Sr. of 25 years and a loving mother of 3, mother-in-law, and grandmother.
Suggested Lodging in Kenner
Hotels Rooms Blocked at:
http://www.neworleansairporthotel.com/
Or contact Logan Westherly at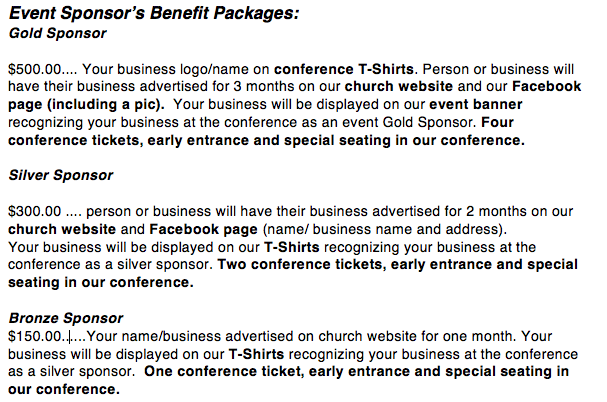 Call 9852120553 for more information concerning sponsorships. Deadline is Sept. 10.