Aries New Moon Sacred Sound & Cacao Ceremony

Sunday, March 26, 2017 from 7:00 PM to 9:00 PM (HST)
Event Details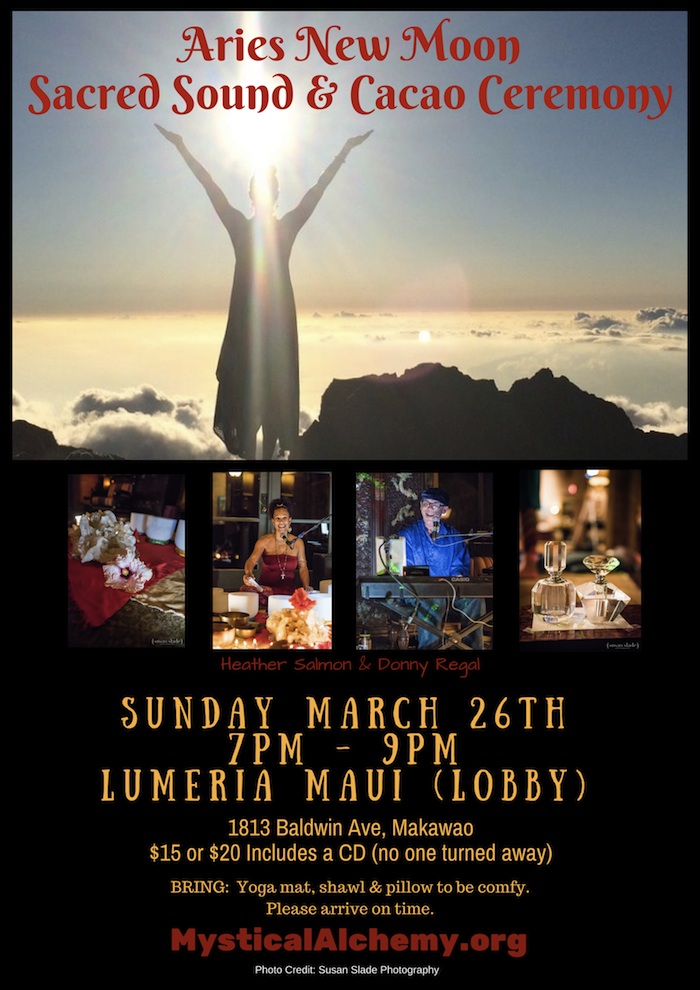 JOIN US IN PERSON OR ON OUR LIVE FEED!
Happy Equinox!  It's Spring here in the Northern Hemisphere and that it is always a very special time to celebrate our ability to regenerate and rebirth!  Aries is the first sign in the zodiac and he's an initiator and is ruled by Mars the god of war!  This energy can be powerfully harnessed at this time of Venus still retrograding to help us release and align with that which we most dearly value and our purpose and the divine plan for our lives.  A little focus and intention goes a long way now so use this time wisely!  Please join us in person or on our Facebook Live feed for this Equinox New Moon in Aries Sacred Sound & Cacao Ceremony!
Mystical Alchemy Ceremonies bring sound healing, music and ritual together in an inspiring and transformational way. Innovative visionary mystics Heather Salmon and Donny Regal bring decades of experience as professional prayerformers, healers and agents of change.
Each journey is unique and their sound baths are deeply relaxing and healing for the mind, body and spirit. Mystical Alchemy ceremonies incorporate sacred and uplifting music, as well as the vibrational frequencies of 432 hz crystal singing bowls, chimes, vocal toning, guided imagery, isochronic tones and binaural beats to assist with brainwave entrainment which is believed to affect cognition, stress management, and detoxification on a cellular level.
SACRED CACAO
It's thought cacao was first used as a health elixir and ceremonial medicine as far back as 1900 BC by the ancestors of Central America, the Olmec people, before becoming a ritualistic medicine used by the Aztec and Mayan cultures. Signifying both life and fertility, it was ingested by Royalty in ceremonial God worship and in sacrificial ritual.
CACAO IS ASSOCIATED WITH UNIVERSAL LOVE
Due to certain active ingredients that help release 'feel good' emotions, cacao is considered a heart opener. Creating feelings of emotional intimacy and pleasure.
Our Sacred Cacao is lovingly prepared with the finest organic ingredients and offered as cacao nuggets to be eaten.
BRING: yoga mat, pillow and shawl to be most comfy. Also, bring photos or keepsakes of any ancestors you wish to honor. Please be on time!

Lumeria Maui (LOBBY)
1813 Baldwain Ave
Makawao (Maui)
Sun March 26th
7pm – 9pm
$15 or $20 includes a CD
(no one turned away)
Please arrive by 7pm as it can be disruptive to enter late.
To be most comfortable we recommend that you bring your own yoga mat, blanket, pillow and water. There are couches that are ideal for people who need more support.
TESTIMONIALS
Kerri Leblang, Singer Song Writer, Author (California, September 2016)
Heather and Donny create such a powerful sacred space for healing and transformation to take place.  I'm always brought to deeper places within myself.  I always travel higher and stretch wider than I can even imagine.  They are extraordinary together.  The work they do is out of this world.
"It was the most magical, spiritual experience of my life."
Candy C. (New York)
"The sound healing really took me to a whole other level."
Janalyn R. (Canada)
"Sound healing became so important to my process of rebuilding. I experienced times of total bliss and sadness but all worth it. Made for a wonderful journey."
Jeremy M. (Hawaii)
Lastly please note the following:
Promptness — as we are creating sacred space and it is distracting when people arrive late so we request that you make every effort to arrive by 7:00pm. If you do come in after we have begun, please enter quietly and mindfully.
Children — we highly value diversity and welcome children who can hold a sacred space. Please be aware that our sound baths are a time of quiet inner reflection and stillness and we like this to be honored without any unnecessary distractions.
Lumeria Maui Grounds — please be aware that we are guests on the property. You are welcome to enjoy and make dinner or lunch reservations in the restaurant 808-579-8877. Please also note that the Lumeria Spa is reserved for their guests only! As we end our events during their quiet hours they ask that we leave directly afterwards and not doddle or roam the grounds.
For more information visit www.MysticalAlchemy.org or email us at BlackSwanTemple@gmail.com or call 310-415-8821
Mahalo nui for helping to spread the word!
When & Where

Lumeria Maui
1813 Baldwin Ave
Makawao, HI


Sunday, March 26, 2017 from 7:00 PM to 9:00 PM (HST)
Add to my calendar
Organizer
Mystical Alchemy
Email: MysticalAlchemy.net
Website: http://blackswantemple.org/organizer/mystical-alchemy/
Phone: 310-415-8821
Aries New Moon Sacred Sound & Cacao Ceremony