Sales Have Ended
Ticket sales have ended
Thank you so much for your interest in my concert! Unfortunately, tickets are no longer available, I hope you'll send me your information so I can send you On- Demand footage later! Here's the email for more information: violinlikethat@gmail.com
Join us in a livestream concert featuring Ariella Zeitlin, a world renowned violinist, singer, and entertainer!
About this event
On Sunday, June 26, world renowned violinist, singer, and entertainer Ariella is bringing you a spectacular show with world-class musicians who will have you dancing til you drop.
Music will include originals from Ariella's upbeat instrumental album, new versions of traditional pieces, and some of your favorite music from movies and musicals. You'll cry, you'll laugh, you'll feel great and you won't be able to stop humming or talking about it for weeks.
Message from the artist:
Hey everyone :)
I'm so unbelievably excited to invite you to join me on June 26 to my very first concert.
You'll be hearing amazing music with some of my favorite world-class musicians who are wonderful people who have played together hundreds of times, and so blown away that I have finally reached the stage where I can invite you into my world.
Over Covid, so many of us felt so alone - we thrive off of connecting with people and love to learn and talk and grow. Covid led me to feel like so much of my mission is to bring people together around the world, as we celebrate our own personal Revelations and coming into this new world.
You'll be hearing originals from my upbeat instrumental album, new versions of traditional Jewish music, and some of your favorite music from movies and musicals.
I am working hard to bring you an uplifting experience which will fill you with light, and leave you inspired. I hope that you will join me in celebrating your journey and your Revelation via livestream, or if you are able to, live in the studio.
In the Jewish tradition, we always choose to bless a cause we believe in whenever we can, and a portion of the proceeds from this event will be donated to the poor children of Israel who live in the Emunah Children's home.
To learn more about their important work for children, read more here: https://www.worldemunah.org/
Amid all the uncertainty and pain in the world the past few years, I have been blessed with so much revelaved good, and I am so grateful to God and to all of you, my fans and supporters around the globe, for helping reach this monumental launch of my first album, Revelation.
I invite all of you, music lovers from around the world, to come together and celebrate the revealed goodness with me in this high-energy, celebratory concert, featuring myself and other talented Israeli musicians. Join us for an interactive, joyful, virtual event from anywhere in the world, or join us in person in Jerusalem (in-studio seats very limited).
I can't wait to see you- virtually or live- on june 26th for the Revelation Album launch party!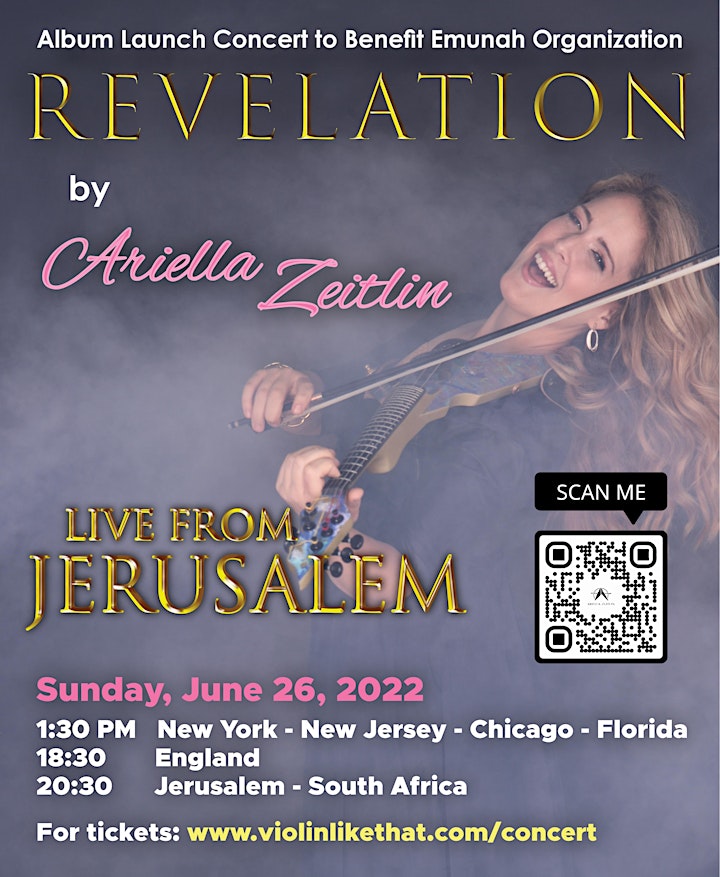 More Information
There are three types of tickets for his event. These are:
Live stream tickets - $8
This is a virtual option, and will be available via live stream link, with a chat through the show as well as a whatsapp group to share photos and videos.
In Person tickets - $40 / Relevant NIS exchange
This option is limited to only 50 seats total. Seats will be reserved in Daniel Aloni Studios in Moshav Yish'i, next to Beit Shemesh. This will be a sit down concert and there will not be an opportunity for dancing due to space and equipment limitations.
Organization Tickets - $300
If you are interested in having a live-viewing for your group, be it your house of worship, school, camp or otherwise, please contact us directly to arrange for organization viewing. Due to specific technical issues, someone will need to be running point and to have a check 1/2 hour before the event, and this option is limited to 10 groups.
All tickets will be involved in a multimedia event including games, prizes, and uplifting activities. I hope that you come and expect to participate fully, as I look forward to interacting with you throughout the event through our group whatsapp chat that will be full of photos and videos of all of you through this special concert!!