About this Event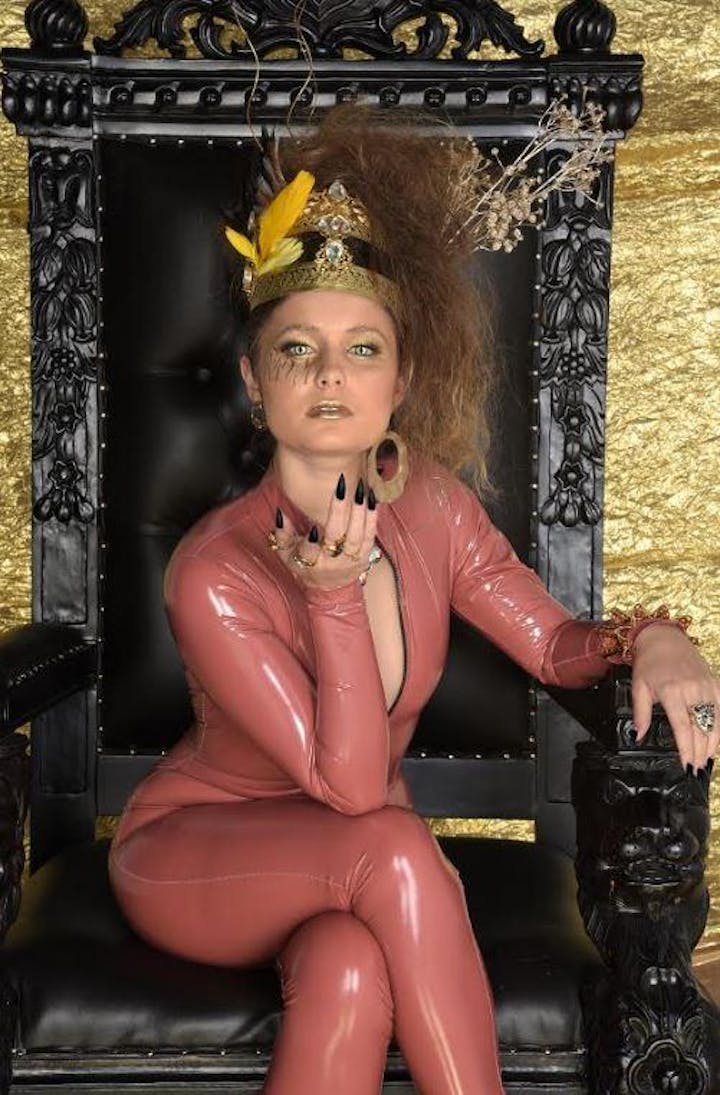 EM is a critically acclaimed singer-songwriter and classical pianist from London, UK. She began training as a pianist at the age of four, performed internationally, and received two degrees in classical piano as a child. An incredibly theatrical performer, EM trained at drama school and holds an acting degree from American Academy of Dramatic Arts, New York.Soon after her move to Los Angeles, she met GRAMMY-nominated producer Bruce Witkin (Alice Cooper, Marilyn Manson), and together, they released her solo debut EP, "What I Want To Say To You", an album born of her personal experience of sexual assault and dedicated to survivors.Now, EM has completed a new 12-track concept album, "REBORN", with her band EM & The Gems. The Gems include bass legend Melvin Brannon Jr. Forté (Booker T. Jones) and drummer Tyler Hammond (Limp Bizkit, Fred Durst).A truly unique performer and creative - with a mission to make a difference, while having a blast in the process - EM can perform in a variety of styles, and a variety of venues. Whether singing and playing alone in intimate settings surrounded by guests at her feet, performing with EM & The Gems in the infamous Viper Room or playing solo classical piano at Petit Ermitage, EM is a true force of nature, who will cause tears and laughter in one performance.EM has been musically compared to Lady Gaga, has an exclusive residency at Petit Ermitage in West Hollywood and was recently invited to open for members of Earth, Wind & Fire at the world-famous Viper Room in West Hollywood.
Ariel Mosconi
Born and raised in Newark New Jersey with a Brazilian/Italian background, she attended Arts High School. Growing up she was classically trained for a total of 6 plus years in opera and the voice. She attended AMDA; College and Conservatory of the performing arts on October 9th 2013 in New York City where she earned her associates degree in Fine Arts; Performing Arts on February 2015. Ariel lived in New York for a total of 7 years released 3 music videos and 4 singles, within the last 4 years the most current video is for her latest single Armor Love.
WOMAN, her soul/ electronic single was performed at an event were former America's next top Model/Artist Shei Phan curated a pro bono event raising awareness for Planed Parent Hood and was Ariel's inspiration/ muse for the song. She performed in various spots in New York City such as Haven Roof Top which is located in Time-square/ midtown Manhattan. Ariel performed theatre nights for Zavo Restaurant in the Upper East Side and at Italy's very own Via De La Pace Restaurant owned by Giovanni Bartocci located in Soho/ Lower East Side of Manhattan. She was a feature artist for The Brazilian Brother's Band at Hotel Chantel many summer nights in Soho New York. Ariel has never lost sight of her passion for life, people and her dream, she is now taking in Los Angeles full force.