Description
Class Schedule:
In this single session workshop, you will learn the basics of hand crafting Argentium sterling silver earrings!
Pick your ticket from the drop-down menu either:
Session 1: Wednesday, 5/16/2018, 5:30 PM - 8:30 PM
*or*
Session 1: Wednesday, 6/13/2018, 5:30 PM - 8:30 PM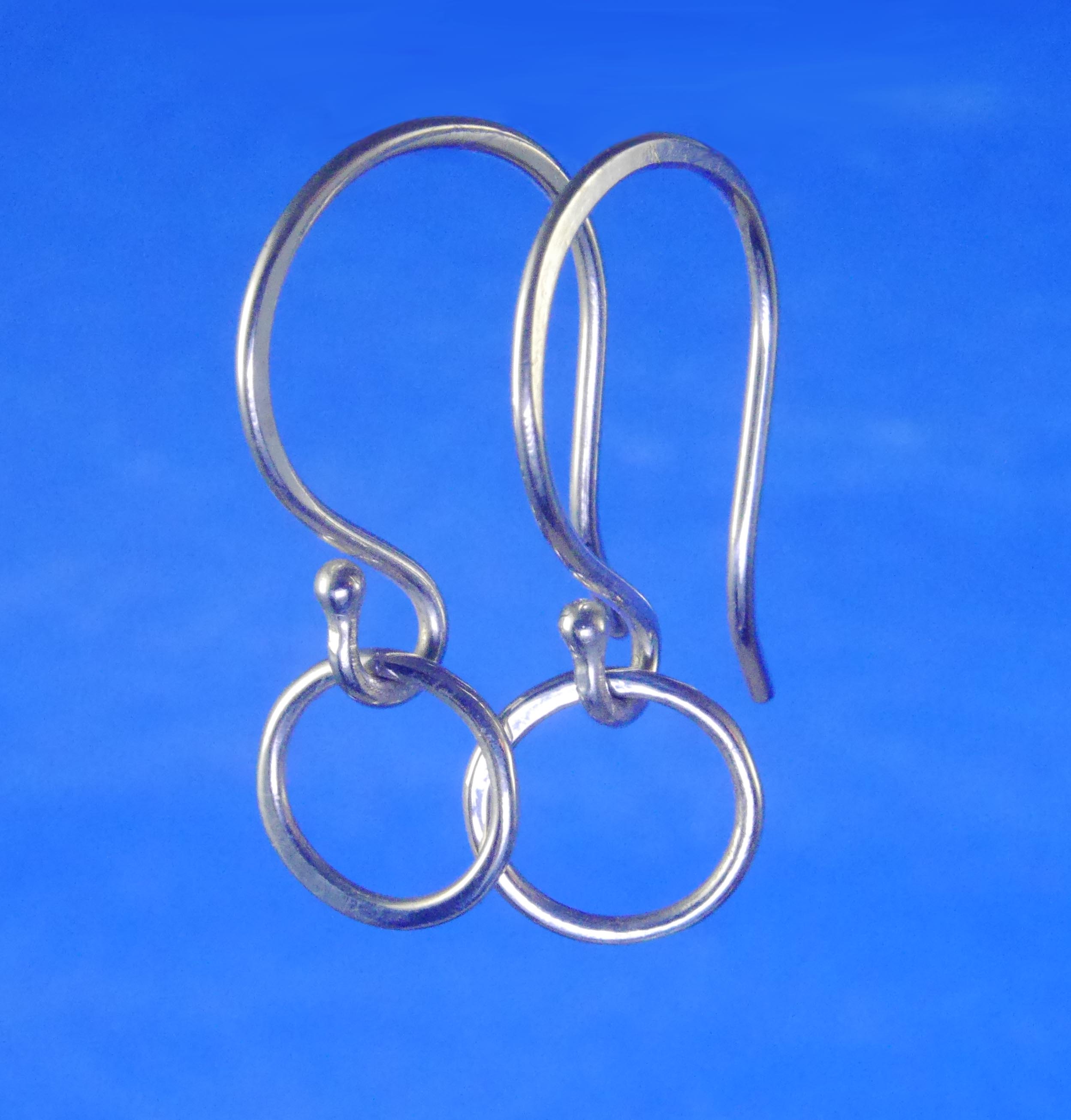 Description:
Learn how to create your own elegant Argentium sterling silver earrings! We'll start with learning how to skillfully use the torch and pliers to craft your own ear wires, and build on those skills to make, fuse, and planish jump rings to create the dangling circles for the earrings. If time permits, you can create a second pair, or additional sizes of jump rings to add more circles to your earrings.
We'll use copper for practice and then make your earrings with Argentium sterling silver. Argentium is not only tarnish-resistant, it also makes creating earrings easy because you can use the torch to fuse rather than solder joints together.
Class Goals:
We'll cover many fundamental jewelry-making techniques including picking the right plier for the job, filing, flex shaft operation, wire straightening, sawing, planishing, acetylene torch use, and polishing on a rotary machine. These skills are the foundation of jewelry-making so you're sure to use what you learn here in future projects, in addition to leaving class with a shiny new pair of earrings that you've created!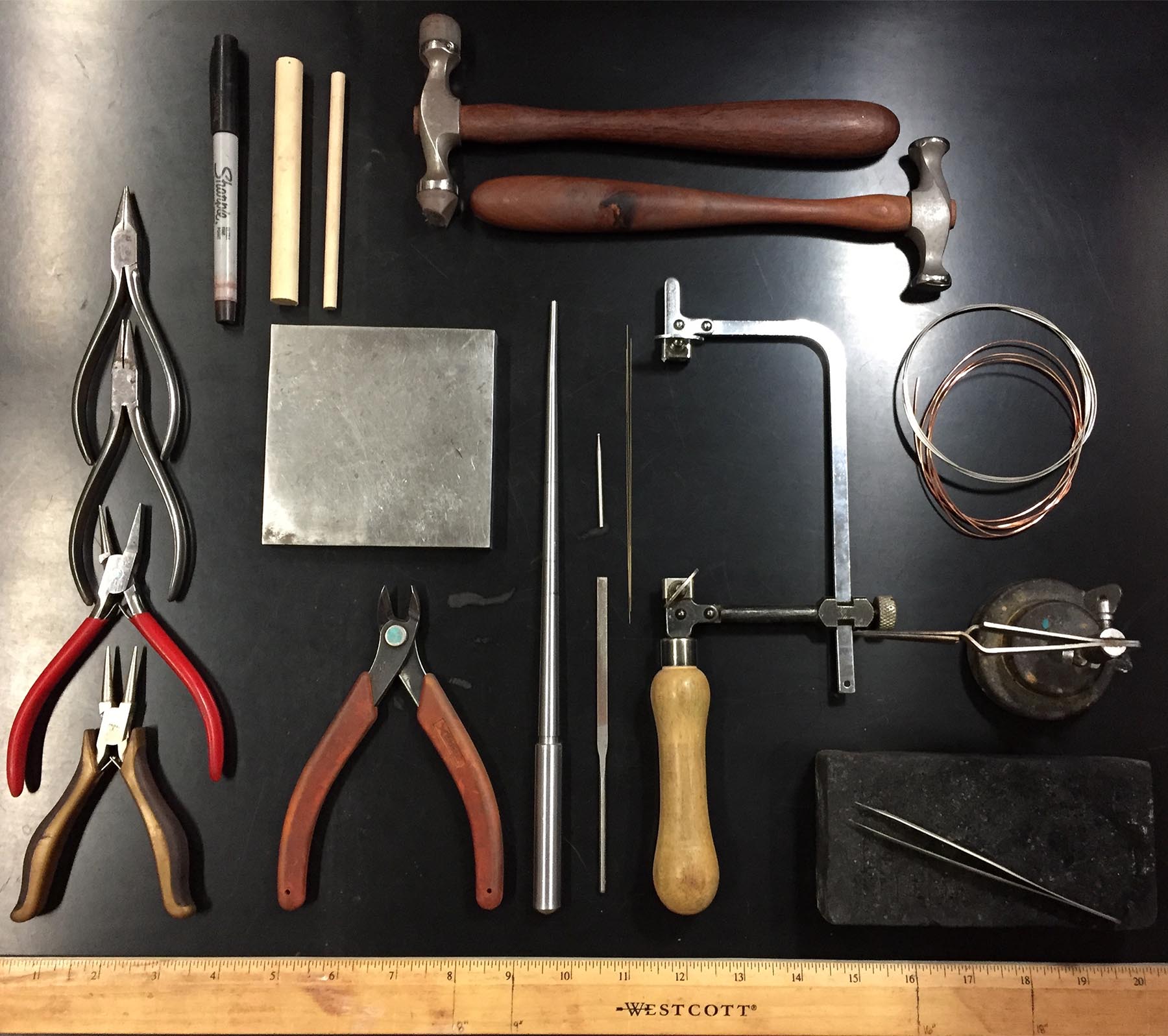 Prerequisites:
Great for beginners to learn foundational skills or for those with some metalsmithing experience who want to hone their skills.
Students must be at least 18 years of age.
Materials Provided:
A $30 materials fee is included in the ticket price for the copper and Argentium sterling silver wire, enough for two pairs of earrings.
What to Bring:
A notebook and pencil will be helpful if you'd like to take notes, and eyeglasses if you need them to see small things up close. You can wear an apron to protect your clothing if you have one. For safety purposes hair must be tied back, no loose clothing, and closed-toe shoes are a must.
Class Minimum:
This class will not run with fewer than 3 students so sign yourself up with a friend!
Instructor Biography:
Laurie Lynn Berezin studied the traditional craft of jewelry fabrication at the renowned North Bennet Street School in Boston, and handcrafts one-of-a-kind original and custom designs for her jewelry business Beryllina at the legendary Artisan's Asylum in Somerville. Working in recycled sterling silver, gold, and platinum, she designs her jewelry around the US-mined gemstones and crystals that she collects, creating pieces that showcase the natural beauty of the stones. Attention to detail is one of her favorite parts of the process in crafting well-made beautiful jewelry, as is mining some of her own stones! Check out Laurie's work at www.beryllina.com and www.instagram.com/beryllinalove.