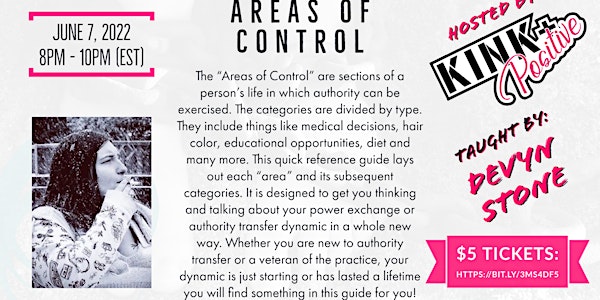 Areas of Control
The "Areas of Control" are sections of a person's life in which authority can be exercised.
Refund Policy
Contact the organizer to request a refund.
Eventbrite's fee is nonrefundable.
About this event
The "Areas of Control" are sections of a person's life in which authority can be exercised. The categories are divided by type. They include things like medical decisions, hair color, educational opportunities, diet and many more. This quick reference guide lays out each "area" and its subsequent categories. It is designed to get you thinking and talking about your power exchange or authority transfer dynamic in a whole new way. Whether you are new to authority transfer or a veteran of the practice, your dynamic is just starting or has lasted a lifetime you will find something in this guide for you!
---
Attendance Agreements:
Due to the adult nature of the classes, all attendees must be at least 18 years of age. By obtaining a ticket you agree that you meet this minimum age requirement. Any under-age persons will be removed from the class/discussion.
No recording of any kind is permitted of the class, video, or audio whether it is the instructor, the audience, or shared screen images. Do not re-broadcast the content to other media outlets, screenshot any part of the class, or share information about people you saw within the class or their stories. By attending you agree to the above restrictions regarding information sharing.
---
About Kink Positive:
Kink+ (or "Kink Positive") is a project designed to help spread information, experience, and knowledge in all things related to kink and sex positive thinking.
---
Presenter Bio:
Devyn Stone is a self-awareness and BDSM educator, author, and alternative lifestyles coach. He dreams of globe trotting and helping folx achieve the connections they desire, while they learn themselves more deeply.
He believes in diversity not division, and actualizes that idea by promoting strongly affirming spaces and interactions. Devyn has a passion for giving and receiving education - his favorite topics are psychology, negotiation, consent, relationship construction, and organization.
His "Quick Reference" books covered affirming gender, creating protocol, negotiating authority in relationships, and more. He is the Founder of Pragmatically Kinking, where members discuss the practical aspects of BDSM, and THRIVE, a virtual conference dedicated to the intersection of mental health and BDSM.
Devyn's been actively practicing authority transfer dynamics since 2004. Today he lives in Colorado Springs, CO with his property, Guan Xuan, who is unquestionably devoted to his will. Devyn is an extrovert, a Sons of Anarchy fan, and a foodie.