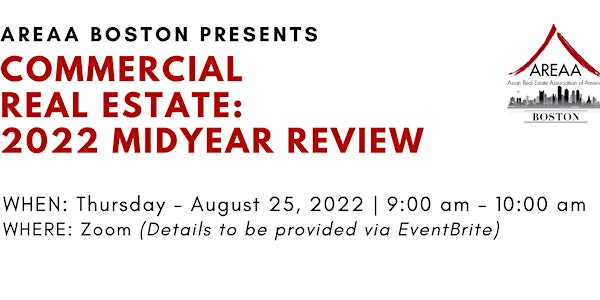 AREAA Boston Commercial Real Estate 2022 Midyear Update
Hear from practitioners in the fields of development, multifamily, industrial and finance on there observations and outlook for 2022.
About this event
The AREAA Boston Commercial Real Estate (CRE) Committee invites you to join us on Thursday, August 25, 2022 at 9:00AM for an online discussion on the commercial real estate market in 2022: What are the year-to-date trends and what is the outlook for the rest of the year?
Our panel includes practitioners in the areas of development, multifamily investment sales, industrial leasing and sales, energy and finance. Join us for what will surely be a lively and informative discussion followed by a breakout session for some informal networking.
Charity Initiatives – Just a reminder that the AREAA Boston CRE Committee will be providing a portion of the proceeds from Annual and Event sponsors to support Friends of Boston's Homeless. To learn more about this amazing organization and how you can support them, please visit their website here: https://fobh.org/
Join the AREAA Boston CRE Committee! - Whether your expertise is commercial property investment, management, development/construction, brokerage, debt/equity services, insurance, banking, tax support, environmental services, just to name a few, we are always looking for new members to join us and infuse fresh ideas into how we can further educate and promote networking opportunities for those in the commercial real estate community. Please reach out to any of our current committee members: Aaron Ting, Abby Nguyen-Burke, Christine Tran, Michael Chase, Richie Wong, Seth Mansur or Henry Choi to get more information!