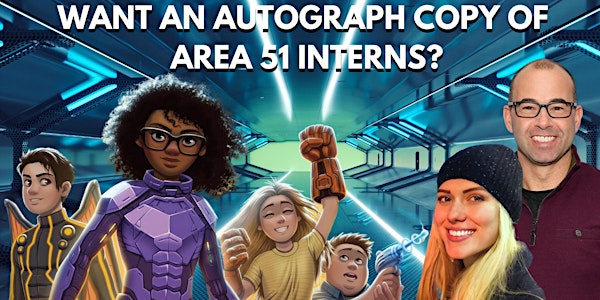 Area 51 Interns: Zoned Out Autographed Copy!
GET AN AUTOGRAPHED COPY OF AREA 51 INTERNS: ZONED OUT!
About this event
113 days 14 hours

Mobile eTicket
Murr & Carsen's latest book in their hilarious middle-grade series, Area 51 Interns, is officially out in bookstores!
Use this link to get an autographed copy of the book - Area 51 Interns: Zoned Out!
ABOUT AREA 51 INTERNS:
From the mind of Murr from Impractical Jokers and co-writer Carsen Smith comes a new hilarious, action-packed series about a world of bizarre creatures, wacky gadgets, and four kid interns at the most interesting place on Earth: Area 51!
After saving their parents from an alien attack and becoming official interns at Area 51, Viv Harlow and her friends Charlotte, Ray, and Elijah are ready to keep taking down bad guys and helping test all the fun high-tech gadgets. Instead, they all get put on filing duty (bo-ring!) and kept away from the real action. When Elijah discovers a secret Forbidden Zone hidden away on the base, the group jumps at the chance to explore the new place, only to learn it's home to some of the most elusive creatures on Earth. But after the Yeti, Loch Ness Monster, and more terrifying monsters escape, they'll have to prove themselves to their parents and capture the beasts to save the base!
AREA 51 INTERNS: ZONED OUT is the second installment of the AREA 51 INTERNS series. This middle-grade series from Murr of the Impractical Jokers, is filled with enough high-tech hijinks, bizarre creatures, and laugh-out-loud humor (plus extra color insert full of gadgets) to make even alien skeptics hooked for more!