Event Information
Location
Riverside Park
145th Street & Riverside Drive
New York, NY 10025
Refund policy
Refunds up to 7 days before event
Description
IT'S A CELEBRATION!
Come with the kids or come by yourself to enjoy all you can eat food & drinks, games, raffles, prizes and more. The 2nd annual Area 5 Rotary BBQ will be a fun-filled day the whole family will enjoy.
The Rotary Club of HARLEM joined by the Rotary Clubs of CHINATOWN, INWOOD, METRO NYC, NEW YORK, RIVERDALE, & WALL STREET invite everyone to join us for this end of summer celebration. The breath-taking views of the Hudson River, the perfectly grilled BBQ, the freshly made side dishes, and the succulent sweet desserts are guaranteed to have you and your guests satisfied. Come for the food, but stay for the fellowship. All of your favorite Rotarians, business professionals, humanitarians and community leaders will be in the park connecting for a good cause.
Our goal is to raise funds and awareness for Bridges to Prosperity, a life changing organization impacting communities and people in some of the most remote areas on the planet. Come be a part of something special.
Ticket Pricing:
Early Bird Pricing runs at $25 per adult and $5 per child through August 26!
Regular price tickets run $35 per adult and $10 per child through September 16!
---
Indulge in this one-of-a-kind special menu prepared by: Rotarian and last year's BBQ contest winner; Vinny Coakley and students from Cooking From The Heart, Port Chester-Rye Brook Rotary's Cooking Class for teenagers! You will not want to miss this mouth watering feast!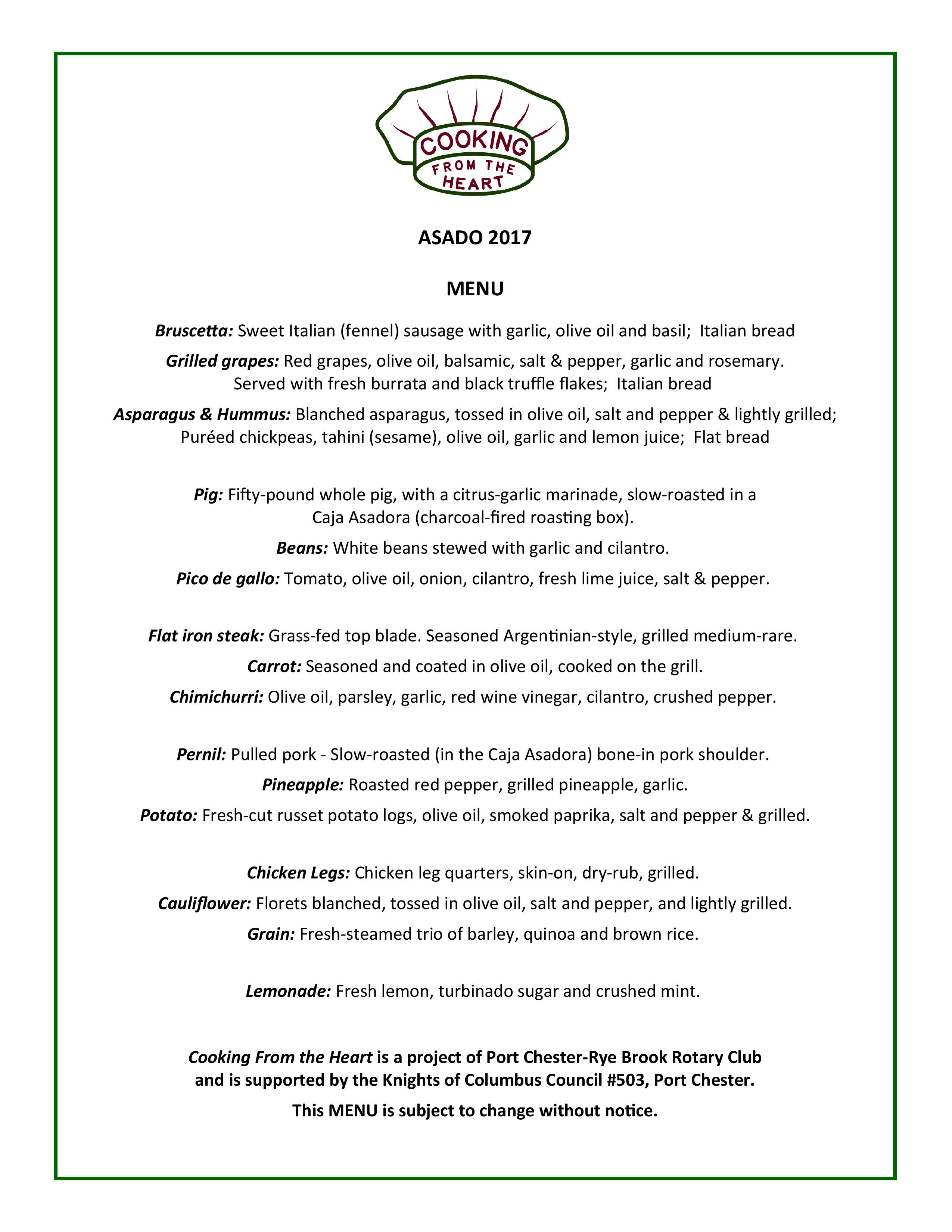 ---
As an on-site service project we are collecting toiletries and other essential items to create "Blessing Bags" for the less fortunate in NYC.
These bags are a source of inspiration to those who receive them. Not only do the bags include items needed for daily hygiene and survival, but a handwritten note of positive encouragement and a message of strength also accompany each bag. The knowledge that someone cares enough to provide these exceptional bags, truly uplifts their spirits and gives them additional hope.
We are asking you to please bring to the event:
Soap/Body Wash, Lip Balm, Toothpaste, Toothbrushes, Baby Wipes, Deodorant, Sunscreen, Socks (tube socks), Band-Aids. Lotion, Large Ziploc Bags to hold items and Index Cards for handwritten notes....(non-religious notes of encouragement)
......or click HERE to help us purchase these items on our Amazon Wishlist.
We are truly grateful for your support in helping us to bring joy and hygiene to persons in need in our community. Thank you so much for your generosity!
---
Proceeds from this event will be going to an incredible cause. Bridges to Prosperity envisions a world where poverty caused by rural isolation no longer exists. Their programs provide access to healthcare, education and markets by teaching communities how to build footbridges over impassable rivers, in partnership with organizations and professionals. Bridges to Prosperity proves the value of their work through a commitment to the community and its bridge that lasts long after the opening celebration.
https://www.bridgestoprosperity.org/
---
Funds collected here will be collected by the Rotary Club of Harlem (a 501c4 non-profit organization), passed on to Bridges to Prosperity, and will NOT be tax-deductible. The Rotary Club of Harlem is hosting this Eventbrite page for the benefit of this event.
---
FAQs
What are my transport/parking options getting to the event?
Driving Directions
By Car from the NYS Thruway:
Take Major Deegan Expressway South; exit at the 155th Street Bridge, turn right & bear right off the bridge onto 155th Street, continue straight to Broadway, turn left and continue to 145th Street, turn right and continue down the hill one block to the entrance of the park.

By Car from New Jersey:
Take George Washington Bridge (lower level) to Henry Hudson Parkway South, bear left and exit at Riverside Drive, continue South on Riverside Drive to 145th Street, turn right to enter the park.

By Car from Long Island:
Take Whitestone Bridge to Cross-Bronx Expressway, take Westside Highway exit, bear left to Riverside Drive exit, turn right off the exit and continue straight to Riverside Drive to 145th Street. Turn right into the park.

For parking:
1. Drive to the Riverbank State Park on 679 Riverside Drive & 145th Street, NY 10031
2. Stop at the Ranger Booth for a parking permit (ask for a Lower Level Parking Lot Permit)
3. Drive to 145th St & Broadway
4. Travel South on Broadway to 138th Street and turn right on 138 st.
5. Go down the hill & at the dead end, turn left
6. Right turn on Stop Sign & then another right and you will see the NYC Dep. Guard Booth.
7. Show your permit and proceed straight ahead to the parking lot. There is parking for handicap.

Public Transit
By Bus:
From Bronx - Cross-town BX19 to Riverbank.
From Manhattan - M11 Bus directly into the park.
By subway:

The #1 train to 145th and Broadway--one block from park's main entrance on 145th Street and Riverside Drive.
Walk on overpass bridge into Riverbank State Park, make a right and a quick right (basically a U Turn) to go to the elevator, which will take you down to the event area in Riverside Park. There will be a guide and signs to help point you in the right direction.
Date and time
Location
Riverside Park
145th Street & Riverside Drive
New York, NY 10025
Refund policy
Refunds up to 7 days before event