Are YOU Dealing with Too Much STRESS to Feel Blessed Over the Holiday Season? DIFFERENTLY-ABLED NETWORK*
About this Event
The DIFferently-Abled Network (DAN) is where People with DiSability (visible & nonvisible) meet to ASK Dr. Applewhite & other professionals about how to restore HOPE and get what they need to succeed in the classroom, workplace, and as a productive citizen in their community. The DAN is a new community outreach and public awareness program of White Apple Institute www.whiteappleinstitute.org
DAN Mentors and Members really LISTEN to your story and want to give YOU (or someone you care about) a Hand-up to prevent DROP-Out/BURN-Out from school, work, or LIFE! Our emphasis is on those in the "struggle to juggle" overcoming stress, chronic pain, overwhelming class and work schedules, parenting and family responsibilities, homelessness, hopelessness, addictions, social isolation, and any of the issues that make the DIS in our ABILITY to cope with life.
Veterans with any form of disability and/or their families are always Priority! Tell us your story about what you need to finish your education and workforce goals. Receive a chance to win a Gift Card by encouraging a Veteran (from any branch, including Reservists and National Guard) to a DAN meeting to learn about the
Place Your B.E.T.S.* on our VETS Campaign Business, Education and Training Sponsorships
From Veterans Day November 11, 2019 thru December 30, 2020
CONTACT US:
PHONE: 480-471-8082
WEBSITE: Whiteappleinstitute.org EMAIL: info@whiteappleinstitute.org
Connected to resources, educational benefits, and workforce opportunities with Partners in Independent Living, SS, Vocational Rehab, etc.
Involved with our Sponsors from "disability, veteran, and LGBTQ friendly" companies and organizations sharing benefits & opportunities
Educated about self-advocacy, discrimination, and accommodations in the classroom and the workplace
Supported during emotional and financial crisis by trained Mentors ````````````````````````````````````````````````````````````` . Sponsors from higher education, employment, and health care share opportunities and benefits.
Thanks to the Sponsorship of the Interfaith CommUnity Spiritual Center www.interfaith-community.org DAN Members & Mentors meet at our headquarters in Mesa, AZ every First Sunday
Date/Time: Dec 1, 2019/ 12-1:30 pm Sun : LOCATION: ONLINE Call into our studio 1-646-727-3758. Participate on Facebook- YouTube -Instagram LinkedIn-Twitter. Check links at whiteappleinstitute.org IN PERSON 952 E. Baseline Rd Ste 101 Mesa, AZ 85204
TOPIC: "Too Much Stress To Feel Blessed" with Dr. Applewhite (aka Dr. / Professor APPLE) Based on Jewel Diamond Taylor's book "You Are Too Blessed To Be Stressed" on Amazon
SPECIAL GUESTS: Rev Dr. Kevyn T. Holloway, Nazim Rashid, Nellie Roman Anderson and our DIFferently-Abled Artists and Musicians
>Invite us to hold a DAN meeting at your workplace, campus, health facility, or place of worship. >Students & Seniors join our volunteer team.
In accordance with ADA and AZ Statutes guidelines for Public Meetings, we try but cannot guarantee accommodations or accessibility for ALL disabilities (including chemical sensitivities, large print materials, Braille, interpreters, translators, CC, etc.) or Limited English Proficiency without two-week notice. Contact Danita Applewhite PhD CRC 480-471-8082 for more information.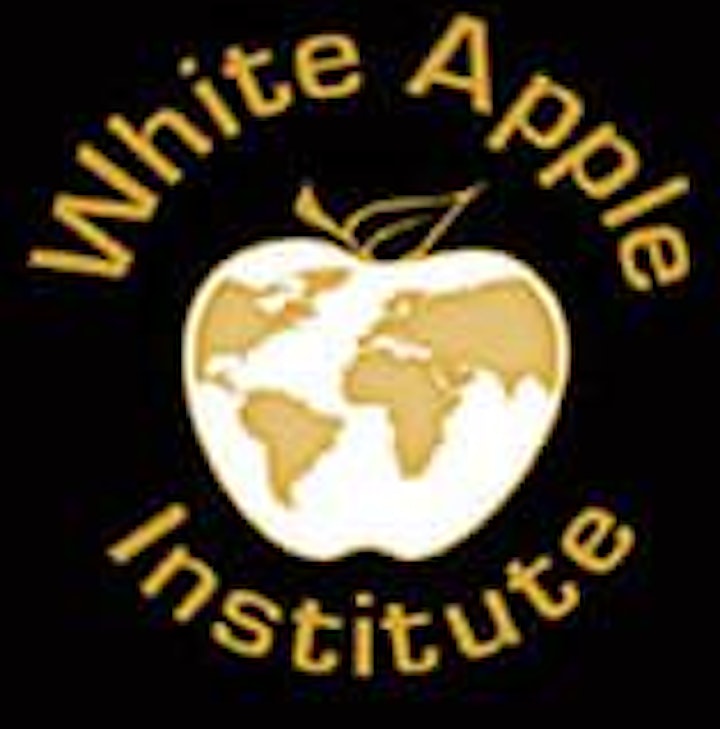 Hear Jay Ralston, Owner/Operator of Management Plus, a major employer in the transportation industry