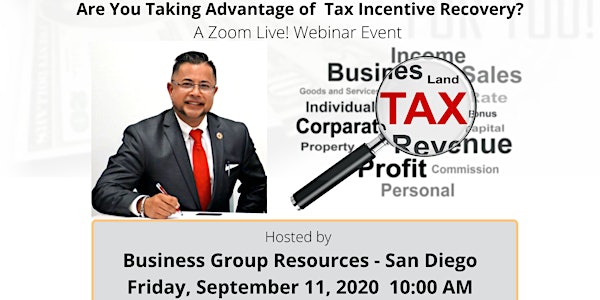 Are You Taking Advantage of Tax Incentives? | Live! Webinar
Are You Taking Advantage of Tax Incentives? | Live! Webinar
About this event
Are You Taking Advantage of Tax Incentives?
Join Business Group Resources for a Live! Webinar
DID YOU KNOW? Your business could be entitled to large cash incentives & credit programs offered through Federal, State & local levels? Are you one of the nine out of ten businesses missing out on unclaimed money for your business?
Meet founders of Business Group Resources (BGR), Mr. Ken DuBose & Mr. Ron Budd. Learn about government-mandated tax incentives that can make the difference in building, developing, and scaling your business model.
Learn about U.S. Tax Incentives to SAVE MONEY; Claim your rebates & credits to recover overpayment to the IRS.
Empower yourself to file your RECOVERY CLAIM to BUILD, DEVELOP, and SCALE your business MODEL with monies you're entitled to.
Are you taking advantage of tax incentives? If not, this seminar is for you.
REGISTER TODAY!
Register at https://tax-incentives.eventbrite.com
Recovering Over $2,000,000 Monthly For Our Clients!
BGR in partnership with Business Incentive Solutions, the tax and incentive program specialists, has helped more than 5,000 businesses claim these lucrative tax credits & incentives.
Why haven't you claimed yours?
DO YOU QUALIFY? There are many different industries that may qualify for one of the different incentives & tax credits, including…
MANUFACTURING | MEDICAL & DENTAL | SOFTWARE & TECHNOLOGY
CONSTRUCTION SEMICONDUCTOR | SOFTWARE | TELECOMMUNICATIONS
PAPER & FOREST PRODUCTS | CHEMICALS & PLASTICS | CONSUMER PRODUCTS
AUTOMOTIVE | OIL & GAS | FOOD PROCESSING | ENTERTAINMENT & MEDIA
Why haven't you claimed yours? LET'S TALK
Knowledge is power. Has your company left money on the table? Let's set up a 10-minute call for a free analysis to see if you qualify.