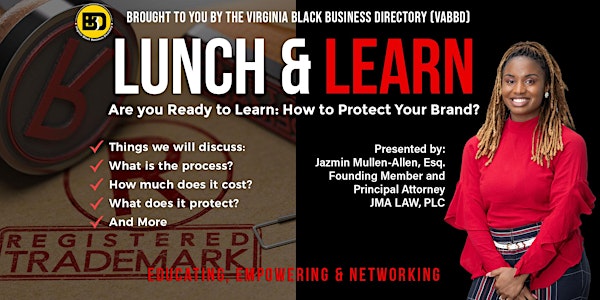 Are you Ready to Learn: How to Protect Your Brand?
Trademarking is an important step for protecting your brand identity. It will stop competitors from poaching your customers by imitating you
About this event
Brought to you by The Virginia Black Business Directory
Learn more at www.vablackbusinessdirectory.org
Presented by:
Jazmin Mullen-Allen, Esq.Founding Member and Principal Attorney JMA LAW, PLC
Learn more about the presenter at www.jmalaw.org
A webinar and Q&A to discuss the benefits of trademarking.
Topics we will cover:
What Is the process of trademarking?
How much does It cost to trademarking?
What does trademarking protect?
Join us for an amazing lunch and learn!
We plan to send a recorded copy of the Lunch & Learn to registered participants.
The Virginia Black Business Directory (VABBD) is a 501c3 charitable organization committed to the capacity building of business owners by providing programs and initiatives that foster higher productivity, increased success rates, and improved business education. Our mission is to amplify the exposure of small businesses while advancing the economic development and social equities of black business owners. We strive to bridge the racial wealth gap through community collaboration, education & training programs, and resource navigation.
The Virginia Black Business Directory (VABBD) does not and shall not discriminate on the basis of race, color, religion (creed), gender, gender expression, age, national origin (ancestry), disability, marital status, sexual orientation, or military status, in any of its activities or operations. These activities include, but are not limited to, hiring and firing of staff, selection of volunteers and vendors, and provision of services. We are committed to providing an inclusive and welcoming environment for all members of our staff, clients, volunteers, subcontractors, vendors, and clients.