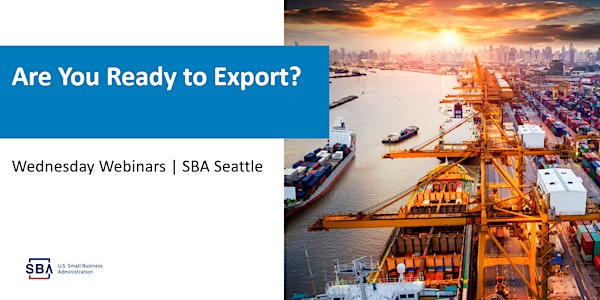 Are You Ready to Export? Meet the WA Small Business Development Center
This week's feature: WA Small Business Development Center
About this event
Are You Ready to Export?
Join us this week for an overview of the Washington Small Business Development Center (WSBDC). The SBDC is a network of more than 30 expert business advisors working in communities across the state to help entrepreneurs or small business owners start, grow or buy/sell a business.
This week's webinar will feature a conversation with WSBDC advisors Ellie He and Allan Peterson.
Ellie is a Washington SBDC certified business advisor and a NASIBTE certified global business professional. Ellie serves Seattle in her business advisor role. She also helps businesses across Western Washington grow internationally.
Allan Peterson is the Certified Business Advisor and Certified Global Business Professional at the office of the Grant County Economic Development Council. He serves businesses in Eastern Washington as an International Trade Advisor. Allan provides confidential no-charge counseling to startups and existing businesses that want to export.
As Washington SBDC international trade business advisors, Ellie and Allan participate as working members of the Washington Export Outreach Team (WEOT), a collaborative team of local, state, regional, and federal export assistance agencies that provide Washington state companies with tools and resources to help them export.
SBDC International Trade Certified Business Advisors are NASBITE Certified Global Business Professionals and have additional experience, mentoring and professional development in the area of international trade.
Wednesday Webinars
Wednesday Webinars with SBA Seattle is an ongoing series of free, virtual, webinars covering a variety of topics to benefit small business owners. On the fourth Wednesday of each month, we will be focusing on export assistance, featuring conversations with different members of the Washington Export Outreach Team (WEOT). Established in 2013 following a national mandate to do more to support international trade, WEOT is a collaborative team of local, state, regional, and federal export assistance agencies who provide you the tools and resources you need to sell internationally.
About the Host
John Brislin is SBA's International Trade & Finance Specialist (Export Finance Manager) for Washington State, Northern Idaho and Alaska. He has over 23 years of private-sector international banking and trade finance experience working at Bank of Boston (Bank of America) and Bank of California (U.S. Bank). John has over 12 years of public-sector export trade finance and risk mitigation experience working at Export Finance Assistance Center of Washington (EFACW), Export-Import Bank of the United States (EXIM Bank) and SBA Office of International Trade (SBA OIT). He looks forward to working with Small Businesses so they can turn their export opportunities into actual sales and to achieve the ultimate goal of getting paid—especially on time—for those sales.