Description
Ready for the next step in your career? Are you truly at the end of the corporate career rope? What's important to you in your next step: freedom, flexibility, building equity outside of a job, contributing to something you believe in, building an empire and true wealth for you and your family? Then this important networking event and panel discussion is for you!
Light appetizers and drinks sponsored by FranNet Mountain West.
Learn the basics of starting a business from a panel of experts, including an attorney, a small business lender, a financial planner and a franchise business broker.
Discover how to find a business that matches you, your lifestyle and your moral compass

Hear the pros and cons of starting a business, and important items to consider before you begin your next step

Find out how the right business legal structure can help your business take off

Hear about the financial preparation steps you need to take to get your business started quickly

Learn about different options for financing your business so the money is ready when you are

Network with a mature business owner and a brand-new business owner, who will share their stories and perspectives
This event is FREE and open to the public. Seating is limited
and reservations are required.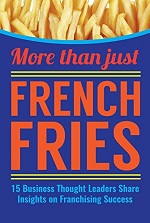 All attendees will receive a FREE hardcopy of Amazon Business Best Seller, "More Than Just French Fries".
Reserve your spot now AND also receive a free downloadable report:
9 Questions to Find Out if You Have Enough Money to Buy a Franchise.