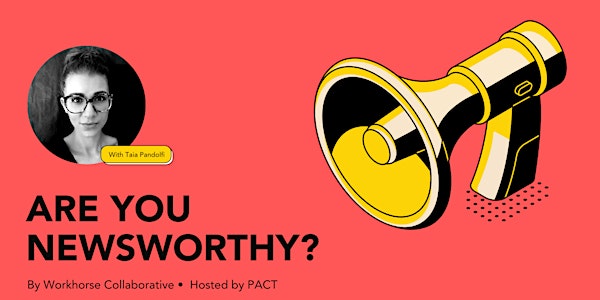 Are You Newsworthy?
Part 3 of a 4-Part Series in Practical Marketing Solutions for Community Theaters, hosted by PACT
About this event
Are You Newsworthy?
How do small or independent arts companies gain media attention? In this session, Taia will take you through the media relations pipeline, from building and using a press list to drafting a punchy, compelling press release. Come to the session ready to pitch Taia on your most newsworthy angles—you'll get notes and pointers for how to best position your pitch and secure media coverage.
About this Series
Practical Marketing Solutions for Community Theaters
A four-part workshop series with advice you can actually use.
As a community theater leader, you're stretching every resource you have—staff time, budget, advertising, board relationships—to make magic on stage and bring the arts into communities. In this series of practical, information-packed workshops, we'll teach you the strategies and tools you need to build engagement, reach the right audiences, and meet your business goals.
While the workshops can be taken à la carte, this four-part series is a comprehensive training curriculum designed to help you punch above your weight. If you join all four sessions, you'll receive a package of resources to help you hit the ground running and the chance to win a free Strategic Power Hour with Workhorse Collaborative.
Don't forget to register for all four sessions:
Part 1 of 2: First, Clean Your House. Then, Invite People In - October 7, 2021
Part 2 of 4: How to Market with Little (or no) Money - November 11, 2021
Part 3 of 4: Are You Newsworthy? - January 13, 2022
Part 4 of 4: How to Know What Kind of Marketing Help You Need - February 10, 2022
Who's Teaching?
Taia Pandolfi (she/her)
Taia is an editor and media relations expert with a passion for the arts and great storytelling. She'll teach you how to prepare and execute a killer media outreach plan and help you refine your pitching strategy.