Are you helping PIMPS to recruit your teens into child sex-trafficking?

Saturday, May 23, 2015 from 10:00 AM to 12:00 PM (PDT)
Event Details
Go to your Facebook page, and you will see a flyer of a young girl, 14 to 17 years old, missing from her home.  A lot of these very girls are meeting men online, and being tricked and seduced into running away from home, only to fall victim to child sex trafficking rings. 
The reality is pimps no longer can sell marijuana on the street corner in California - we have too many dispensaries for legal cannabis distribution.  Now, they are back to selling sex, but it's the teens they are after.  Come listen first hand as we have a former pimp tell you what you need to be looking out for when you allow your teens to have access to social media. 
This event is for educators, teachers, counselors, group home owners and workers, social workers, parents, college students, graduate students, members of clergy, community leaders and activists, former trafficked teens and adults, and those who have a genuine interest in assisting your neighborhoods by providing them with viable CORRECT information about child sex trafficking.  This event is NOT the same talk about what pimps do once they have your teens - OUR FOCUS IS ON PREVENTION.  PREVENTION BEGINS WITH YOU.
More information to follow.  This event is free to the public, however you must RSVP to secure your seat.  This event WILL NOT be open to the public the day of.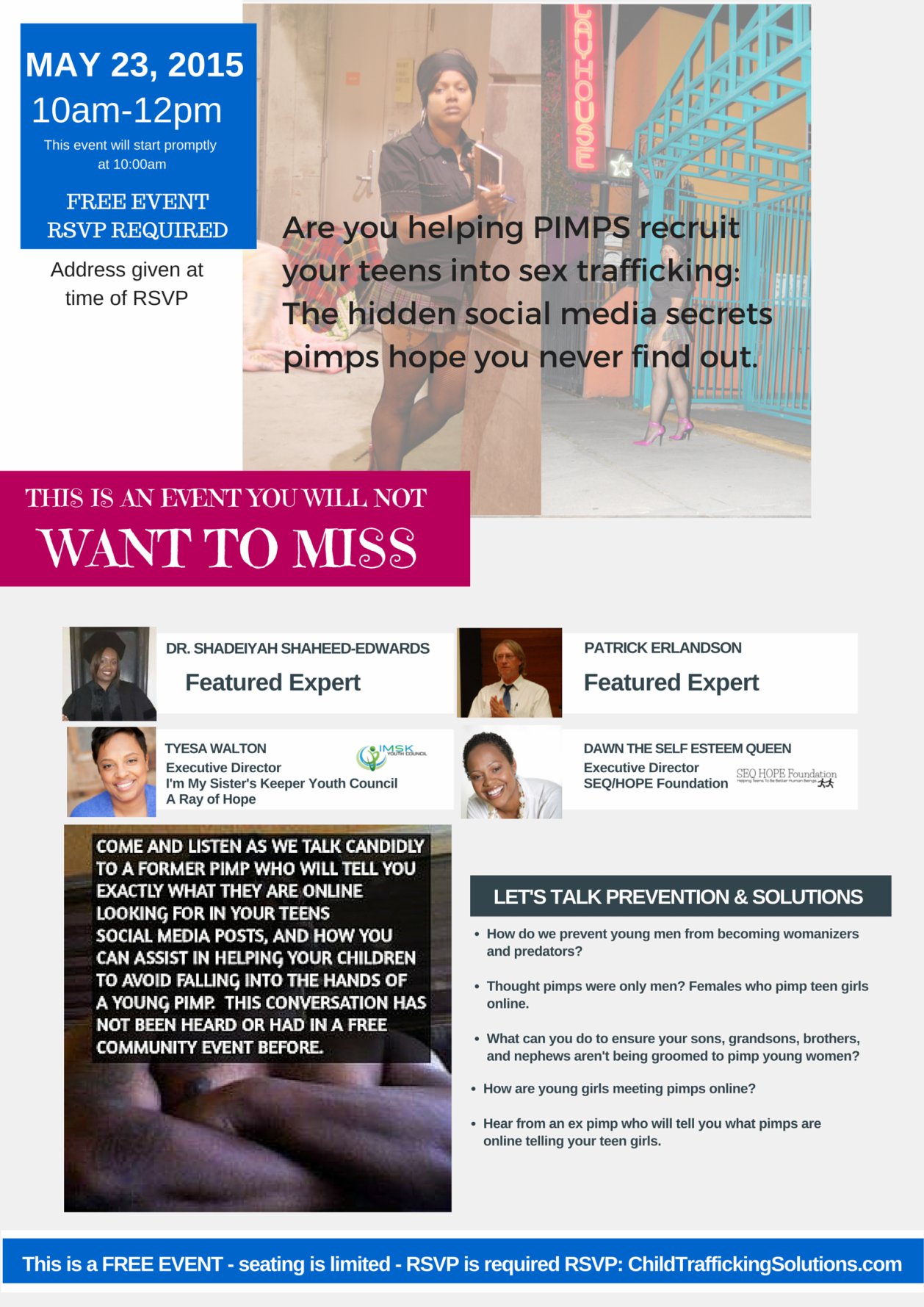 When & Where

Grant A.M.E. Church
10435 S Central Ave
Los Angeles, CA 90002


Saturday, May 23, 2015 from 10:00 AM to 12:00 PM (PDT)
Add to my calendar
Organizer
The SEQ HOPE Foundation seeks to assist teens who live with depression, suffer from suicidal thoughts, teens with low self-esteem.  We do this by working with specific groups of teens and guide them through years of their early adulthood with mentoring, private retreats, and one-to-one individual and family sessions.
About the Executive Director: With a knack for bouncing back when faced with the most difficult adversity, Dawn The Self Esteem Queen™ is known for her ability to get people out the "victim" mindset immediately. An Internationally Recognized Rescuer of Trafficked Teens and Runaways, Motivational Speaker, Author, Mentor and Spiritual Life Coach, Dawn "The SEQ" uses her experience with trials to mentor, minister, and coach people all over the World. One of today's leading experts on Teen Mentoring, Self-Esteem Enhancement, and Servant Leadership, Dawn's mission in life is to teach individuals how to BE BETTER Human Beings.