Are you doing agile ? User Story Workshop(Free Webinar)

Saturday, March 25, 2017 from 11:00 AM to 12:00 PM (CDT)
Event Details
Webinar Objectives:
Agile – Agile Manifesto ,Agile Mindset, Change is Hard
Iterative Delivery – ROI, Frameworks, Scrum / Kanban / ScrumBan,Roles,Scrum Master, Product Owner, Delivery Team, Events and Artifacts
User Story Workshop – Who, What and Why?, Stories vs Requirements,Splitting Stories
Details:   Date/Time: March 15th, 2017 4:00 pm - 5:00 pm
Webinar Facilitator:
Thomas Bookhamer  CSM, CSPO, SAFe Program Consultant, Agile Leadership Coach
Thomas Bookhamer is an Agile Program / Project Manager with the business fluency and technical expertise to align product development efforts with customer needs and desired business outcomes. He has 25+ years experience with years of proven agile experience and works in strength when facilitating organizational and process agility workshop training.
Taught and Mentored Scrum Masters, Product Owners, and teams through Interactive Workshops and Organizational Alignment.

Note: Webex information will be provided after you register for this free event. 
Organizer
Aleph Technologies is a premiere training, management consulting and professional services company. Aleph offers exceptional trainers with real-world experience. Our class room and online based learning provide engaging and applicable exercises that allow for practical understanding of the material. Aleph Technologies has experience providing its expertise at an individual and corporate level. We understand that Agile is a mindset, not just a methodology, and ongoing attention to get the full benefit of its practices is essential. Aleph Technologies provides attention to detail that allows for career growth and excellent products.
training@aleph-technologies.com  
1-888-955-915  
aleph-technologies.com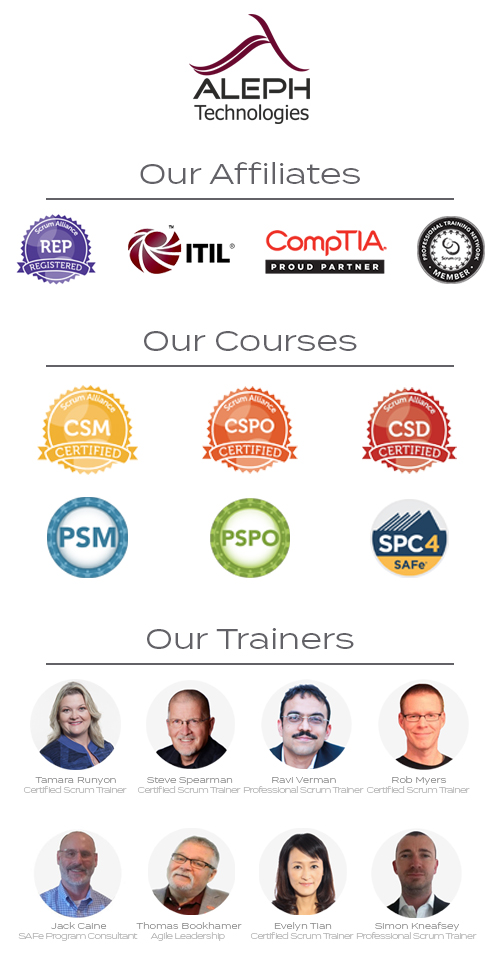 Privacy Policy: http://aleph-technologies.com/privacy-policy/