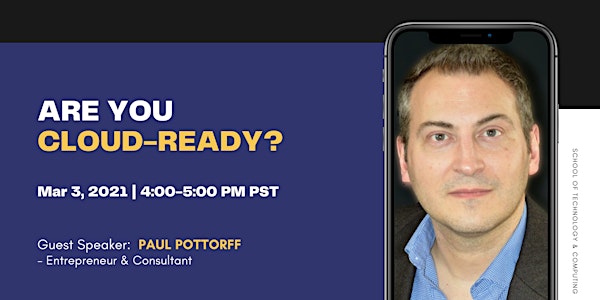 ARE YOU CLOUD-READY?
CLOUD COMPUTING. ARE YOU FUTURE-READY?
About this event
DISCUSSIONS & INSIGHTS:
How organizations are changing
A story of an IT department & data center
How developers deal with unfamiliar cloud environments
How information security teams are evolving?
GUEST SPEAKER: PAUL POTTORFF
Paul is the Founder of a consulting practice that provides cloud architecture & information security services. His company runs the security and PCI compliance program for a few companies in the tolling industry. They also work in the R&D development for a Fortune 100 company, helping build the technology & process to support an enterprise migration to Amazon AWS. In a prior role, Paul spent 10 years at Microsoft as a Program & Product Manager. He completed a Master's degree in Cybersecurity & Leadership from the University of Washington Tacoma in 2016.
MICROSOFT TEAMS MEETING
Click here to join the meeting OR Scan the QR Code below.
Hosted by School of Technology & Computing - Student Tech Club