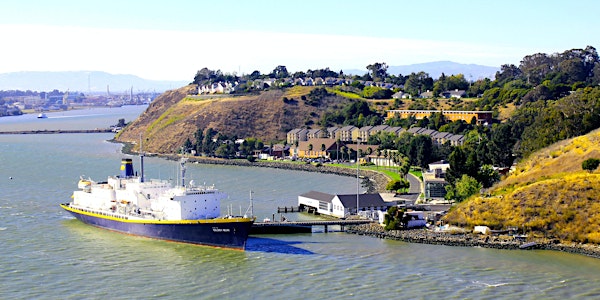 Are Shared Governance and Academic Freedom One and the Same?
When and where
Location
Cal Maritime 200 Maritime Academy Drive New Dining Facility Bldg. 2nd floor - Compass Room 2 Vallejo, CA 94590
Refund Policy
Refunds up to 1 day before event
Description
16th Annual Meeting of the CA-AAUP

@CSU Maritime Academy in Vallejo, CA
New Dining Facility Building 2nd floor
Compass Room 2
9:30AM - 5:30PM

Theme:
" Are Academic Freedom & Shared Governance One and the Same ?"

keynote topic:
"The Future of Academic Freedom"
a low-cost meeting with a big bang for your buck --
informative, stimulating, solution-oriented and collegial

REGISTRATION FEES include
breakfast

lunch

keynote

choice of 2 workshops


reception
only $25 for contingent faculty/ $45 for tenured FT faculty
more details below
Featuring
these 4 timely workshops, led by local and national faculty leaders and activists:
ACADEMIC FREEDOM BEYOND THE ACADEMIC SENATE
: The case of UC Librarians
CREATING JUST SPACES ON CAMPUS
: Forging lasting alliances with communities and students
SERVICE V. GOVERNANCE
: Using Pacific Lutheran's NLRB categories to evaluate your University's faculty governance documents & structures
FAIR USE FOR ACADEMICS
: What rights professors have & why they are underutilized
WORKSHOP DESCRIPTIONS
Academic Freedom beyond the Academic Senate
Faculty take their Academic Freedom for granted when they form topics of inquiry, conduct research, determine course content, speak in the classroom, and exercise their shared governance responsibilities. What protections exist for the ever-increasing number of non-faculty academic job titles employed by universities and colleges, who also have clear academic responsibilities? Their ability to speak freely with protection from their employers varies across the academy. What risks do they currently face? What new protections can labor unions secure? This panel will look at the active battles to protect the principle of academic freedom among librarians, researchers, and other non-faculty academic workers.
Panel members (listed alphabetically)




Martin Brennan

is the Copyright Librarian at UCLA, and is leading the communications efforts of the bargaining team for UC-AFT Unit 17 Librarians. The librarians are negotiating for Academic Freedom rights for their unit, among other issues.


Blanca Missè

is an Assistant Professor and CFA board member at San Francisco State University. Her chapter has drafted two very interesting statements about how to expand academic freedom and how to respond to far right mobilization around free speech.


Adam Siegel

is Bibliographer and Subject Specialist Librarian at UC Davis, also contributing to the bargaining team for UC-AFT Unit 17 Librarians, and has served on the UC Davis Senate / Federation Academic Freedom Committee.

Creating Just Spaces on Campus: forging lasting alliances with communities and students
This panel of faculty who have participated in interesting organizing efforts that have been occurring around California will explore opportunities and challenges of the current political environment. We'll look at examples of campus movements on the frontlines and draw out lessons to inform current and coming battles against privatization and for increased racial, economic and gender justice on our campuses.
workshop leader:
Jason Elias
has been a labor and community organizer for over 20 years and is the Western Regional Coordinator for the AAUP
Service v. Governance: Using Pacific Lutheran's NLRB Categories To Evaluate Your University's Faculty Governance Documents and Structures
The traditional promotion criteria for tenure-eligible faculty are teaching, scholarship, and something called "service." Many full-time non-tenure eligible faculty also have "service" obligations. How does committee service, on the various committees and faculty bodies found at most universities and academic units, relate to the shared governance rights and obligations of faculty members, without which we are not "managerial" employees (and are thus entitled to bargain collectively - aka, to form a union)? The answer is to be found in the five categories created by the NLRB in Pacific Lutheran Univ. and SEIU, Local 925 for evaluating whether the faculty exercise a managerial level of governance: the three primary categories (academic program, enrollment management, finance) and the two secondary categories (academic policy, personnel policy), into which nearly all faculty service work can be fitted. This workshop, led by a law professor and her non-law-school university colleagues, will discuss this important NLRB decision, how to communicate its important holdings to non-lawyers, and how to evaluate the governance documents and structures at your institution from the point of view of these categories. It will also help you enable your faculty to understand why faculty do so much non-governance service work, while more and more management and control is vested in administrators, whose institutional interests are served by obscuring rather than clarifying this important distinction.
workshop leaders:
Prof. Diane Klein
, University of La Verne College of Law Prof. Klein has been a law professor since 2000, and has taught at private and public institutions in California, Texas, Florida, and New York. Her areas of legal expertise include the law of property, wills and trusts, professional responsibility, and anti-discrimination law. She has played a key role in drafting governance documents at her institution that protect faculty (in all employment categories).
Prof. Matthew Witt
, has taught at the University of La Verne in the College of Business and Professional Management since 2001. Before that, he taught on contract one year at Portland State University following the completion of his dissertation on neighborhood governance processes in Portland. Dr. Witt's area of expertise is in the area of racism in governance processes at the local level. His published work appears in several public administration journals.
The doctrine of fair use has long permitted academics to use copyrighted material without permission or payment, both in the classroom and for research and scholarship. In recent years, numerous communities of practice (such as documentary filmmakers and libraries) have begun to make fair use routinely and reliably. Yet for many in academia, fair use remains opaque, underutilized, and often out of reach, with significant implications for academic freedom. In this session, Professor Jack Lerner and students in the UCI Intellectual Property, Arts, and Technology Clinic at UC Irvine School of Law will explain how professors and administrators can make fair use appropriately and safely. They will also engage the audience in a discussion about the barriers to fair use, and the ways it could enable more robust scholarship and teaching.
workshop leader:
Jack Lerner
is a Clinical Professor of Law at the UC Irvine School of Law. Professor Lerner works to find solutions to problems at the intersection of law and technology, particularly how technology law and policy affect creative expression and innovation. He has written and spoken widely on copyright, privacy and other areas of technology law. He is Director of the UCI Intellectual Property, Arts, and Technology Clinic, where law students counsel and represent authors, filmmakers, policymakers, innovators, nonprofit organizations, and others on a range of IP and technology issues, including a substantial fair use practice.
---
Legal Disclaimer: The CA-AAUP reserves the right to cancel, change, modify, add or remove portions of the conference/symposium at any time without notice or liability. By registering for this event, I understand that the CA-AAUP may be photographing or making video recordings of panels and/or related events for possible future use, including, but not limited to placement on the CA-AAUP website. If I do not wish to be photographed or appear on such video or otherwise be recorded, I will leave the location during such filming/recordings. If I am a member of a panel/roundtable/workshop and do not consent to it being videotaped, I agree to contact the conference administrator at westcoast@aaup.org before the day of the meeting. By remaining at the CA-AAUP conference/symposium and attending its related events, I grant the CA-AAUP my consent to record my picture, likeness, voice and statements without compensation or credit.