Are Nuclear Weapons Obsolete? A Conversation with Nicole Perlroth about cyber security and nuclear weapons and energy
About this event
New York Times cybersecurity reporter and author of the recent book, This is How They Tell Me the World Ends, Nicole Perlroth will join SF Bay PSR Board President Dr. Robert Gould and Vice President Dr. Tova Fuller for a conversation about cybersecurity and threats to our nuclear arsenals and energy facilities. In her book, Perlroth explains the untold story of the cyber weapons market—the most secretive, invisible, government-backed market on earth—and a terrifying first look at a new kind of global warfare. Drs. Gould and Fuller have decades of experience leading advocacy efforts for a nuclear-free world from a health perspective.
How can activists address cyber security issues within our advocacy for a nuclear-free world? Join us for what is sure to be the start of a new approach to our activism.
Co-sponsored by City Lights Bookstore. BUY BOOKS HERE.
Nicole Perlroth covers cybersecurity and digital espionage for The New York Times. She has covered Russian hacks of nuclear plants, airports, and elections; North Korea's cyberattacks against movie studios, banks and hospitals; Iran's attacks on oil companies, banks and the Trump campaign; the combined Israeli and U.S. "Stuxnet" attack on Iran; and, hundreds of Chinese cyberattacks, including a months-long hack of The Times—reporting which earned her several awards. Her first book, This Is How They Tell Me the World Ends, about the global cyber arms race, was published February 9, 2021.
A Bay Area native, Ms. Perlroth is also a guest lecturer at the Stanford Graduate School of Business and a graduate of Princeton University and Stanford University.
Robert Gould, MD, is an Associate Adjunct Professor in the Department of Obstetrics, Gynecology and Reproductive Sciences at the University of California, San Francisco, School of Medicine where he is a Collaborator with the Program on Reproductive Health and the Environment (PRHE). Until 2012, Dr. Gould worked as a pathologist at Kaiser Hospital in San Jose, California. He has been President of San Francisco Bay PSR since 1989, and has been on the Board of National PSR since 1993, serving as President in 2003 and 2014. Dr. Gould is Chairperson of the American Public Health Association's Peace Caucus, and also a leading member of the Environmental Committee of the Santa Clara County chapter of the California Medical Association (CMA). Dr. Gould has authored numerous book chapters on the health impacts of nuclear weapons, including War and Public Health (2007, Oxford University Press) and Terrorism and Public Health (2011, Oxford University Press), and was the co-author (with Thomas Bodenheimer) of Rollback! Right-wing Power in U.S. Foreign Policy (1989, South End Press).
Tova Fuller MD, PhD, is an Assistant Clinical Professor in the Department of Psychiatry at the University of California San Francisco. Dr. Fuller serves as Vice President of the San Francisco Bay chapter of Physicians for Social Responsibility (SF Bay PSR) and has served on the national, Los Angeles chapter, and Washington PSR chapter boards. She was a member of PSR-LA's nuclear ambassadors program and WPSR's nuclear activism committee. Her primary area of interest is the interface between public health and militarism as it relates to nuclear weapons. She is the recipient of the Lown-Alexander-Sidel Award for Medical Advocacy.
MORE ABOUT NICOLE PERLROTH'S BOOK
In This Is How They Tell Me the World Ends, Nicole Perlroth provides another explanation for the ever-expanding cyberassaults on the United States: the way that U.S. intelligence agencies, in their careless rush to dominate the field, have created and hypercharged a wildly lucrative, entirely unregulated gray market for insanely dangerous digital weapons that private hackers develop and then sell to the highest bidder. Which only sometimes is the United States.
Zero day: a software bug that allows a hacker to break into your devices and move around undetected. One of the most coveted tools in a spy's arsenal, a zero day has the power to silently spy on your iPhone, dismantle the safety controls at a chemical plant, alter an election, and shut down the electric grid (just ask Ukraine).
For decades, under cover of classification levels and non-disclosure agreements, the United States government became the world's dominant hoarder of zero days. U.S. government agents paid top dollar-first thousands, and later millions of dollars- to hackers willing to sell their lock-picking code and their silence.
Then the United States lost control of its hoard and the market.
Now those zero days are in the hands of hostile nations and mercenaries who do not care if your vote goes missing, your clean water is contaminated, or our nuclear plants melt down.
Filled with spies, hackers, arms dealers, and a few unsung heroes, written like a thriller and a reference, This Is How They Tell Me the World Ends is an astonishing feat of journalism. Based on years of reporting and hundreds of interviews, The New York Times reporter Nicole Perlroth lifts the curtain on a market in shadow, revealing the urgent threat faced by us all if we cannot bring the global cyber arms race to heel."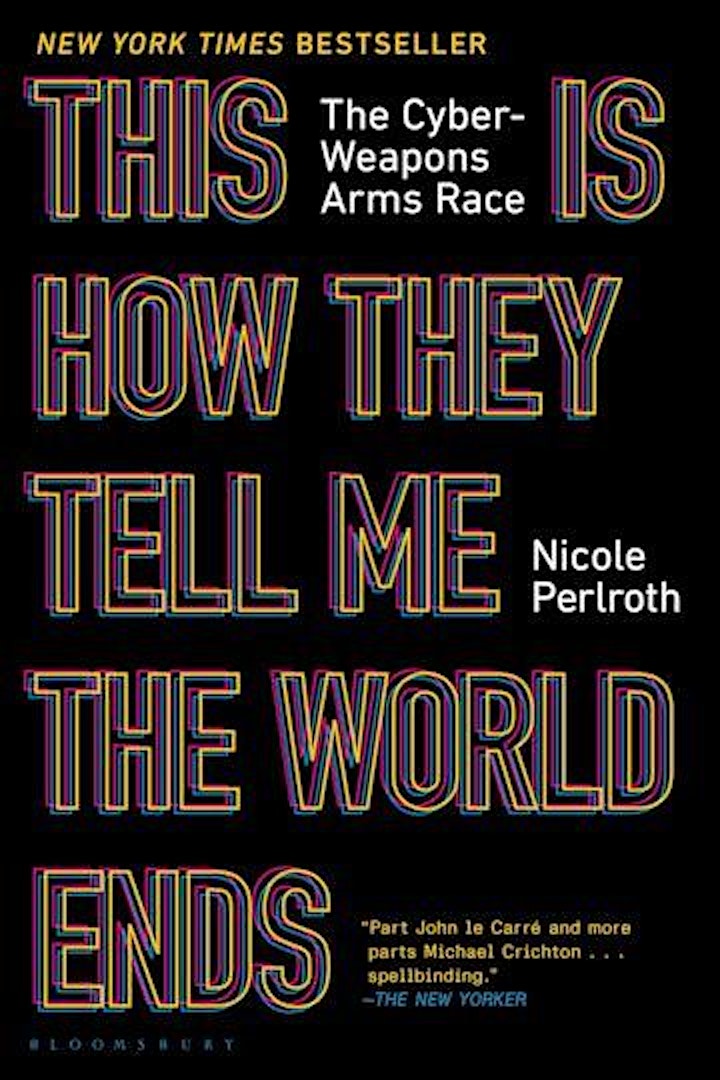 Organizer of Are Nuclear Weapons Obsolete? A Conversation with Nicole Perlroth