A lecture by Prof. Paul LaPenna
About this event
North Carolina State University
The Thomistic Institute at North Carolina State University presents a lecture by Prof. Paul LaPenna of the Edward Via College of Osteopathic Medicine titled "Are Neuroscience and the Soul Compatible?"
Talley Student Union 3222
Tuesday, Oct. 12
6:30 PM
This lecture is free and open to the public.
About the speaker:
Dr. Paul LaPenna is a neurologist in Greenville, SC and Associate Professor of Neurology at the Edward Via College of Osteopathic Medicine, Carolinas Campus. Dr. LaPenna completed his neurology residency at Indiana University School of Medicine in 2018. As a neurohospitalist, Dr. LaPenna's skill set is focused on treatment of neurological emergencies and performing and interpreting electrophysiological studies of the brain and peripheral nervous system.
As an Associate Professor of Neurology, Dr. LaPenna has won numerous teaching awards, including Clinical Medicine Professor of the neuroscience curriculum in 2019, 2020, and 2021. For the 2020-2021 academic year, Dr. LaPenna was awarded the Preceptor of the Year. For his care towards patients, he was elected to the Arnold P. Gold Humanism Honor Society in 2016.
Dr. LaPenna has an interest in the relationship between science and faith—in particular, the relationship between neuroscience and the soul, the overreaching claims of science, and the dignity of the human person, to name a few. Saint Thomas Aquinas has been a major influence in Dr. LaPenna's intellectual and faith journey.
Dr. LaPenna was previously a collegiate runner and now enjoys running recreationally, hiking, and spending time outdoors. Most of all, he loves his wife Nicole and their two daughters, Catherine and Susanna.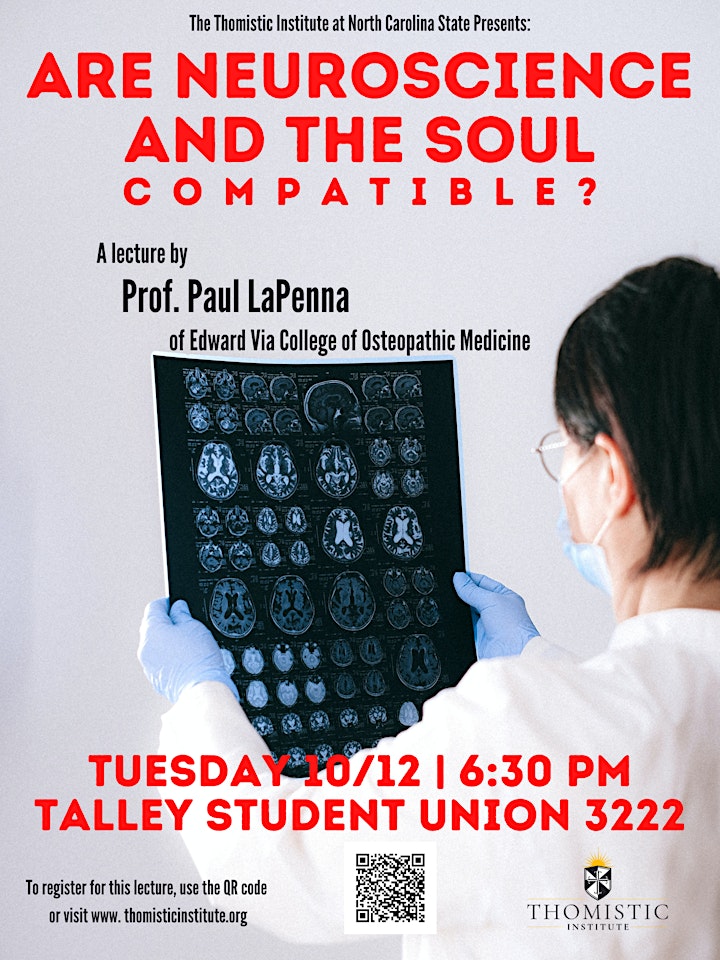 Organizer of Are Neuroscience and the Soul Compatible?
The Thomistic Institute exists to promote Catholic truth in our contemporary world by strengthening the intellectual formation of Christians at universities, in the Church, and in the wider public square. The thought of St. Thomas Aquinas, the Universal Doctor of the Church, is our touchstone.  The TI is an academic institute of the Pontifical Faculty of the Immaculate Conception at the Dominican House of Studies in Washington, D.C.
You can find all of the Thomistic Institute lecture recordings on https://soundcloud.com/thomisticinstitute or through the Apple Podcast by searching "Thomsitic Institute."