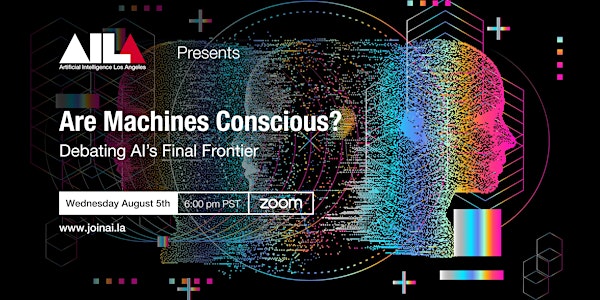 Are Machines Conscious? Debating AI's Final Frontier
Debating AI's Final Frontier
About this event
In our first ever debate event the AI LA community is excited to bring together computer scientist Steven Schkolne, and neuroscientist Megan Peters, along with host Dylan Morris to discuss machine consciousness.
Consciousness has been a topic of contention for thousands of years even when applied to humans. The notion that machines may already have achieved this lofty milestone is rejected by most, even within the AI community. This group of tenacious thinkers seeks to settle the debate in just one hour.
Participants
Steven Schkolne is a consultant and author who has helped define the technological future for companies such as Amazon, Disney, and BMW. He has been working at the forefront of human/machine interface since earning his Computer Science PhD at Caltech. His tireless exploration of our digital past, present, and future has been chronicled in many successful Medium articles. His new book, Frankenstein Lives: The History and Destiny of Machine Consciousness, takes the controversial stance that machines are already more intelligent than humans.
Megan Peters is an Assistant Professor of Cognitive Sciences at University of California, Irvine. Previously, she was an Assistant Professor of Bioengineering at UC Riverside, after receiving her PhD from UCLA. Her research focuses on using neuroimaging, neurostimulation, machine learning, and computational modeling techniques to characterize perceptual decision-making, metacognition, and consciousness in humans.
Moderator
Dylan Morris is a General Partner at CRV where he invests in early stage biotech and bioengineering companies. Before joining CRV, Dylan was on the investment team at Eric Schmidt's venture fund Innovation Endeavors, and the cofounder of biosensor startup Integrated Plasmonics. While at Harvard, Dylan spent two years studying the evolutionary correlates of consciousness in a primate cognitive neuroscience lab. He spent several years at Caltech pursuing a PhD in Biochemistry and Biophysics.
Schedule
6:00pm Zoom room opens
6:05pm Opening Remarks by Todd Terrazas
6:05pm Debate Starts
7:05pm Open Q/A
7:30pm Zoom room closes