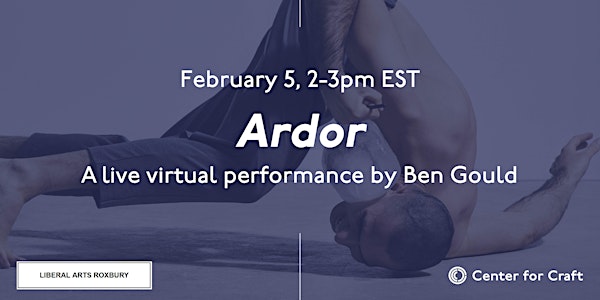 "Ardor", a performance by Ben Gould
Join the Center for Craft as we celebrate the opening of "Desire Paths" with live performance by exhibiting artist, Ben Gould.
About this event
Center for Craft celebrates the opening of Desire Paths, curated by 2020 Curatorial Fellows, Lauren Kalman and matt lambert, with a live performance by exhibiting artist, Ben Gould, entitled Ardor in collaboration with Liberal Arts Roxbury (Roxbury, NY).
Ardor is a new performance by Ben Gould developed for a virtual audience, filmed by Joseph Bacon and streamed live. Contending with transformation, power, and desire, it activates a set of internal and external manifestations of the body's energy systems. These primary sources - chemical, electric, thermal, and mechanical energy - are employed both within the body involuntarily, and outwardly through analogous, intentional movement-based choreographies that utilize Gould's Tourette Syndrome as a generator. Throughout the performance these physical embodiments, internalized and made visible through movement, have external counterpoints: objects and processes that expand the scale of these energy systems into new realms. An ice-cast stone is used to reroute the directionality of impulse, electrodes flow a subtle current through the body, charging the system and splitting roles of control - instigating a new and more deeply buried movement language to be reckoned with. All this gives way to a work both raw, intimate, and severe.
Performance begins at 2 pm. Event will close with a 30-minute discussion between the Kalman, lambert, and Gould.
About Desire Paths
Desire Paths looks at makers within the discourse of craft and those existing on the periphery of the craftscape who focus on the movement of the body towards something desirable. These desires of the body are in relationship to nature, technology, self, and society. Using architectural theory and queer curatorial strategies, Desire Paths examines the possibilities and futures of bodies, revealing connections between the corporeal and craft. Learn more about the exhibition here.
The Center is grateful to our virtual exhibition program sponsors, Joel Adams & Associates of Raymond James Financial Services.
Header image: Courtesy of Chris White.