Ardenne Alumni Annual Mother's Day Concert and Luncheon - 2017
Description
Members, Friends and Well-wishers:
Once again, the Ardenne Alumni Association (Toronto Chapter) presents its Annual Mother Day Fundraising Concert and Luncheon. This year's event features the following performers:
Tanya Mullings (2012 Juno Nominee)
Jimmy Reid
"MC" Marcia Brown
Proceeds will be used to support the School's infrastructure and Lunch programme.
As this event promises to be of great entertainment, we look forward to seeing you, sharing the afternoon together.
Thanks again for your continued support in this endeavour.
Ardenne Alumni Association Toronto Chapter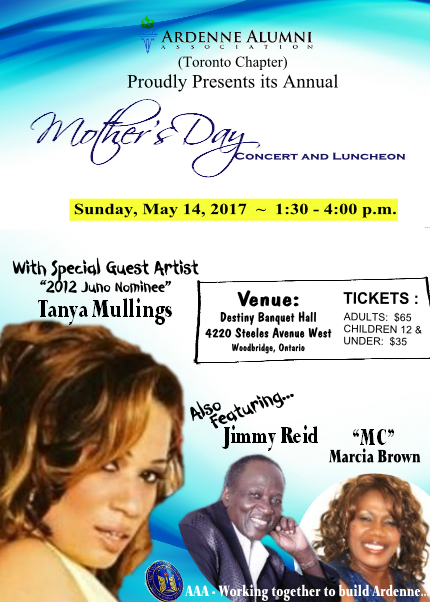 FAQs
Q. How to contact our association?
Please can send your questions to ardennetorontochapter@gmail.com
Q. Where can I pick up my ticket(s) for the event?
Please bring your confirmation and redeem at the door, on the day of the event.