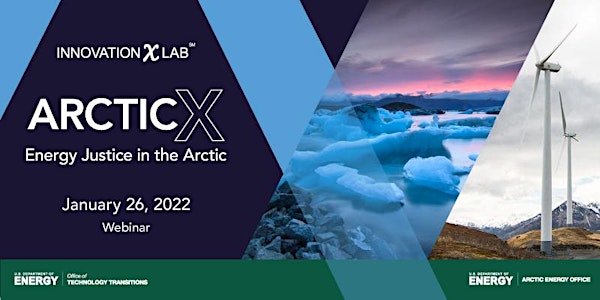 ArcticX: An InnovationXLab Series Webinar: Energy Justice in the Arctic
ArcticX: Energy Justice in the Arctic
About this event
Join the discussion on how to ensure energy and environmental justice in the Arctic at the next ArcticX virtual event on Jan. 26, 2022, from 10 a.m. to 12 p.m. AKST (2 p.m. to 4 p.m. EST).
Alaska residents and U.S. Department of Energy (DOE) lab representatives will be featured in panel discussions relating to challenges and opportunities of equitably advancing initiatives in the region. Registration is now open.
Hear from Alaskans representing tribal organizations, research commissions, and national labs as well as DOE leadership.
Speakers will discuss:
The role of emerging technology to advance energy justice.
The greatest challenges and opportunities of energy transition in the Arctic—pathways to sustainable energy systems that address requirements for power, heat, and mobility.
What the federal government can do to promote tech transfer and commercialization.
Speakers include representatives from Alaska universities, the U.S. Arctic Research Commission, the National Renewable Energy Laboratory, Pacific Northwest National Laboratory, the Alaska Native Village Corporation Association, Chaninik Wind Group, and Kongiganak, Alaska.
Dr. Geraldine Richmond, Under Secretary for Science and Energy; Shalanda Baker, Deputy Director for Energy Justice at the Office of Economic Impact and Diversity; and Wahleah Johns, Indian Energy Director, will be among the DOE leaders who will provide opening or closing remarks.
This is the second webinar in a four-part virtual InnovationXLab series of events that will culminate in an in-person meeting in Alaska on May 23, 2022. The Office of Technology Transitions and the Arctic Energy Office are co-hosting the series.
The series of events will bring together diverse Arctic stakeholders, including Alaska Natives, with industry entrepreneurs, university and laboratory researchers, and government leaders to:
Learn about infrastructure and operating environments in the Arctic.
Hear from organizations advancing clean energy in the Arctic.
Discuss energy challenges, innovative solutions, and technology deployment opportunities.
Explore Arctic energy transition pathways for future collaboration.
Network with Arctic stakeholders and visit key places in Alaska.
For more information, visit the event page here or the Arctic Energy Office website here.
For more information about U.S. Department of Energy Office of Technology Transitions, please visit the webpage here.
Once you register, the Zoom link for the event will be emailed to you. You will also receive a reminder email with the joining details prior to the event.
Eventbrite recommends Google Chrome or Firefox for the best experience. Internet Explorer versions 11 and earlier are no longer supported. If you don't have permission to download on your work computer, contact your IT department to request they add it to your system.