ArcLight at the Drive-In: SLAMDANCE Film Festival Closing Night screening and World Premiere of 18TH & GRAND: THE OLYMPIC AUDITORIUM STORY
About this Event
ArcLight Cinemas, in partnership with SLAMDANCE, is excited to host the world premiere screening of 18TH & GRAND: THE OLYMPIC AUDITORIUM STORY at the Vineland Drive-In on Thursday, February 25 at 7:30 PM.
What: ArcLight at the Drive-In & SLAMDANCE world premiere screening of 18TH & GRAND: THE OLYMPIC AUDITORIUM STORY.
$40 per car. Admission includes a complimentary popcorn. No passenger limit.
When: Thursday, February 25. Gates open at 6:45 PM. Showtime at 7:30 PM.
Where: Vineland Drive-In. 443 Vineland Ave., City of Industry, CA 91746 (a short 30 minute drive from ArcLight Hollywood)
Advance Ticketing Only. Non-refundable.
Film Synopsis: The story of Los Angeles told through the prism of a historic fight palace and the woman who ran it. Olympic Auditorium was a raucous, indestructible palace of violent entertainment, and Aileen Eaton managed the mayhem for the better part of its existence. Told through the voices of fighters, skaters, and musicians including Roddy Piper, John Doe, James Ellroy, and Julio César Chávez, 18th & Grand: The Olympic Auditorium Story is a hard-hitting yet bittersweet tale of the conflicts and characters that shaped a city.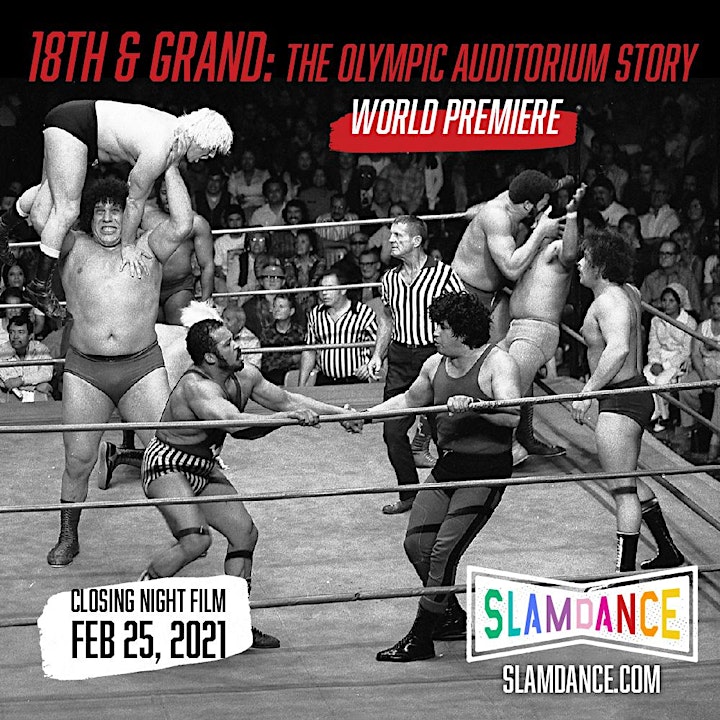 Given the ongoing health crisis, we are making safety a priority. Each car must ensure that there is one space held between their car and the next. Guests will be asked to practice social distancing at all times and masks will be required. In accordance with state and local guidelines, all employees will be temperature checked upon arrival and will wear masks and gloves. Vineland's concession stand will be open for this event, however, social distancing measures will be in place which may result in longer than usual wait times.