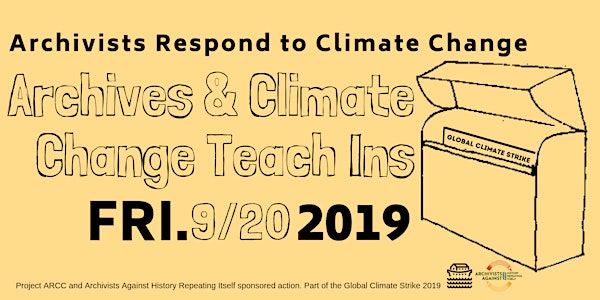 Archives and Climate Change Teach Ins
When and where
Location
Locations Vary Across the World
Description
Information English | Información Español | Informação Português | Informations Françaises
ENGLISH - This September 20th, 2019 archivists around the world alongside young people and adults across the US and world will strike for climate action. Throughout this day archivists will hold Teach Ins focused on various topics of archival practices and the archivist's relationship to climate change.
These Teach Ins will provide insights and serve as a launching point for future actions against climate change. By joining international efforts to raise awareness of climate change, archivists can join the global community to tell leaders across the world that we demand climate action.
Archivists along with others in the library, museum, and information community can join together to contribute to this multigenerational multidisciplinary climate movement. Spend this year's strike learning about how archives and archivists impact climate change and set the stage for a new era of just and equitable climate action.

RSVP using this page to show solidarity with archivists from around the world and check below to see the nearest Teach In for your area. Teach Ins will be held in various locations. Please see individual event pages for your closest action.
CONFIRMED LOCATIONS (if no link, check back later as location details might be in progress)
Austin, TX, U.S.A.

Location: University of Texas Student Union Courtyard from 9 am to 12 pm
Event Link: http://bit.ly/2lWFncw

Vancouver, BC, Canada

Location: Trail Room in SLAIS at University of British Columbia from 2-4 pm

Chicago, Illinois (all day letter writing table during the Project STAND symposium
Swarthmore, PA
Melbourne, Australia


Clyde Hotel (385 Cardigan St, Carlton) from 4pm-6pm

Baton Rouge, Louisiana
OTHER CONFIRMED ACTIONS THAT ARCHIVISTS WILL BE AT
Liverpool, UK Rally

Location: Derby Square, Liverpool at 1:30 pm
As part of this action, we are also encouraging all coordinators and participants to begin the conversation with the following One Reading, One Community article: "Dying Well In the Anthropocene: On the End of Archivists" by Samantha R. Winn (DOWNLOAD: https://journals.litwinbooks.com/index.php/jclis/article/view/107)
This is a Project ARCC and Archivists Against History Repeating Itself sponsored action. Part of the Global Climate Strike 2019.

For more Information visit: bit.ly/archivistclimatestrike19

Download promotional materials (flyers/infosheets in multiple languages): http://bit.ly/2kAVU61