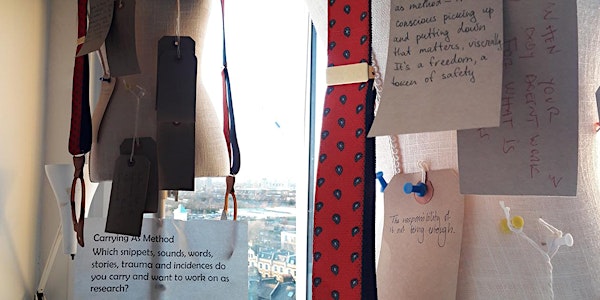 Archival Research Methods: EUTOPIA Creative Methods Workshop 2
Interactive online workshop for students and researchers interested in engaging with archives as social research method.
About this event
What is creative archival research?
What is 'the archive', and how can archives be engaged with beyond their traditional limits, shaping social research as methodology and practice?
The EUTOPIA Creative Methods Learning Community brings together international and interdisciplinary expertise from the arts, humanities and translation and social sciences to explore creativity within research methods. Our workshops and learning resources inquire into how we can research the world using techniques beyond simple interviews, surveys, textual analysis and participant observation.
In the second interactive workshop for the Learning Community, students and researchers from universities across Europe are invited to:
Learn together about a variety of approaches to creative archival research that can be used in social research
Hear from expert researchers and practitioners based in Finland, Slovenia, and the UK about practice-based challenges and the possibilities of engaging with archives towards knowledge production
Participate in practical tasks using creative techniques
Share learning, ideas and areas for discussion with students and researchers from across the EUTOPIA partnership
The workshop will also launch the EUTOPIA Creative Methods web landing page providing video, audio and reading list resources on an ever-expanding set of topics related to using creativity in social research
Programme (times are in Central European Time (UTC+1))
9.30 Welcome and introduction to the workshop and to the EUTOPIA Creative Methods Learning Community from Hannah Jones
9:45 Extended archives: a discussion between Nike Pokorn and Outi Paloposki on archives in microhistorical translations studies research. Followed by participant discussion and task.
11.20 Break
11.45 Carrying as Method - Listening to Bodies as Archives: a discussion between Hannah Jones and Nirmal Puwar on the notion of 'carrying' as an embodied set of influences bearing upon our research practices and journeys. Followed by participant discussion and task.
13.30 Close
Speakers
Dr Outi Paloposki, University of Turku, Finland
Outi Paloposki is Professor of English at the University of Turku, Finland. Her research focuses on the cultural history of translation in Finland, in particular on book history, bibliography work and translators' archives. Paloposki was one of the editors of the two-volume history of literary translation into Finnish (Suomennoskirjallisuuden historia), published by the Finnish Literature Society in 2007, and of its companion volume, a history of non-fiction translation into Finnish (Suomennetun tietokirjallisuuden historia, 2013).
Dr Nirmal Puwar, Goldsmiths, University of London, United Kingdom
Nirmal Puwar has been an academic at Goldsmiths, University of London since 2003. She will speak on museums and place, from her forthcoming book, written from her home ground, from the vantage of Writer-As-Resident, on Decomposing:Recomposing.
Her book Space Invaders (2004), generated a frame work for considering the conditions of inclusion within institutions. She experiments with a range of research methods including, interviews, collaborative, creative and site-specific interventions to re-route space, nation and institutions. The project Noise of the Past collaboratively re-figured the global war dead and memory with a post-colonial centre point. She leads the strand on Space Invading in the Global Grace Grant on Gender and Cultural Equalities. She co-founded the Methods Lab to mutate relations within and beyond the walls of the academy. Live Methods, co-edited with Les Back, is one of eighteen collections she has co-edited. As a Writer-As-Resident she has been writing a book on how Coventry is decomposing and recomposing at the moment. Meeting Places, Walking Through Litter and Mint feature in her creative non-fiction works on memory and place. Her latest collaborative project on Brutalist Architectures: mourning, mapping, mobilising, engages with site specific conversations with local artists Adele Reed and urban sketcher Paul Chokran, to detail the lack of regard for environmental heritage in the face of urban developments without accountability.
Dr Helena Holgersson, University of Gothenburg, Sweden
Helena Holgersson is a Senior Lecturer in Cultural Studies at the University of Gothenburg, researching, writing and teaching on interdisciplinary urban research.
Dr Hannah Jones, University of Warwick, United Kingdom
Hannah Jones is a Professor of Sociology at the University of Warwick. She writes, researches and teaches on racism, belonging and migration, critical public sociology, and critical and participative research methods.
Dr Patrícia Pereira, Universidade NOVA de Lisboa, Portugal
Patrícia Pereira is a Researcher in Sociology at the Universidade NOVA de Lisboa, she researches and writes about gentrification and displacement, resistance, public spaces, everyday life, and urban ethnography.
Dr Nike K Pokorn, University of Ljubljana, Slovenia
Nike Kocijančič Pokorn is Professor in Translation Studies at the University of Ljubljana, Slovenia. She publishes on translation and censorship, directionality in translation and public-service interpreting and translation.
* Image credit: Nirmal Puwar