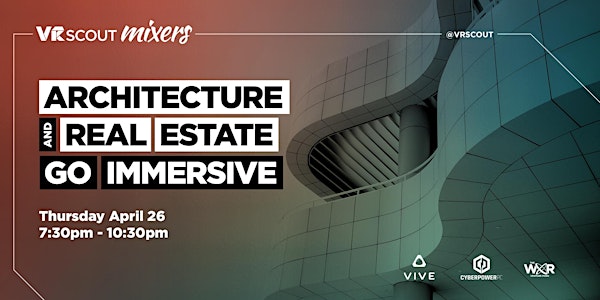 Architecture & Real Estate Go Immersive
When and where
Location
CTRL Collective - Playa Vista 12575 Beatrice Street Los Angeles, CA 90066
Description
At VRScout we host a monthly series of events, bringing together thought leaders and decision makers to explore key topics around how virtual, augmented, and mixed reality are changing passions and professions.

For our Mixer on the 26th of April, we are exploring the mashup of Immersive Tech with Real Estate & Architecture! Take part in a uniquely exciting moment as these industries advance through innovative use of AR and VR.
Immersive tech has been a game changer in the hands of architects and realtors, whether it be architectural visualizations, virtual property tours, commerce, or staging.
Join VRScout, HTC Vive, CyberPowerPC in exploring what's currently out there and how we can shape the future of immersive technology.
Here's what you can expect:
PANEL
Take part in a discussion on how people connect and share using immersive technology as the industry takes on a bigger role in Real Estate and Architecture.
Malia is a Founding Partner at VRScout, one of the world's leading immersive media companies. VRScout inspires a community of millions of explorers and creators around the world through original reporting, one-of-a-kind events, and video and VR content created in their LA studio. Host of two podcasts, Malia is a frequent speaker and has been named in the Top 20 Most Influential People in the VR/AR industry as well as one of the Top 20 Women in VR in LA. She is also a Founding Partner at the WXR Fund, a venture fund focused on backing female-led startups in the VR/AR industry. Malia is passionate about equal representation, GLTBTQ progress, and therapeutic uses of immersive technology.
Megan Lubaszka, Regional Creative Media Leader, Gensler

Megan Lubaszka is a Regional Creative Media Leader at Gensler, the largest architectural firm in the world. Megan has been instrumental in incorporating Virtual Reality and Augmented Reality into Gensler's daily architectural practice, working both on the development side of VR/AR applications and the socialization and user experience side of the technology. She writes a weekly newsletter called Reality Check that identifies trends in VR/AR and co-hosts weekly VR Jams in which architects from any Gensler office can come together as avatars in the same 3d model for a "virtual site walk" with the building's design team. Megan has guided over 1,000 people through their first Virtual Reality experience. She holds a B.Arch and M.Arch from the Tulane School of Architecture in New Orleans and worked as an architectural designer of retail stores, shopping centers, banks, international theme parks & mixed use projects. She is a LEED AP through the US Green Building Council and an active member of the International Council of Shopping Centers, the World Future Society, and serves on the long-range planning committee of the Los Angeles chapter of the Construction Specifications Institute.
Güvenç Özel

, Technology Director, IDEAS UCLA
Güvenç Özel is an architect, artist and researcher. He is the Technology Director of IDEAS, and the principal of Ozel Office, an interdisciplinary design practice located in Los Angeles, USA, working at the intersection of architecture, technology, visual arts and research on urban culture. A native of Izmir, Turkey, Özel studied architecture, sculpture, and philosophy in Bennington College, USA. In addition, he holds a Masters of Architecture degree from Yale University, where he graduated with multiple awards. Prior to establishing his own practice, he worked in the architecture offices of Rafael Vinoly, Jürgen Mayer H. and Frank Gehry, amongst others. His projects and experimental installations are exhibited in museums and galleries in the USA and Europe. He formerly taught at Yale University, Woodbury University and University of Applied Arts in Vienna, Studio Greg Lynn. His recent work has been heavily published by CNN, Boston Globe, Architectural Digest, Gizmodo, Creators Project/ Vice, Archdaily, Archinect, Designboom and many others. His current research on emerging technologies is focused on creating interactive environments that challenge traditional fabrication techniques and spatial assemblies.
Tyson Woeste, C

o-founder and CEO, Transported VR



Tyson is the co-founder and CEO of Transported VR, a venture funded startup that lets anyone create virtual reality tours of the world's most interesting places and spaces. Before this he led marketing and mobile products at TrueCar, and previous to that he was VP Technology and Product at ThisNext. Tyson started his career an engineer working on all kinds of hardware from fiber optics, to li-ion batteries, to inertial guidance systems. Originally from Vancouver Canada, he is now based in Los Angeles.

Cody Nowak, Founder, DisruptAEC
Cody Nowak has worked for architects, architectural lighting designers, MEP engineers, general contractors, and a variety of subcontractors as well. His experience is well documented, but Cody's innovation and vision are what make him a thought leader in the AEC industry. As a technology evangelist, Mr. Nowak has been bridging the gap between technology, BIM, and AEC with the purpose of integrating Virtual Reality, Augmented Reality, and Mixed Reality into a more prominent role. He is working on progressing the AEC industry towards the integration of real-time 3D gaming engines to be used for powering real-time collaboration and ultimately the use of BIM in the field via emerging hardware technologies. Cody's network in technology and AEC allow him to be informed and involved with many new developments and advances in technology. Cody is also the founder of AECX a tech expo for AEC professionals and is the SoCal lead for AEC Hackathon. This along with his experience, innovation, and ingenuity are making Cody's vision of 3D technology integration into the AEC industry a Virtual Reality.
Julie Smith-Clementi, Partner at Rios Clementi Hale Studios, President/CEO of notNeutral
Julie views the multidisciplinary design process as an opportunity to create spaces that both engage and inspire the people who inhabit them. Julie is at her best when uniting her passions for architecture and interior design to create holistic environments, designing not only the boundaries of a space, but also the graphics, furnishings, and fixtures that make it inviting. Her experience in crafting acclaimed interiors persuaded her that our firm should also design, manufacture, and sell furnishings that bring rooms to life. That conviction led in 2001 to the formation of notNeutral, with Julie as its President and CEO. Under her leadership, the notNeutral brand quickly developed a national reputation and a retail presence worldwide.Julie was a visiting instructor at the University of Southern California in 2009 and an instructor at UCLA Extension in 1995. She has also been a visiting critic at both of those schools, and at Woodbury University.
INTERACTIVE DEMOS
We've curated a collection of best-in-class immersive content, along with new tools for creators with our partners at HTC Vive.
Outer Realm VR
Agile Lens
Kilograph
Transported
GAROU VR
Iris VR
Overstruct
RealAR

ROK360
PROVISIONS
A hosted bar with beer and wine will be provided courtesy of our sponsors.
We'll also have a food truck on-site with Southern comfort food.
We look forward to spending the evening together. This is an invite-only event so be sure to RSVP and secure your spot.
VRScout mixers are strictly 21+.