Featuring the Anandaloy Community Center in Bangladesh with Anna Heringer, Hon. Prof. UNESCO Chair for Earthen Architecture
About this event
German architect Anna Heringer's 'Anandaloy' is a community center and workshop in Bangladesh that is made from mud and bamboo. located in Rudrapur, a village in the country's Dinajpur district. The two-story building contains a therapy center for people with disabilities at ground level and a fair-trade textile manufacturing workshop for local women on the first floor. Below a big ramp that connects the two levels, protective cave-like spaces provide settings for recreation or solitude.
Anna will tell the story of what her early experience of living in Bangladesh taught her about design, about earthen architecture, about the collaborative process of making places. Following a documentary film about the Anandaloy project, Anna will join a panel discussion moderated by IHCD's Executive Director, Valerie Fletcher with:
Mr. Swapan Kumar Saha, Director-Program, Dipshikha, Bangladesh
Mr. Shuvo Kumar Roy, Program Participant, Dipshikha
Mr. Channi Sofuzzaman, Physiotherapist, Dipshikha
Mr. EkomObong Udo-Affah, UDIA, Co-Founder & Design Director, Lagos
Closed captioning will be provided.
About the Speaker
Anna Heringer | Hon. Prof. UNESCO Chair for Earthen Architecture | Building Cultures and Sustainable Development
Anna Heringer, born October 1977, grew up in Laufen, a small town at the Austrian-Bavarian border close to Salzburg. At the age of 19 she lived in Bangladesh for almost a year, where she had the chance to learn from the NGO Dipshikha about sustainable development work. The main lesson was the experience, that the most successful development strategy is to trust in existing, readily available resources and to make the best out of it instead of getting depended on external systems. Eight years later, in 2005, she tried to transfer this philosophy into the field of architecture.
For Anna Heringer architecture is a tool to improve lives. As an architect and honorary professor of the UNESCO Chair of Earthen Architecture, Building Cultures, and Sustainable Development she is focusing on the use of natural building materials. She has been actively involved in development cooperation in Bangladesh since 1997. Her diploma work, the METI School in Rudrapur got realized in 2005 in collaboration with Eike Roswag and won the Aga Khan Award for Architecture in 2007. Over the years, Anna has realized further projects in Asia, Africa, and Europe. Together with Martin Rauch she has developed the method of Clay Storming that she teaches at various universities, including ETH Zurich, UP Madrid, TU Munich and GSD/Harvard.
She received numerous honors: the Obel Award 2020, the Global Award for Sustainable Architecture, the AR Emerging Architecture Awards in 2006 and 2008, the Loeb Fellowship at Harvard's GSD and a RIBA International Fellowship. Her work was widely published and exhibited in the MoMA New York, the V&A Museum in London and at the Venice Biennale among other places. In 2013 with Andres Lepik and Hubert Klumpner she initiated the Laufenmanifesto where practitioners and academics from around the world contributed to define guidelines for a humane design culture. In 2017 she was invited to give a TED talk.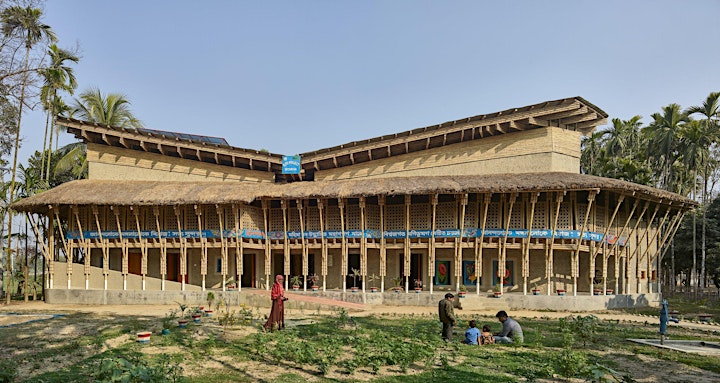 Organizer of "Architecture is a Tool to Improve Lives."