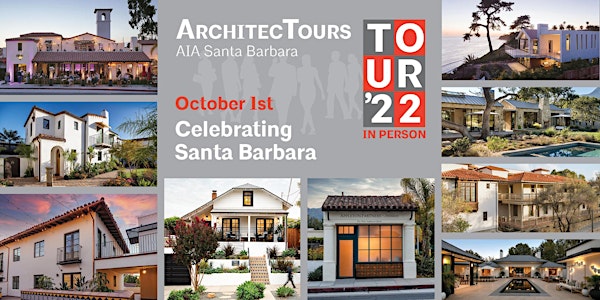 ArchitecTours 2022 - Celebrate Santa Barbara
Location
AIA Santa Barbara
229 E Victoria St
Santa Barbara, CA 93101
AIA Santa Barbara Presents 2022 ArchitecTours Saturday, October 1
About this event
6 Pending LU/HSW for all AIA members attending full day
AIA Santa Barbara Presents 2022 ArchitecTours:  Celebrate Santa Barbara
Saturday, October 1st
10.00 am - 4.00 pm          Self-Guided Tour
4.00 pm – 6.00 pm           Tour Party 
The American Institute of Architects, Santa Barbara is proud to announce its 13th annual ArchitecTours. This year's tour theme will celebrate Santa Barbara design, highlighting a range of project types that demonstrate exemplary design in our community. AIASB is excited to announce that this year's tour will be in person after a virtual tour in 2021 and a canceled tour in 2020 due to the pandemic.
The projects on the tour this year include several unique residences; a contemporary cliffside home on The Mesa, a renovated modern farmhouse in Downtown Santa Barbara and two homes in Montecito that share a strong relationship with their natural surroundings. Also, on the tour are several historic building renovations including the former Hollister Family Office building and adobe which now hosts the Appleton Partners Studio and architectural library. Additionally, tour goers will also have the chance to visit two new multi-family housing buildings downtown that offer a range of unit sizes and amenities.
You will receive a tour brochure and/ or app with maps, photos, and info detailing all the projects.  Meet architects and design professionals and discover how design impacts art and art impacts design.
Tickets
Early Bird Tickets on Sale Aug 5 - September 14th
AIA Members & Seniors: $60
General Public: $70
On September 15th, ticket prices will increase:
AIA Members & Seniors: $75
General Public: $85
There is a standard ticket price for Students and AIASB Associate Members, students must provide proof
Students: $25
AIASB Associate members $25
Tickets are non-refundable. However, if we need to cancel the in person tour due to the pandemic, we will schedule an online tour of the same projects.
ArchitecTours App & check-in
While we will continue to have the paper Ticket Brochure, we will also provide an App for your smart device.  The App will have all the information that the Ticket Brochure has, including maps, information on each project, party, sponsors and more.  If you are interested in using the app, please select YES on the appropriate question when registering for the event on Eventbrite. Once you have registered, we will email you the link for the App on the day preceding the event.  Please do not share this link with those not registered for ArchitecTours.  For those using the App only, you can simply show up after 10 am and check-in at the first location of your choosing.  You will be given a wristband, which will allow entrance into all the locations and the party.
Paper Tickets & Check-in
Your Tour Map/ticket brochure will be available for pick up on the dates below, at AIA Santa Barbara, 229 East Victoria Street, Santa Barbara 93101.  We are on the corner of Garden and Victoria - enter through Garden Street.
Wednesday, September 28th, through Friday, September 30, 9.30 am - 11.00 am
The morning of the tour Saturday, October 1st, 9.00 am – 11.00 am ArchitecTours starts at 10.00 am.
5% of ticket sales will be donated to the Architectural Foundation of Santa Barbara