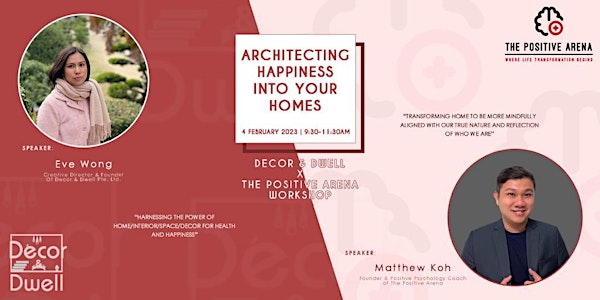 Architecting Happiness into your Homes
Having a happy home is a key to a happy life. Get to learn how home styling and positive psychology can bring happiness into your homes!
When and where
Location
WorkCentral, Brew House (Singapore) 190 Clemenceau Avenue #06-01 Singapore, 239924 Singapore
About this event
Have you ever wondered what it takes for us to lead a flourishing life? How do indoor spaces affect our mental and physical well-being? Why do we yearn for staycations/vacations and enjoy immersing ourselves in beautiful spaces? Can you imagine what it would be like for us if we are able to architect happiness into the homes that we live in?
In this 2-hour face-to-face workshop, you will get to learn what a flourishing life entails based on the science of well-being. Learn how to create a space within your home that boosts your wellbeing - to be happier, healthier and more empowered with positivity. Get to experience how even a few minor changes can transform how a room feels. We will also explore the use of elements such as light, materials and colors to style a space that inspires positivity.
Outline of the Talk:
A Flourishing Life: An Inside-Out Approach
Understanding the Science of Happiness: Positive Psychology
Spaces and Emotions
Sensing your home: A mindfulness approach
Decorating to promote positive emotions
Home styling tips and techniques
What you will receive:
Sign up for this workshop and you will receive and an attractive door gift!
Trainers' Bio:
Matthew
Matthew is the Founder & Positive Psychology Coach of The Positive Arena, a company that strives to improve the wellbeing of individuals, schools and organisations using evidence-based practice of positive psychology and coaching psychology.
Matthew holds a MSc. Applied Positive Psychology & Coaching Psychology from the University of East London. Some of his signature coaching/training programmes include the A.C.T.I.V.E Transformation Coaching Programme and the PRIMER Wellbeing Programme. Matthew is also an accredited Strengths Profile Practitioner who runs strengths workshop for teams to embed a culture where their people, teams and managers work together to appreciate and bring out the best in everyone.
Being an Associate Certified Coach (ACC) from the International Coach Federation (ICF), Matthew is passionate about helping people redesign and live their best lives so that they reach their fullest potential to thrive and not merely survive.
Eve
Eve is the Creative Director and Co-founder of Decor & Dwell, an interior decorating company born from the idea of making home life better, with one directive in mind – "To Make Life Beautiful" through home decor.
Her career started in the fashion industry, specializing in product development, branding and retail merchandising UK high street brands in Singapore. After 4 years in the fashion industry, she furthered her studies abroad in London UK, pursuing a MA postgraduate degree in fashion management at the London College of Fashion. Interior decorating has always remained a steadfast passion and having a fashion background has developed her penchant for combining styles to create distinctive spaces through furnishings and accessorizing; fuelling her with a unique eye to create effortlessly beautiful spaces that not only look good but feel good to be in.
Handling everything from style conceptualization, furniture sourcing, purchasing to room dressing – Eve's vision is to help individuals make the most of their space as their lifestyle evolves; Be it looking for the perfect furnishings when moving into a new home, or refurbishing a dated space – Because she knows how important having a nice home life can improve an individual's mental state and well being.
Contact Us:
If you would like to know more about this workshop, please feel free to contact us at info@thepositivearena.com or contactus@decoranddwell.com
Website:
Coaching & Training Programmes by The Positive Arena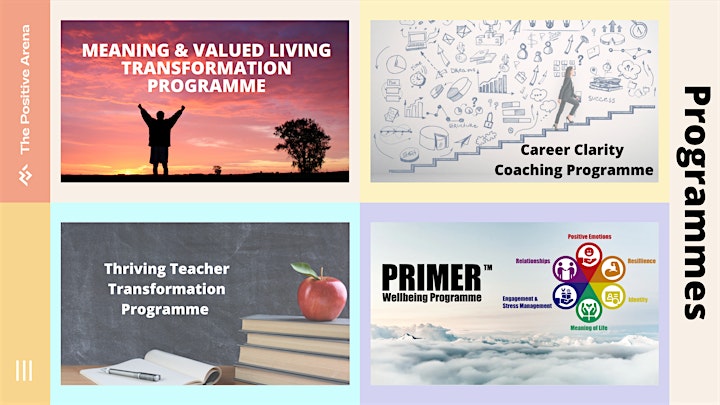 Home Styling Projects by Decor & Dwell