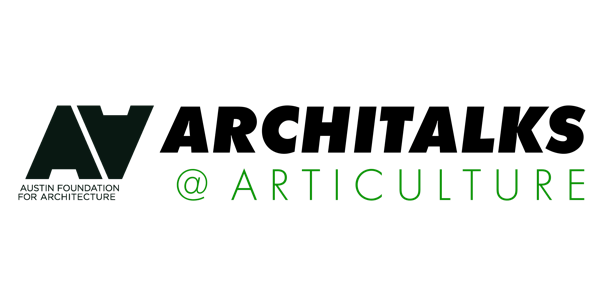 ArchiTalks @ Articulture
September ArchiTalks @ Articulture presents Charles di Piazza AIA | Charles di Piazza Architects
When and where
Location
Articulture 6405 Menchaca Rd Austin, TX 78745
About this event
Doors open at 7:00pm and lecture begins at dusk.
UPCOMING SERIES DATES
OCTOBER 12 Elizabeth Alford, Assoc. AIA | Pollen Architecture & Design
NOVEMBER 9 Peter Pfeiffer, AIA + Alan Barley, AIA | Barley Pfeiffer Architects
This series showcases Austin's talented architects and designers, with each installment focusing on an individual practitioner and their unique approach to their work.
Architalks at Articulture is presented by the Austin Foundation for Architecture in collaboration with venue sponsor Articulture Designs, event sponsor Builders FirstSource, and series founder/organizer Scott Harvey.
Healthy Event Guidelines
As we return to in-person events during the Covid-19 pandemic, we ask that you observe the following guidelines when you attend an event:
Please stay home if you are currently experiencing symptoms of Covid-19, have had symptoms within the past two weeks without a negative Covid-19 test, or have been recently exposed to a known case.
Mask at your discretion. Please be courteous and aware of other attendees' personal space. There will be color-coded name tags at the event to indicate your comfort level with being approached by others. Green= I'm comfortable with social interaction at a distance, Yellow= I'm feeling cautious socially, Red= I prefer not to be approached
Please practice social distancing as best you can while at the event
If you see something that indicates there could be a risk of infection spread at the event, please notify the event organizers immediately.