| | |
| --- | --- |
| ArcheDream for HUMANKIND presents DEEP BLUE | |
Event Details
Archedream for Humankind brings Deep Blue to Philadelphia this January, with new scenes and music!
For three weekends in a row, ADHK will perform at the Sedgwick Theater, home of Quintessence Theater group,
January: 12th & 13th, 19th & 20th, 26th & 27th
Sat. 2pm & 7:30pm
Sun. 2pm & 7:30pm
Tickets:
$20 adult
$15 Senior Citizens, dance pass and kids (10& under)
Visit www.ADHK.org for more info about Archedream for Humankind and to join the mailing ilst.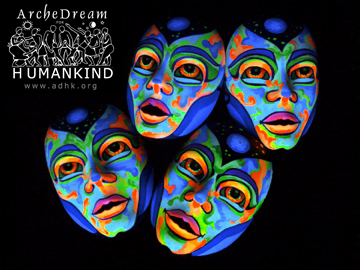 Where

Sedgwick Theater
7137 Germantown Ave
Philadelphia, PA 19119


Organizer
ArcheDream for HUMANKIND
" I have never in my life seen something so mysterious, mystical, energetic and beautiful all at the same time." Tamica Spencer, Fayetteville University Theater Major

Internationally touring ArcheDream for HUMANKIND is a blacklight mask and dance theatre company that communicates universal ideas and emotions to promote understanding and compassion. Merging ancient ritual and magical storytelling with modern technology, "ADHK" unites, uplifts and enchants audiences through riveting performances and workshops.  Their mission is to express universal ideas and emotions in an effort to promote understanding and compassion. ADHK creates a magical world for the audience through the use of original music, dance, and theatrical storytelling.
ArcheDream for HUMANKIND is a 501c3 non-profit organization that was founded in Philadelphia in 2002. They have toured nationally and internationally. Highlights from their touring roster include: TED Talks 2009 (Long Beach, CA), Dream Community (Taipei, Taiwan), Boom Festival (Portugal), Red Rocks Amphitheater (Morrison, CO), 2008 Democratic National Convention (Denver, CO), Burning Man Festival (BRC, Nevada), and Kennedy Center (Washington DC). Within Philadelphia, they have performed at the Kimmel Center, International House, Philly Fringe Festival, Philadelphia Weekly's "Taste of Philly" events, Philadelphia Cathedral with Westminster Choir College, to name a few.

In addition, ADHK has also taught workshops for thousands of children and performed in many schools across the nation. The Artistic Director and Founder of ADHK, Alan Bell, has also been teaching Art at the Ridge Avenue Men's Shelter for many years, with the intention to bring healing and support for the residents, and help them make a living from what they create.
"Thank you for allowing our students to see how art and creativity can educate and connect us. I believe the role of the arts is to illustrate our one commonality, and that is our humanity. Archedream for Humankind does exactly that in the most originally creative way."
– Drenda Cordeiro, East Pennsboro Education Foundation
ADHK recently found a new home in South Philadelphia, and they are working to deepen their Philadelphia roots. In March, ArcheDream held a local "Friend-raiser", where they welcomed their new neighbors and put on a free performance which was open to all. The fundraising efforts on June 2nd will be to continue to support bringing their art into the community. They are currently in the process of negotiating plans to bring the troupe to several area children's hospitals and local venues and are looking forward to presenting their newest show Inside Out, which debuted in Taiwan, to the stages of its home city, Philadelphia.


"The creativity of the music, costumes, concept and dance all blended together perfectly for the powerfully emotive opening I had envisioned for the evening. The audience was enthralled by the uniqueness of the blacklight performance and I heard many positive reviews for several weeks afterward."
–David Traupman, Keystone Hopsice
ArcheDream for HUMANKIND presents DEEP BLUE