Archangel Michael's Divine Heritage Activation

Thursday, August 1, 2013 from 1:00 PM to 3:00 PM (PDT)
Event Details
Receive Archangel Michael's
Divine Heritage, Safety and Trust Activation

For He will give His angels charge of you
and guard you in all your ways.
-- Psalms 91:11
Most people agree that Michael's job is to protect our bodies. We call upon Archangel Michael for protection driving in the car, out on the streets, at home, any place where we feel threatened or fearful.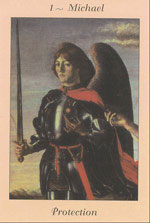 Michael's true job is much greater than protecting our mortal bodies, he protects our soul destinies. 
This series of Seven Archangel Activations is extraordinary and it is Michael who leads the way. It was Michael who asked me to host the Archangels for you.

Michael prepares the Sacred Circle of Light for this series of activations. It is Michael who illuminates the soul's who are ready. Michael watches over our soul's destiny and tends the fires of divine aspiration.
You are Ready!
Get your ticket now for this event with Michael at the top of the page. Or click "View Organizer Profile" on the right side bar to get your ticket to the full series.

Activation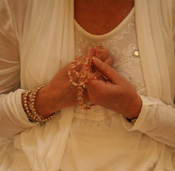 Archangel Michael's Activation will energize a center in the region of the solar plexus. This center is at the lowest point of the breast bone, between the ribs.
Michael activates this center to allow it to receive the flow of entitlement. You are entitled to know your Divine Heritage!
You are entitled to remember more of who you truly are. You are entitled to be empowered by the flow of pure divine energy.
Michael will activate a second center in the area of the tail bone. This is a facet of the Root Chakra. This energy center receives the energy of Safety and Trust.
Michael said,
"This experience of Safety and Trust is laying an important foundation for all that will come afterward from my fellow Archangels. We yearn to you even more than you yearn for us. We long to hold you in our embrace of love to awaken you to the pleasures of Spirit."


Angelology
Archangel Michael is said to be the greatest of all angels. He has the rare honor of being named in many religions. We'll get a taste of Angelology as we explore a few of the many ways Archangel Michael has been described throughout human history.
Art reveals to us the symbology that surrounds Michael. For example:
Why does he always have a sword? 

What does the Orb mean? 

Why is he frequently shown standing on a dragon or great beast?

Develop your Inner Senses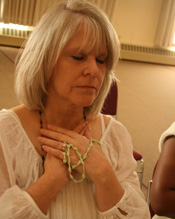 The purpose of these two Activations is to open your awareness of who you truly are. With that awareness come greater Safety and Trust in the ways of Spirit.
During meditative connection with Archangel Michael, we'll experiment with how you perceive Spirit so you can recognize and more fully develop your inner senses and skills.

Receive Divine Guidance
And we'll explore ways to receive direct guidance from Archangel Michael. Yes, that means receiving messages, seeing visions, channeling, sensing, and divine knowing. 
You are Not Alone!
Connect with a Community of Kindred Souls
Best of all, you are invited to fully participate by sharing your experiences, messages, and inner knowing to receive validation as we connect with each other in the light of the angels. 
The relationships we are developing with angels are very personal and will be unique for each of us. Sharing your experience is an empowering way to connect with each other to receive support, love, and validation.
You are not alone. Gather with people who see you, hear you, and understand you.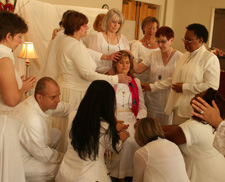 It's no coincidence that you found us. The angels invited you here to connect with them, and with other Earth Angels. Me, too!
Download Recording to Listen Any Time
This session will be recorded. If you are unable to attend live, you'll get access to the recording. Download to your favorite listening device, or listen from the internet. 
Archangel Metatron gave us a special dispensation to hold these events outside of time and space. That means whenever you listen, it is the eternal now. Your soul was with for the 'live gathering' so when you listen, you may notice it feels like you are there. You were! Your soul was anyway. You will receive the full blessing and benediction of the Activations.
Your Angel Buddy
Do you have a special friend that you share spiritual experiences with? This experience will be even more delightful when shared. Invite your Angel Buddy to sign up, too.
Register for More Sessions
This is the first of 7 Archangel sessions, one each week. 
To register for more individual sessions with Archangels, or the Series of all 7 Archangels, click "View Organizer Profile" on the right side bar. You'll see the full list.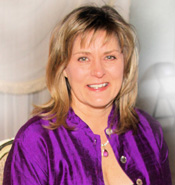 Kimberly Marooney
If you are wondering who I am, I literally wrote the book on angels. Books, actually. I'm the author of Angel Blessings Cards of Sacred Guidance and Inspiration, Angel Love Cards of Divine Devotion, Faith and Grace, Your Guardian Angel, My Angel Connection: The Guidebook to Interactions with Angels, and compiled Bring the People Back to My Love Rosary for the Children of Light of all faiths.
When & Where

Attend this Activation virtually. Accessible by Phone, Skype, Internet from anywhere in the world
8690 Aero Drive
#115
San Diego, CA 92123


Thursday, August 1, 2013 from 1:00 PM to 3:00 PM (PDT)
Add to my calendar
Organizer
Kimberly Marooney, Ph.D. is gifted at creating an opening for God's love to infuse you with everything needed to heal and move forward on your life's path.
The first person ever to earn a Masters degree in Angelology and a Doctorate in Spiritual Psychology, many of the best-known angel experts including Doreen Virtue have sought to learn from her.

Dr. Marooney is the best-selling author of powerful books for self-transformation including, Angel Blessings Cards, Your Guardian Angel, Angel Love Cards, and My Angel Connection: The Guidebook to Interactions with Your Angels. Now in its third edition, Angel Blessings has been read by over 300,000 worldwide and is considered a classic. Visit Kimberly online at KimberlyMarooney.com